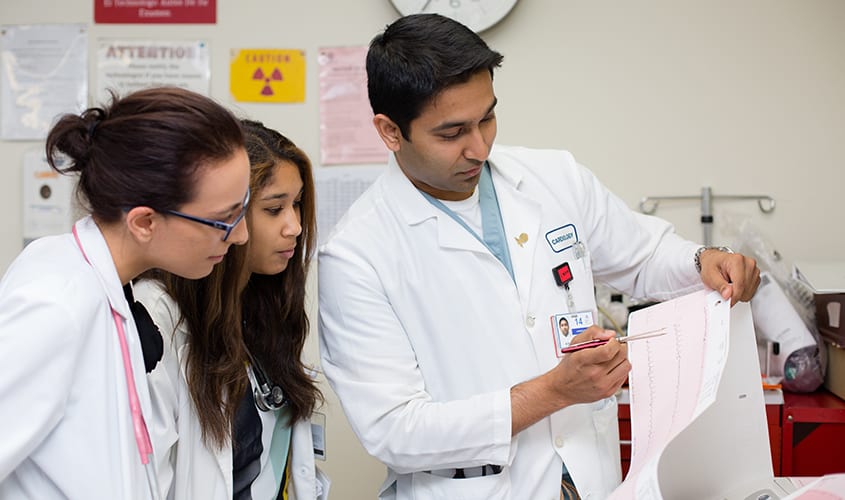 TRUE BLUE, Grenada (September 17, 2019) — Today, St. George's University and NYC Health+Hospitals announced that it will award 12 students with CityDoctors scholarships.
"We're thrilled to provide scholarships to these outstanding future doctors," said Dr. G. Richard Olds, President of St. George's University. "It's a priority for us at St. George's to make medical school accessible and affordable to aspiring doctors from a variety of backgrounds who are intent on returning home to New York to serve in the city's neediest communities."
Created in 2012, the CityDoctors Scholarships are available to applicants to the St. George's University School of Medicine who wish to start their studies in the January term each year. To be eligible for the program, students must have maintained a permanent residence within the five boroughs of New York City for five or more years, graduated from high school or college in New York City, or have other ties to NYC Health + Hospitals.
Winners can receive partial or full scholarships. In exchange, they commit to working in one of the 11 hospitals in the NYC Health + Hospitals system for at least two years after graduating. Since the partnership's inception, St. George's has made careers in medicine possible for 113 aspiring and current doctors through the NYC Health + Hospitals CityDoctors program.
"Our commitment to delivering excellent care is reflected in our continued participation in the CityDoctors scholarship program, which provides young doctors, who have expressed an early commitment to primary care along with a heart-felt connection to the citizens of New York, the necessary support to become physicians," said Machelle Allen, MD, Chief Medical Officer, NYC Health + Hospitals. "As we expand access to health care services to more New Yorkers through initiatives like NYC Care, our partnership with St. George's University is a great example of our accountability, and active role in ensuring we have a reliable pipeline of well-trained primary care physicians joining NYC Health + Hospitals."
Jersey Shore University Medical Center and HackensackUMC are also partners in the CityDoctors program. The two New Jersey medical centers have honored an additional 31 CityDoctors who have received scholarships to study at St. George's. All told, the CityDoctors program has awarded scholarships to 144 aspiring and currently practicing doctors.
St. George's is one of the leading providers of doctors to New York—and the second-largest source of doctors for the entire United States. In 2019, more than 275 St. George's University graduates began residencies in New York.
"These CityDoctors will be crucial to addressing healthcare disparities across New York," said Dr. Olds. "We're proud to help these New Yorkers, and dozens before them, make their dreams of becoming doctors a reality."
https://www.sgu.edu/wp-content/uploads/2019/02/CaRMS-clinical-845-x-500.jpg
500
845
lchartor
https://www.sgu.edu/wp-content/uploads/2020/02/sgu-logo-grenada.svg
lchartor
2019-09-17 06:38:37
2021-02-25 21:15:58
St. George's University, NYC Health+Hospitals Awards Twelve Incoming Students with CityDoctors Scholarships