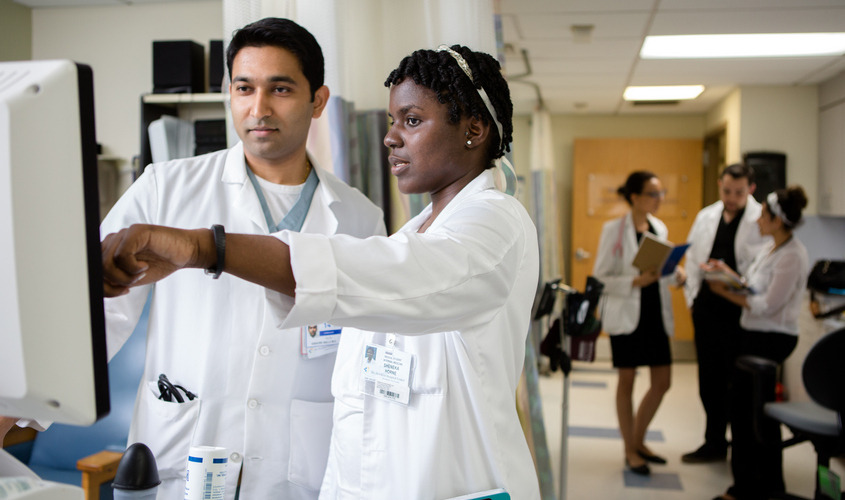 Fourteen St. George's University students will be joining the healthcare system in Canada as physicians this summer, having matched into highly competitive residency programs through the first iteration of the Canadian Resident Matching Service (CaRMS) R-1 Main Residency Match on Tuesday.
Students matched into residency programs in three Canadian provinces, in fields such as family medicine, internal medicine, pediatrics, and psychiatry. More are expected to earn residency positions in the second Canadian match iteration on April 15. The United States match will take place on March 20.
"These students follow in the footsteps of the hundreds of SGU graduates who have returned to Canada to continue their medical careers," said Sandra Banner, SGU's director of admissions for Canada and the former director of CaRMS. "I commend them for their aptitude in the classroom as well as in a clinical setting and am certain that their future patients will greatly benefit from their well-rounded care."
Marissa Solow, MD '20 (expected), said she "could not be more excited" to have secured an internal medicine residency position at the University of Toronto.
"I got exactly what I wanted," said Ms. Solow, who grew up 10 minutes from downtown Toronto. "I had high hopes, and I couldn't have been happier to find out that I was going back to Canada and to my top-choice program."
She came to SGU as a non-traditional student, having sung opera professionally before setting her sights on medicine. Both of her parents are physicians, and her brother, Max, is an SGU graduate who is a first-year anesthesiology resident at the University of Minnesota.
Like her brother and many Canadian students, her medical school studies began as part of the St. George's University of Grenada School of Medicine/Northumbria University Four-Year MD Program (formerly the Keith B. Taylor Global Scholars Program), a unique educational experience in the United Kingdom that she would "recommend for anyone who was going to SGU."
Ms. Solow felt confident going into the CaRMS match, having built her resume with a strong  international medical school experience, by participating in an array of clubs and events such as diabetes clinics and the Palliative Care Society in Grenada, and diverse clinical rotations that included a two-week elective with the clinical teaching unit at the University of Western Ontario. She is strongly considering specializing in hematology and oncology or medical oncology after residency.
Meagan Kaye, MD '20 (expected), shares her excitement. Ms. Kaye waited anxiously for the 12pm release Tuesday and rejoiced upon learning that she had matched into the pediatrics residency program at McMaster University, a little over an hour from her hometown, Richmond Hill, ON.
In addition to its proximity to family, Ms. Kaye had completed an elective at McMaster last fall. When it came time to apply for residency, the camaraderie at McMaster made it stand out.
"It's an amazing program and hospital," she said. "All of the residents and faculty made me feel very welcome. Getting the results was pretty exciting. I'm thrilled to be able to go back and be with my family."
She came to SGU after earning her Bachelor of Science in chemistry from Queen's University in Kingston, ON. Her volunteer time and research at The Hospital for Sick Children in Toronto solidified her determination to pursue a career in pediatrics. Her medical studies began as a member of the SGU/NU program in the UK.
"It's been a long journey and it's required a lot of hard work," she said. "I loved my time in the UK as well as in Grenada and in Brooklyn, NY for clerkships. Overall, my experience at SGU was very positive, and that I matched back to the program I really wanted to be with made everything worth it for sure."
Emma Metivier, MD '20 (expected), distracted herself on the morning of the match – "my apartment has never been so clean," she said. When noon struck, she celebrated alongside her mom, having discovered she had landed a pediatrics residency position at Western University in Ontario.
"Matching in Canada was beyond my wildest dreams," said Ms. Metivier. "It's where I initially learned to love medicine. As a Canadian, it's exciting for me to go to back to the Canadian healthcare system that I grew up with, and to be with many of my mentors."
Like Ms. Kaye, the 2013 University of Guelph graduate came to SGU after volunteering and conducting research at the Sick Kids Toronto. She joined the popular Canadian Student Association (CanSA) on campus, as well as the Iota Epsilon Alpha Honor Medical Society.
For residency, Ms. Metivier interviewed throughout the United States as well as Ontario. She is excited to become a part of the Western team, working just two hours from home and in the  field she set out to join.
"Pediatrics gives you the biggest opportunity to change someone's life for the better at the very beginning," she said. "There is nothing better than getting to work with kids."
The newly matched residents join the more than 140 St. George's University students who have secured postgraduate positions in Canada over the last 10 years.
– Brett Mauser
https://www.sgu.edu/wp-content/uploads/2020/03/clinical_stock_2-845x500-1.jpg
500
845
lchartor
https://www.sgu.edu/wp-content/uploads/2020/02/sgu-logo-grenada.svg
lchartor
2020-03-06 03:31:25
2020-03-06 15:45:49
St. George's University Students Match into Competitive Residency Programs in Canada