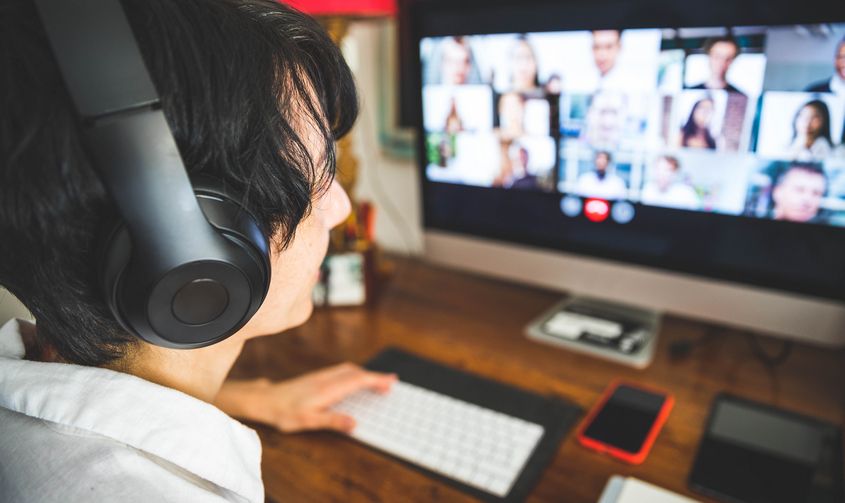 Learning how to do an ultrasound on an animal is never easy yet it is an important component of practicing veterinary medicine. Learning how to do one virtually is even harder, yet the faculty at St. George's University School of Veterinary Medicine have been able to successfully make the transition to a distance learning curriculum.
With classes conducted online for the Fall 2020 term, SVM administrators have shared how they were able to make the school's virtual curriculum an engaging and stimulating experience for students.
"Our distance learning curriculum was developed with the student focus in mind," said Dr. Neil Olson, DVM, PhD, dean of SGU's School of Veterinary Medicine. "By working with the SVM Student Government Association and polling students multiple times throughout the spring, we were able to make sure that student input about programs and courses led our conversations about how to implement our virtual curriculum."
First Steps in Creating SVM's Virtual Curriculum
"The first thing we did was create a Distance Education Team," said Dr. Anne Corrigan, associate dean of SVM's academic programs and professor of small animal medicine and surgery.
Chaired by Brian Butler, DVM­­/MPH '05, assistant dean of the SVM academic programs for the School of Veterinary Medicine and a pathology professor, the group identified online needs and worked closely with the Department of Educational Services (DES), IT, and the Enterprise Teaching departments to develop the courses needed.
The SVM also polled students to flag concerns and issues and included valuable input from the Student Government Association's SVM Affairs class representatives in the schedule and syllabi review for the fall term, Dr. Corrigan said.
One such concern: making sure students had access to all the materials needed. "We know that not everyone has a conducive workspace in their home, especially with WiFi issues," said Jennifer Kirk, DVM '22 (expected), president of the SVM Affairs. "We have been advocating for these students and, as a result, SVM made recordings downloadable so that students can stay on track despite these problems."
The SVM Affairs group continues to communicate regularly with its Executive Board, its faculty advisor, Dr. Arend Werners, as well as University and SVM leadership.
Faculty Training
To prepare for the term, SVM faculty has been involved in intensive training on the new educational tools with the help of SGU's IT team, Dr. Corrigan said.
The Distance Education Team also developed a best practices document for faculty to more appropriately choose the tools that will be of most benefit for their courses. SVM faculty also developed instructional clinical skills videos for students to promote muscle memory and develop the skills to perform certain procedures.
"Because we are delivering curriculum with a blended approach, which includes real-time content delivery and asynchronous programs, it's really helping us become adaptive to use multiple types of technologies," Dr. Corrigan said.
Hands-On Learning
One of the biggest challenges SVM faces is how to teach and train students hands-on clinical skills virtually. However, it has turned this challenge into some early successes.
Last term, students sent videos of themselves completing a skill, such as suturing, to faculty, who would then play each recording back during a live interactive session so that all students can watch their peers learning the same skills simultaneously. Students were then graded on how well they were able to master the skill, and received peer reviews from other students, helping all to address common mistakes.
"The key here is they gained confidence," Dr. Corrigan said. "If we can still give them that confidence, even if they are not doing the skill directly in front of us, it will go a long way to helping them as future veterinarians."
In addition, wetlabs allow students to attend a demonstration of a specific clinical skills performed by an SVM faculty member—this semester they will be done virtually.
"Even though students will not be able to use their own hands, the 3D demonstration will simulate as if they were really there," Dr. Corrigan said. "They will be able to see a kidney in longitudinal and cross-section views. They will be able to see my hand moving on the screen. It's another example of how we're teaching hands-on clinical skills through online simulations."
Some skills still must be taught in person, and SVM also developed a large group of private practitioners—more than 100 practices and counting across North America—willing to be clinical mentors for sixth-term students. In this scenario, students are paired with local veterinarians practitioners, including some SGU alumni, to establish professional relationships and receive instructional training.
Staying Connected in a Virtual World
Not lost in all the academia was the need for the interaction aspect of learning, especially since students can't be together on campus.
"I think it's especially important to provide the incoming Term 1 students with that inclusive aspect as they are not able to be in Grenada, and they don't get to facilitate vital in-person relationships with their professors and peers," Ms. Kirk said.
Dr. Corrigan acknowledged that what students want most within the distance learning platform is to feel connected—to other students, to faculty, and to the school overall. On the first day of classes, 90 students showed up for office hours.
"They were not there for office hours," Dr. Corrigan said. "They were there looking for a way to connect with the SGU family."
This term, with the help and guidance of faculty advisors, vet-centered student clubs will be looking at further ways to offer students a sense of community by hosting virtual events. In addition, SVM is also looking to put together virtual mentoring relationships between lower- and upper-class students.
"We want students to stay engaged and stay in communication with us, because we're here for them, even though we are not physically together," Dr. Corrigan said.
— Laurie Chartorynsky
https://www.sgu.edu/wp-content/uploads/2020/09/distancelearning-stock-845x500-1.jpg
503
845
lchartor
https://www.sgu.edu/wp-content/uploads/2020/02/sgu-logo-grenada.svg
lchartor
2020-09-08 16:05:17
2020-09-09 20:46:08
A Peek Inside the School of Veterinary Medicine's Distance Learning Program