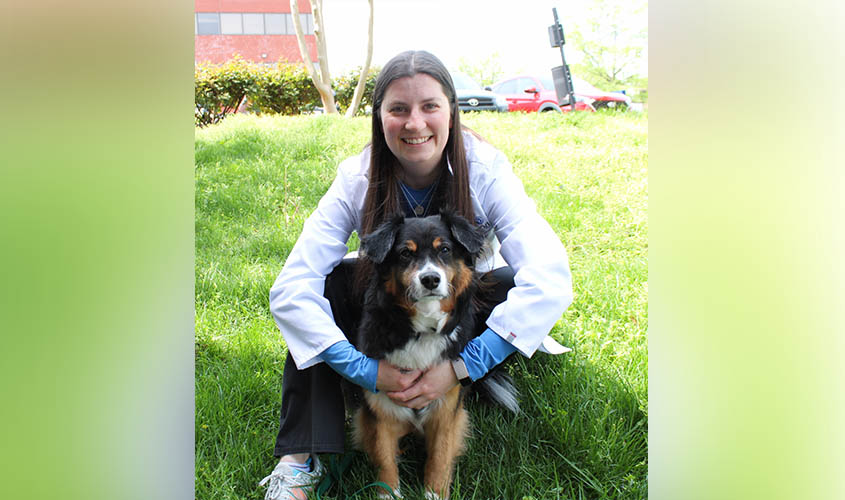 Jennifer Ortolani, DVM '15, thrives in a fast-paced environment, where her ability to quickly diagnose and treat patients in dire need are in high demand. A critical care specialist at BluePearl Specialty and Emergency Pet Hospital in Rockville, MD, Dr. Ortolani spends her day managing a variety of different cases hospitalized in the intensive care unit, consulting on cases with other specialists, and treating patients in the emergency department.
"I chose to become a veterinarian and specialize in emergency and critical care medicine because it combines my love of medicine, science, people, and animals," said Dr. Ortolani. "What I enjoy most about my job is managing critical and complex disease processes and working with families to get their pets back home where they belong."
Although she'd only been working as a criticalist since September 2019, Dr. Ortolani marvels at the difference a year can make. Similar to many others, her hospital has made a number of changes—conducting nearly all communications over the phone, and no longer developing that interpersonal connection with clients during consultation and cage side.
"Now, more than ever, we are asking people to trust us, while having even fewer mechanisms to earn that trust," stated Dr. Ortolani. "Fortunately, I have been able to play an instrumental role in developing protocols to keep our hospital's associates as safe as possible during these novel times. With so many medical professionals stepping up right now, including veterinarians, I am very grateful to be able to do my part and continue to help sick pets and their families."
In spite of life's current challenges, Dr. Ortolani has welcomed the chance to take on more, growing her career as a clinician and leader, building her hospital's internship program, and increasing its critical care skills. She continues to educate herself, acquiring formal certifications and degrees, including the one she is currently completing at the University of Tennessee's Veterinary Human Support certificate program.
"I'm hoping to expand my teaching and lecturing skills in the future," said Dr. Ortolani. "I like training interns in a clinical environment but would also love to play a role in mentoring residents and students again. I really enjoy teaching didactic lectures, and perhaps someday I'll get the opportunity to teach or guest-lecture at a university."
— Ray-Donna Peters
https://www.sgu.edu/wp-content/uploads/2021/05/jen-ortolani-845.jpg
500
845
lchartor
https://www.sgu.edu/wp-content/uploads/2020/02/sgu-logo-grenada.svg
lchartor
2021-05-05 14:59:24
2021-05-05 15:03:57
SVM Grad Thrives in High-Intensity Critical Care Specialty