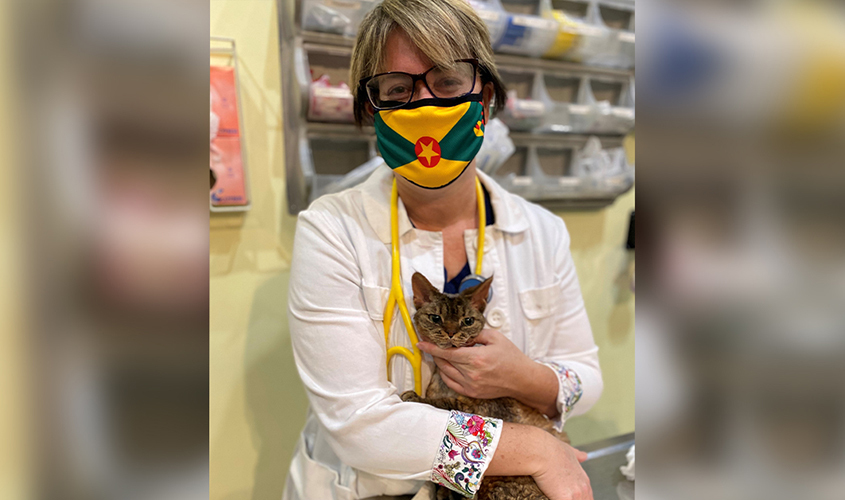 It's not just human healthcare that has been dramatically impacted as a result of the COVID pandemic—animal medicine had its own challenges and some surprising opportunities for small animal veterinarians.
Dr. Heather Douglas, DVM '06, owns and operates Douglas Animal Hospital in Osseo, MN. Douglas Animal Hospital treats a wide variety of animals from cats and dogs to geckos, snakes, potbellied pigs, and hamsters. She is also heavily involved in community services—both in the states as well as Grenada. Dr. Douglas founded the non-profit veterinary service, GrenVet, which provides free care to animals in Grenada.
Last month, Dr. Douglas presented a continuing education webinar to SVM alumni titled, "The Surprising Impact of the Pandemic on Veterinary Care." She recently spoke with SGU News to explain how COVID is changing the way that veterinarians treat patients and interact with pet owners.
St. George's University: What are the top concerns of pet owners about their pets in this environment?
Dr. Douglas: There has been an increase in cases of pets with behavioral changes which is most likely a result of the increased amount of time the owner is spending at home. This can escalate when owners return to work and patients have decreased contact time with them.
SGU: How have you had to adapt your clinical skills during the pandemic to care for your patients?
Dr. Douglas: I've had to become more efficient and spend more time communicating with owners. With new owners, it is harder to establish trust, so we gained their trust during what were essentially "curbside services," by talking to clients on the phone when they can physically see you or performing physical exams in exam rooms with windows so clients can observe and support their pet.
SGU: Has the pandemic presented opportunity to small animal veterinarians? In what way?
Dr. Douglas: Yes, in the most surprising way. Initially, businesses like my own were slow when lockdowns were in place. We, along with other veterinary practices across the US affected by the downturn, received funding via the Paycheck Protection Program (PPP) and Economic Injury Disaster Loans (EIDL) to help keep us going. Then in mid- to late-April the floodgates opened. Some veterinary practices became so busy they were put in a tough position of choosing not to accept new clients or referrals. This influx was due to clients waiting to bring their pets in during lockdown, clients paying more attention to their pets while at home for extended periods so that illnesses were being detected much sooner, and people adopting new pets to decrease loneliness and feelings of isolation at home.
"I've had to become more efficient and spend more time communicating with owners."
SGU: What are some additional ways the pandemic has affected veterinarians?
Dr. Douglas: Veterinarians are working longer hours to be there for our patients. But we've learned to value our emotional well-being and spend more time caring for our mental and physical health. Many veterinarians are hiring more staff to handle the increased number of patients, which is an unusual response considering the national unemployment rate.
SGU: How have technology and mobile care played an increased role in vet care, especially as a result of the pandemic?
Dr. Douglas: Telemedicine has been a valuable piece of technology to allow us to see our patients without a physical point of contact. This is especially important for those clients who are at higher risk of COVID-19 and complications.
SGU: What lessons can vet students take away from the global epidemic and how it affects them as future veterinarians?
Dr. Douglas: Vet students should learn to be adaptable. Going forward, there will be more opportunities in the veterinary field with increased hiring rates as well as opportunities in public health. Students will also have the upper hand compared to older veterinarians when it comes to technology and innovation.
– Laurie Chartorynsky
https://www.sgu.edu/wp-content/uploads/2020/11/Douglas-845-x-500-1.jpg
500
845
bpmauser
https://www.sgu.edu/wp-content/uploads/2020/02/sgu-logo-grenada.svg
bpmauser
2020-11-13 04:37:07
2020-11-19 19:55:05
The Surprising Impact of COVID on Small Animal Veterinarians