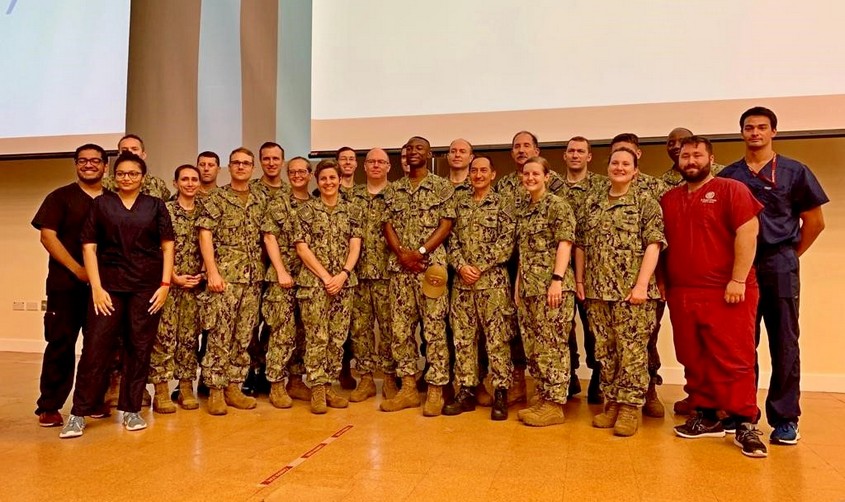 The US Navy hospital ship, USNS Comfort, while on a five-month deployment to Central and South America and the Caribbean, stopped in Grenada last month as part of the US Southern Command's Enduring Promise initiative. During their visit, US service members and medical professionals toured St. George's University's True Blue campus, and met with SGU students, faculty, and staff to showcase the ship's medical capabilities and answer questions about life as a physician aboard the Comfort.
"Trying to give long-term care to patients when you only see them for 20 minutes is very tricky," said Captain Jill Emerick, a 27-year Navy veteran and pediatric endocrinologist. "I joined this mission to learn more about humanitarian medicine and to give back—however, I got back much more than I expected. It's been amazing interacting with the host nations' physicians and medical students and learning how things are done in different countries. We were happy to answer all of the students' questions and felt like we were really making an impact on their future medical careers.
"The most rewarding part of the mission has been in providing patient education," she added. "It has allowed us to help fill in some of the gaps that there might be in their current health care setting."
The Comfort's current team consists of more than 900 personnel, including medical specialists from the military, non-governmental organization volunteers and personnel from partner nations. The 12-country mission includes stops to Ecuador, Peru, Costa Rica, Panama, Columbia, Trinidad and Tobago, Grenada, St. Lucia, St. Kitts, Dominican Republic, Jamaica and Haiti. So far, the Comfort has had over 40,000 outpatient encounters and performed more than 850 surgeries during the Enduring Promise 2019 initiative.
"I enjoyed meeting the crew and hearing their thoughts on being a doctor in the Navy," said Matthew Carvey, a second-year medical student and president of the Emergency Medicine Club. "I wanted to learn about their camaraderie and how well they work alongside each other after being cooped up together for months at a time. I deeply respect and admire people in the Navy for lending their time and expertise to these missions. I also think that, after I become a physician, possibly joining them one day would be a great experience."
Originally the SS Rose City, built in 1976 as a San Clemente Class oil tanker, the USNS Comfort was converted into a hospital ship in 1987. Today, the Comfort is equipped with 1,000 beds, a full-service laboratory and pharmacy, and can provide clinical support such as, casualty transportation, decontamination, oxygen production and portable water production. Its medical site capabilities include pediatrics, cardiology, optometry, dental medicine, physical therapy, and preventive medicine.
"SGU is grateful to the crew members of the USNS Comfort for their candor in sharing the pros and cons of being a physician in the US Navy," said Dr. Anna Cyrus-Murden, deputy chair of SGU's Department of Clinical Skills. "Those in attendance all seemed to value the experience, especially the students. Their visit has not only impacted some students' choice of specialties but has also piqued some of their interests in now serving in the Navy as well."
Since 2007, personnel involved in USNS Comfort deployments have treated more than 488,000 patients, performed over 5,500 surgeries, completed more than 100 engineering projects, and conducted countless other assistance activities. Their visit to Grenada reflects the United States' ongoing commitment to friendship, partnership, and solidarity with partner nations.
-Ray-Donna Peters
https://www.sgu.edu/wp-content/uploads/2019/10/USNS-Comfort-web.jpg
502
845
lchartor
https://www.sgu.edu/wp-content/uploads/2020/02/sgu-logo-grenada.svg
lchartor
2019-10-17 20:26:08
2021-02-25 21:16:01
US Navy Inspires SGU Students During Visit to Grenada