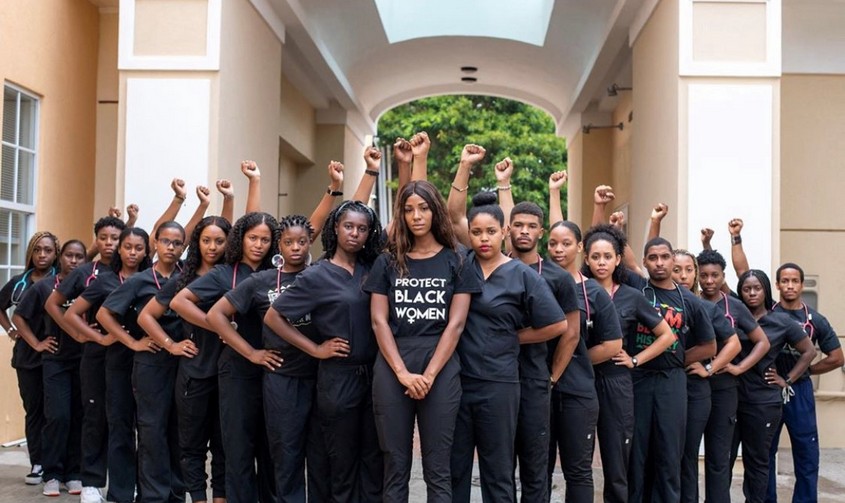 It's no secret that Black and Hispanic Americans are underrepresented in the veterinary profession. According to data from the US Bureau of Labor Statistics, of the 104,000 veterinarians in the US in 2019, 89.8 percent were white, 6.1 percent were Asian, while just 1.6 percent were Hispanic or Latino, and virtually none were Black or African American.
Veterinarians as One Inclusive Community for Empowerment, or VOICE, seeks to increase "awareness, respect, and sensitivity to differences among all individuals and communities in the field of veterinary medicine." The national organization has nearly two dozen student chapters across US and Caribbean veterinary schools.
Veterinary students at St. George's University created the VOICE SGU chapter in 2018 and currently has more than 280 members, according to its Facebook group.
SGU News reached out the VOICE SGU's current president, Antonia Nickleberry, MBA, a Term 2 student in the School of Veterinary Medicine, to hear more about why diversity in the field matters and how SVM students can get involved.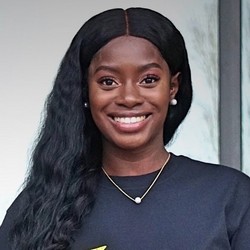 St. George's University: What is the overall mission of VOICE SGU?
Antonia Nickleberry: The overall mission of VOICE can be best described by the following excerpt on the national website: The organization aims to "celebrate diversity within our profession, to encourage campus environments that embrace diversity and promote the success of all students, and to emphasize the importance of cross-cultural awareness in veterinary medicine in order to meet the needs of our diversifying clientele. Lastly, in order to ensure a more diverse future for veterinary medicine, VOICE chapters provide leadership and mentorship to youth, particularly those from underrepresented backgrounds, who are interested in careers as veterinarians."
SGU: Why is it important to raise awareness of and encourage diversity in vet medicine?
Antonia Nickleberry: The world around is us diversifying rapidly. Veterinary medicine seems to have a delayed response to this diversification and therefore, those within the profession are not as aware as they should be. This can lead to major sensitivity issues between classmates and colleagues that can be avoided by educating and empowering those in this profession, starting with the students.
SGU: How does the organization champion equality and diversity in veterinary medicine at the student level?
Antonia Nickleberry: The organization brings awareness to our classmates. It is important that we begin, and continue to understand, that diversity is more than just race; it is also age, gender, nationality, disability, sexual orientation, socioeconomic status, etc. These differences commonly separate us. However, by acknowledging and being aware of those differences, we can make a large impact not only within veterinary medicine, but across the world.
SGU: What kinds of activities/events are you holding, especially as students are virtual, to bring the group together?
Antonia Nickleberry: The pandemic has made it fairly difficult to host events, but we hosted our first virtual diversity trivia night via Zoom on November 17. It was a huge success! We had about 22 attendees and we were able to have fun and open dialogue about overall diversity as well as diversity specific to veterinary medicine. There were first, second, and third place winners who won $100, $60, $30 electronic visa gift cards, respectively.
Additionally, every month, we feature a "DVM of the Month" on our Facebook page, which highlights veterinarians of all backgrounds to shatter the image of who and what a veterinarian looks like. Being that the field was dominated by white men for many years before shifting to white women, we believe it is important to display those who can identify in different genders, races, nationalities, etc. Diversity is cloaked in this profession and this is our way of removing that cloak.
In addition, when we are on campus, we also visit children at the orphanages in Grenada. While visiting, we spend time with the children and teach them how to handle animals as well as inform them on what veterinarians do and what the field of veterinary medicine consists of. This event allows us to impact these children and hopefully influence the future racial demographic of veterinary medicine.
SGU: How has SGU's overall student/faculty diversity contributed to the mission of VOICE SGU? And how will it help students in their overall careers as veterinarians?
Antonia Nickleberry: The diverse student and faculty population encourages diverse relationships and fosters an environment that is comfortable for students from all walks of life. This will better prepare students to interact with diverse clientele once they begin practicing.
SGU: Who should join VOICE SGU? How can they join?
Antonia Nickleberry: Anyone who desires a diverse, aware, educated, and empowering experience in veterinary medicine should join VOICE SGU—no matter what race, age, gender, disability, sexual orientation, or socioeconomic status they represent. Being that VOICE is a sub-organization of Student American Veterinary Medical Association, there are no dues and students are able to join by attending our general body meetings, following us on Facebook, and participating in our events.
SGU: What are your personal career aspirations and why did you choose vet medicine as your career?
Antonia Nickleberry: I am originally from Texarkana, TX. I am interested in specializing in radiology, surgery, or emergency medicine, and starting my own private practice. Additionally, I aspire to continue to give back to the veterinary community by providing resources, scholarships, and mentorship to Black pre-veterinary and veterinary students through my newly founded online resource platform, TwoPointOne.
– Laurie Chartorynsky
https://www.sgu.edu/wp-content/uploads/2020/11/VOICE-SGU-845x500-1.jpg
503
845
lchartor
https://www.sgu.edu/wp-content/uploads/2020/02/sgu-logo-grenada.svg
lchartor
2020-11-23 10:25:59
2020-11-23 15:37:46
VOICE: Championing Diversity in the Veterinary Profession at the Student Level