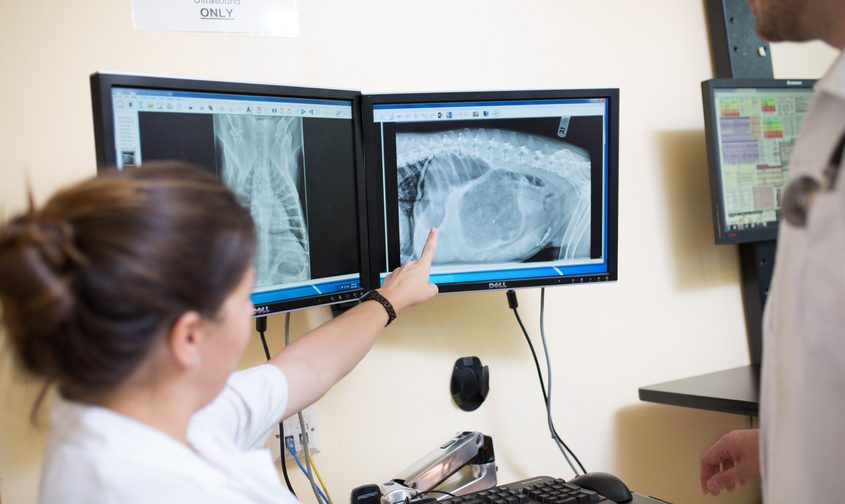 Ever wonder what it is like to be a veterinary radiologist?
Thomas Hanson, DVM '11, a former radiologist at the Wisconsin Veterinary Referral Center in Waukesha, WI, has returned to St. George's University to teach diagnostic imaging to School of Veterinary Medicine students in Terms 1, 2, 5, and 6.
He shared some recent developments in the field of vet radiology and why the occupation can be a gratifying specialty for aspiring veterinarians.
St. George's University: What types of cases do veterinary radiologists typically see? 
Thomas Hanson: Although veterinary radiologists primarily interpret images of small animal and equine patients, we do occasionally get involved in food animal and zoo animal patient imaging.
SGU: What are some recent developments in the field that is on your radar?
TH: The continued expanded use of CT (computed tomography) as well as developments in MRI and PET/CT (positron emission/computed tomography). Similar to human medicine, these imaging techniques help us to diagnose cancer at an earlier stage.
SGU: You recently presented a case discussion to SGU's Radiology and Diagnostic Imaging Club. Can you share information about the case you presented to the group? How often do you present cases to student clubs?
TH: I held case rounds for the DI Club students for the first time in September. At the students' request, we covered approximately seven musculoskeletal cases of dogs and cats. My goal for case rounds is to have students experience clinical radiology—versus academic radiology that is taught in lectures. Case rounds give students an opportunity to apply what they have learned in lectures to a true clinical case and based on their imaging findings discuss what the next step(s) should be in the treatment of the patient. It was very well received by the students and a second session has already been scheduled.
SGU: Why did you choose this specialty?
TH: I had a previous career in diagnostic imaging in human medicine (as a technologist, radiology department manager) and several years working at GE Healthcare as a customer training specialist and on product development teams.
Like a lot of people in this field, I had the desire to become a veterinarian at an early age and reached a point where I decided to pursue that career. I enjoy the ability to image an animal, often with very hi-tech equipment, and provide diagnostic information to the clinician. Radiographs and advanced imaging are a big piece of the puzzle to help determine the cause of a patient's illness.
SGU: Why is vet radiology a gratifying specialty?
TH: We oversee the acquisition of many types of imaging procedures on animals and we interpret the information of the images for the clinicians in charge of the case. It is a highly technical process to acquire the images, but the interpretation remains human dependent. Clinicians rely on us to provide accurate assessments of the images so that they can properly treat the animal in need.
SGU: What is one thing students may not know about the field of veterinary radiology?
TH: Students should know that the specialty is very competitive, yet there is a lot of flexibility and opportunity to use these skills in different work environments.
– Laurie Chartorynsky
https://www.sgu.edu/wp-content/uploads/2020/10/vet-radiology-stock-845x500-1.jpg
504
845
lchartor
https://www.sgu.edu/wp-content/uploads/2020/02/sgu-logo-grenada.svg
lchartor
2020-10-14 13:29:26
2020-10-14 13:29:46
What Is It Like to Be a Vet Radiologist? Faculty Spotlight on SVM Professor, Dr. Thomas Hanson