Department of Educational Services
The Department of Educational Services (DES) plays a key role in supporting all students and faculty at SGU, and the academic and professional success of all our students is our primary goal.
Comprised of many dedicated academic professionals, DES's unique and highly effective faculty is the largest on campus. Close to 100 percent of the University's students and many of the professors in all schools avail themselves of the support offered through the department's innovative programs, including time management, note-taking skills, and utilizing technology effectively in teaching and learning, as well as individualized programs with training in reading efficiency and comprehension, writing, oral communication, pronunciation, and grammatical accuracy. Most fundamentally, DES assists students individually and in groups as they prepare for course and licensure examinations.
DES is a central and established part of the academic culture at SGU, and the department works closely with all schools and programs, as well as with the Dean of Students Office, to provide custom-tailored support regarding academic and non-academic issues. DES also offers a faculty development program designed to support faculty in their pursuit of excellence in scholarship, teaching and learning with seminars and workshops in new and evolving methods of instruction.
Programs for Students and Faculty
The Specialized English Language Program (SELP)
THE SPECIALIZED ENGLISH LANGUAGE PROGRAM (SELP)
The Specialized English Language Program (SELP) is a support program designed to help SGU students and faculty develop their language skills. We offer courses, programs, workshops, and individualized sessions in writing, reading, and oral communication.
We also review and provide feedback on written documents such as grant proposals, CVs, personal statements, reports, and research papers.
COURSES
English for Medicine Pathway (EMP)
Developed by the School of Medicine and the Specialized English Language Program within the Department of Educational Services, EMP is a unique program that allows students to progress in their Preclinical Sciences coursework while concurrently developing the academic and medical English communication skills necessary for success at SGU and beyond. These skills include the development of macro language skills (reading, writing, listening, and speaking) as well as micro communication skills, academic literacy skills, critical thinking, and cultural awareness. These skills can be utilized throughout a student's medical education andprofessional lifelong learning – leading to success in medical school and ultimately, allowing students to develop into culturally competent clinical practitioners.
This skills and task-based program is tailored to multilingual speakers and offers students the opportunity to interact with authentic materials, investigating and exploring different topics within a scientific and/or medical context. Overall, students will gain confidence in their ability to communicate effectively through the language and culture of medicine.
The Pathway extends the timeline of the first year of Preclinical Sciences by one semester, spreading the academic content of the first year at SGU across three terms instead of two. This allows time for additional English communication coursework to be embedded into the curriculum.
Medical Academic Communication (MAC)
MAC provides support for multilingual medical and veterinary students.  MAC focuses on the development of English language skills and helps students develop the communication skills necessary to be a successful student and med/vet practitioner:
informal and formal medical terminology
reading efficiency and comprehension for multiple choice tests and medical texts
relationship-centered communication for the medical interview (doctor-patient interaction)
professional email communication
writing patient notes
advanced reading
Medical Spanish Selective (SCSK 513)
This selective is designed to give oral practice to medical students who anticipate working with Spanish-speaking patients. The course focuses on
medical terminology
patient interaction practice
cultural sensitivity awareness
basic grammar and sentence structure.
Communication for the Health Professions I and II (PCLN 302, PCLN 303)
These courses are reading and writing intensive programs for preclinical and preveterinary students.
PCLN 302 develops students' ability to read, understand, and evaluate research studies; to summarize, paraphrase, and synthesize published work; and to practice organizing and expressing ideas clearly and concisely.
PCLN 303 develops students' skills in critical thinking and professional communication, and helps students gain strategies for evaluating and forming arguments.
PROGRAMS
Graduate Writing Support
This program offers regularly scheduled workshops and individual tutoring and consultations for SGU graduate students who want to improve their academic writing.
CV and Personal Statement Review
SELP instructors offer workshops, written feedback, and individual tutoring to support students with their CVs and personal statements for residency applications.
WORKSHOPS
We offer a number of workshops to students and faculty at SGU
Decoding multiple choice questions
APA style and formatting
Writing a literature review
Academic writing
 West Indian language and academic English
 Reference management
Presentation skills
 Writing a CV and personal statement for residency application.
INDIVIDUAL ASSISTANCE
Assistance from SELP instructors is always available. We will meet individually with any student or faculty member, native speaker or non-native speaker of English, to work on any English language skill
Pronunciation and oral communication
Writing tutorials
ESL support
Individualized support based on your specific needs.
SELP can also create custom workshops and individualized tutoring to suit your needs!
The Supplemental Learning (SL) Program
SUPPLEMENTAL LEARNING (SL)
The Supplemental Learning (SL) Program runs weekly small group review sessions, hosts an assortment of on-line modules and small group facilitator training workshops to facilitators and Clinical Tutors, and provides general support to SGU's collaborative learning community.
Supplemental Learning small groups are provided for pre-professional and undergraduate students who want to deepen their understanding of course material, improve long-term learning, and improve their grades in large sized pre-professional courses that are traditionally most rigorous. The program is designed to assist students by developing learning communities, integrating study strategies, and applying effective test-taking skills.
The Supplemental Learning Program schedule is announced in class during the first week of classes each term.  Students are allocated to groups depending on their program and course schedule.  The SL faculty attend classes along with the students and frequently make announcements regarding the schedule and examination reviews.
Collaborative learning in small groups is a practice that has gained increased popularity at SGU.  Small group collaborative learning is supported by numerous studies and by positive student feedback at SGU.  In order to ensure excellent well-run small groups, DES offers several SAKAI training modules for Facilitators located at the True Blue and Northumbria campuses.
SL Small Group Facilitator Training Program
Collaborative learning in small groups is a practice that has gained increased popularity at SGU.  Small group collaborative learning is supported by numerous studies and by positive student feedback at SGU.  In order to ensure excellent well-run small groups, DES offers several SAKAI training modules for Facilitators located at the True Blue and Northumbria campuses.
The objective of conducting this training is to:
Help facilitators make their sessions more efficient and effective.
Anticipate collaborative learning issues and proactively resolve them.
Make sessions enjoyable and creative for all participants.
The Supplemental Learning (SL) Program focuses on the techniques surrounding the facilitation of the group review sessions. We also train small group observers and visit groups to see how they are doing and give constructive advice.
Small Group Facilitation Workshops for New Clinical Tutors and DES Facilitators
The SL program conducts several hands-on training workshops for DES Facilitators and Clinical Tutors each term.  These sessions are designed to compliment the above training modules.  They are an opportunity for new facilitators and clinical tutors to practice working in small groups.  They also help facilitators to brainstorm, reflect and plan their upcoming sessions together with awarded returning facilitators, other clinical tutors, SL faculty, and their peers.
The Academic Enhancement Program (AEP)
ACADEMIC ENHANCEMENT PROGRAM (AEP)
The Academic Enhancement Program (AEP) is a support program for selected students in their first year in the School of Medicine or School of Veterinary Medicine. This retention initiative includes review group sessions, personal advising, and access to other DES programs as needed.
AEP is a proactive support initiative that includes review group sessions, personal advising, and access to other DES programs as needed. Students are placed into the program by the Board of Admissions for a variety of reasons, including being out of school for an extended period of time prior to beginning medical school, lower MCAT scores or lower science GPA or lack of experience with multiple choice exams. The program provides the student with additional guidance and resources during their first year of medical or veterinary medical school.  Students are enrolled in the regular, full academic program in medical or veterinary medical school, but are mandated to participate in additional learning activities.
AEP Orientation
On the first day of Academic Orientation in Grenada, AEP students will attend an AEP Orientation meeting where details regarding the program are outlined. Any questions about AEP will be addressed in detail at that time. Information about the date, time, and location of the meeting will be provided on the AEP Orientaiton schedule and via student email for those who are registered in the program.  Information can also be obtained from the Department of Educational Services
AEP Faculty Advisor
AEP students must meet with their Faculty Advisor after midterm examinations, and at other times as scheduled throughout the term.
Group Review Attendance
Students must attend one AEP review session (restricted to AEP students only) and one DES review session (open to all students) per week.
Group Review Sessions
DES Group Review Sessions  provide learning opportunities for all students. As outlined above, attendance at Group Review Sessions is mandatory for students enrolled in the AEP program; for all other students, attendance is optional. DES offers over 150 Term One group review sessions a week, meeting over 2000 sessions per term.
The DES Student Support Academic Office (SSAO) recruits and selects group review session facilitators and tutors. All applicants for these positions must have completed the course at SGU with an A or B grade, and have a good overall GPA.
Learning Strategies Program
LEARNING STRATEGIES PROGRAM
The DES Learning Skills Program was designed to provide all students with the opportunity to evaluate and improve their academic skills, becoming more efficient and effective learners. Common issues include: Time Management, Test Taking Skills, Focus, Stress and Anxiety Management, and Taking/Making Notes.
Individual consultation, workshops, lectures, and presentations are arranged to address such topics as:
Practical application of study methods to specific academic curricula in order to develop new study skills and techniques.
Learning styles assessment and application, including memory techniques.
Time management strategies to keep up with coursework.
Test-taking strategies for multiple choice questions (MCQ) in order to improve test preparation and performance skills.
Time Management Assistance
Time management is an essential element for all students who want to attain their highest level of academic success. Students can receive information on how to create a realistic schedule that includes not only time for studies, but also the important daily needs necessary for creating a balanced student life. (Yes, there really can be time to eat, sleep, and have a little fun.)
Multiple Choice Question Assistance
Students are offered an opportunity to improve their overall test-taking skills through workshops and/or individual meetings. These meetings address ways to prepare for MCQ exams as well as techniques to use during the exams. It is hypothesized that good test-taking skills can improve exam scores from 5 to 15 percent.
Faculty Development
FACULTY DEVELOPMENT
MISSION: To support faculty in their pursuit of excellence in scholarship, teaching and learning.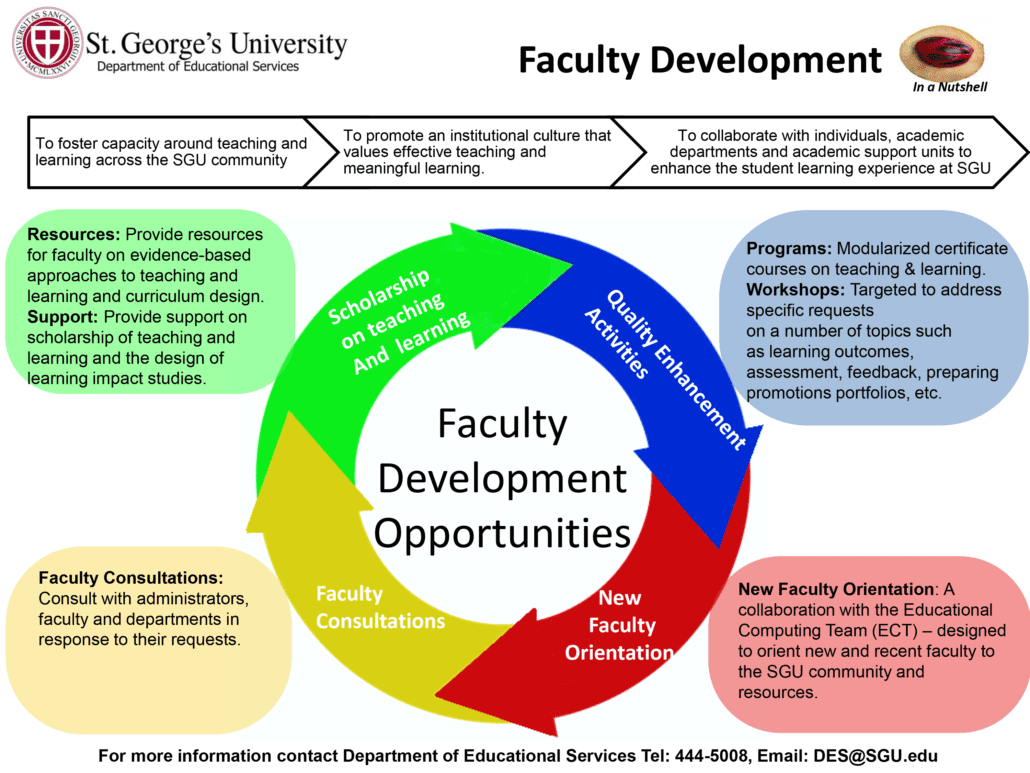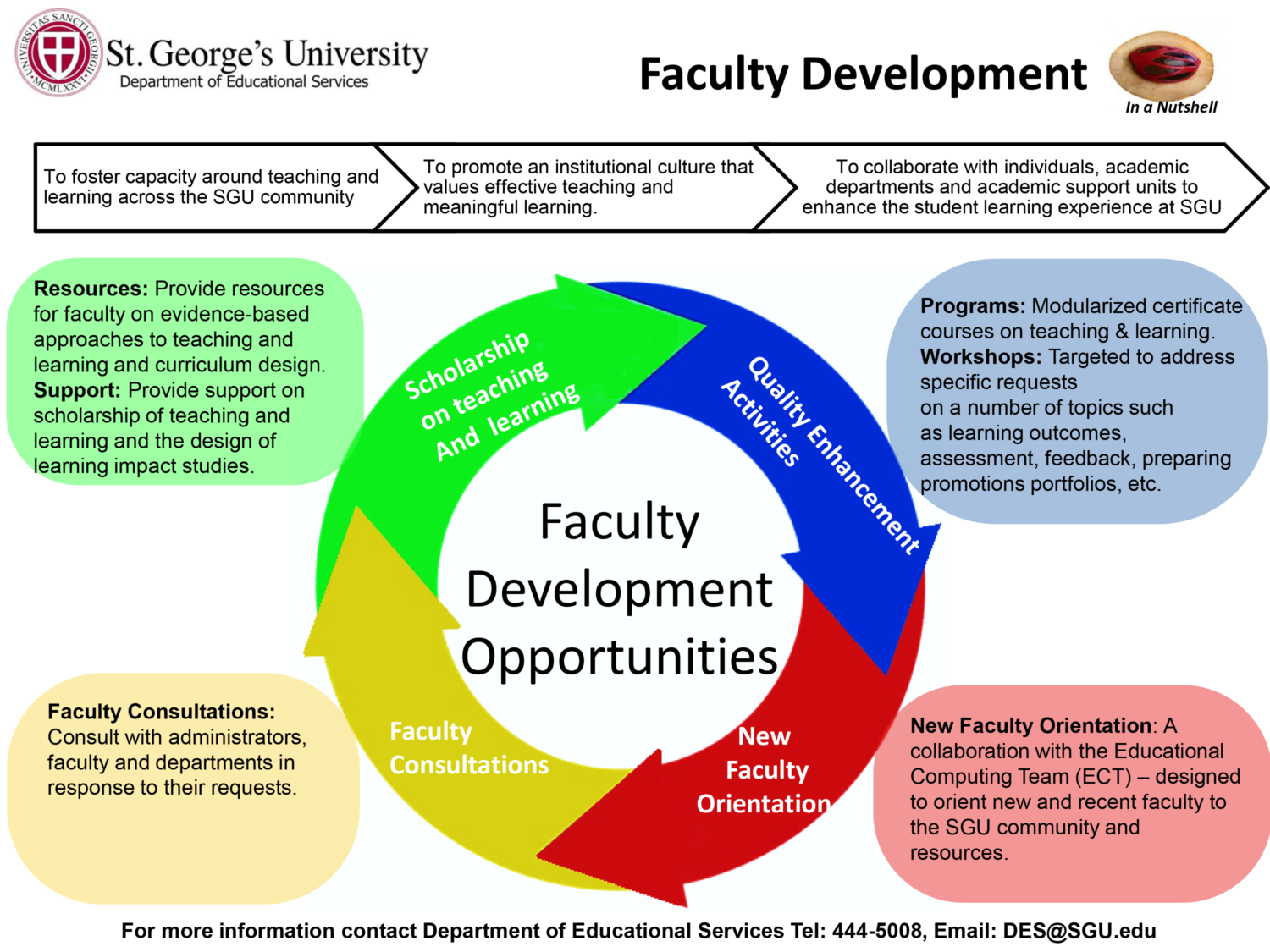 Click image to enlarge
Basics and Beyond: Certificate Program in University Teaching
SGU is a Learning Community. Teaching is a central role for all faculty; student learning is a primary goal of the University.
In keeping with SGU's mandate and vision, the certificate program, offered by the Department of Educational Services (DES), is designed to help academics develop a scholarly approach to their work as they engage in conversations and practical applications of evidence-based pedagogy for course design, assessment practices and teaching and learning strategies.
The Program consists of three certificate level courses:
Scholarly Foundations in Teaching and Learning—Level 1 Certificate
Research in Teaching and Learning—Level 2 Certificate
Leadership in Teaching and Learning—Level 3 Certificate
SCHOLARLY FOUNDATIONS IN TEACHING AND LEARNING—LEVEL 1 CERTIFICATE
4 sessions + 4 electives
Planning Your Class for Active Learning
Aligning Learning Outcomes/Learning Activities/Assessment
Approaches to Teachign that Enhance Students' Approaches to Learning
Assessment for Learning
RESEARCH IN TEACHING AND LEARNING—LEVEL 2 CERTIFICATE
4 sessions + 4 electives + completion of Level 1
Being a Mindful Practitioner: The Heart of Scholarly Teaching
Research Methods for Teaching and Learning Projects
Research Ethics for Classroom Research
Publishing Your Research on Teaching and Learning
LEADERSHIP IN TEACHING AND LEARNING—LEVEL 3 CERTIFICATE
4 sessions + 4 electives + completion of Levels 1 and 2
Leading Curriculum Change Initiatives
Leading Through Coaching and Mentoring
Distributing Leadership in Teaching and Learning
Communities of Practice
The certificate program provides:
continuing professional development
an individual Professional Development Path
a flexible timeline
a path to achieve a Certificate as part of a Professional Teaching Portfolio
an opportunity for members of the SGU community to lead sessions
Teaching activities, and student learning are primary roles for university faculty, however, most academics begin their teaching career with expertise in their content area but little or no prior opportunity to 'think' about how students learn.
Whether new to teaching or experienced faculty, most have had limited opportunities to systematically develop their teaching abilities, build a scholarly knowledge base about teaching and reflect on how the various elements of their teaching practices fit together.
The Basics and Beyond Certificate Program in University Teaching Certificate is designed to provide such opportunities.
Each session in the program is designed to be practical, encouraging academics to apply what they are presently learning to their work as teachers to support student learning.
The Basics and Beyond Program was developed as an outcome-based series of experiences that:
are informed by the focus groups conducted with faculty at SGU from March–June 2017
will continue to be informed by feedback provided throughout the program
is guided by the theoretical and empirical literature regarding teaching and learning;
are informed by research into certificate programs at other international universities including Canada, the United States, Australia and the United Kingdom
are consistent with the best practices of the international educational development profession
For further information about the program and to register for sessions, please contact Ms. Reba David at rrdavid@sgu.edu or download the brochure.
Award-Winning Academic Support Programs
DES programs at SGU have been selected as award winners by the National Academic Advising Association (NACADA), a US-based international organization that represents more than 11,000 members from all 50 United States, Puerto Rico, Canada, and many other countries. Members include faculty, advisors, counselors, administrators, and students – all working to promote and support the educational and academic development of students.
St. George's University has been awarded the Outstanding Institutional Advising Program Certificate of Merit Award by NACADA three times:
In 2015, when SGU's Academic Enhancement Program (AEP) was awarded by NACADA for its innovative advising and academic support program.
In 2011, when NACADA acknowledged SGU's Supplemental Learning Program for its efforts connected to collaborative learning.

In 2003

, for the School of Medicine preclinical program, becoming the first Caribbean institution outside of Puerto Rico to be recognized.
Administration
Chair
Department of Educational Services
Dr. Sara Rabie
srabie@sgu.edu
Director of Student Academic Support and Development
Department of Educational Services
Dr. Joanne Buckland
Director, Teaching and Learning Center
Department of Educational Services
Director, Masters of Education Program & Associate Director of Faculty Development
Department of Educational Services
Dr. Laura Colket
lcolket@sgu.edu
Associate Director of Student Academic Support and Development
Department of Educational Services
Dr. Allana Roach
aroach1@sgu.edu
Specialized English Language Program
Professional Supplemental Learning Program
Learning Strategists
Director of Student Academic Support and Development
Dr. Joanne Buckland
SVM3-6; SOM5; MyCoach; SOM1; SOM2 
Associate Director of Student Academic Support and Development
Dr. Allana Roach
SOM1; SOM2; Graduate Studies
Dr. Alisa Alvis
SOM1; SOM2
Dr. Alyson Reuben
SOM1; SOM2; Premed 3; Premed 1/2; SOM4; SOM5
SOM 1, SOM2, ITI
Ms. Chérisse Mahabir-Cletus
SAS; PostBac; MyCoach
Dr. Fomba Kanneh
SOM3/4; SOM5; SOM2
Ms. Kiku Tupper
PreClin; SOM1; SOM2
Ms. Lauren Orlando
SAS; Premed; Prevet
Dr. Marsha Nicholson-Ramdeen
SOM1; SOM2
Ms. Michele Woolley
SOM1; CFP; MSAP; MyCoach; VFP
Dr. Mondel George
SOM4; SOM5; SOM1; SOM2; Premed 3
Dr. Peter Slinger
SVM 1-2; VFP; SVM 3-6
Dr. Preniah Lafeuillee
SOM2; SOM4; SOM5; SOM1
Ms. Renée Thomas
PreClin; SOM1; SOM3; MSAP
Dr. Roxann Lewis-Roberts
SOM4; SOM5; SOM1; SOM2
Dr. Sevra McKenzie
SOM1; SOM2
Mr. Stephen Boddy
KBTGSP, Northumbria campus
Student Support Administrative Office
Office of Online Instructional Innovation