Back to Blog
Selecting a Specialty: Pediatrics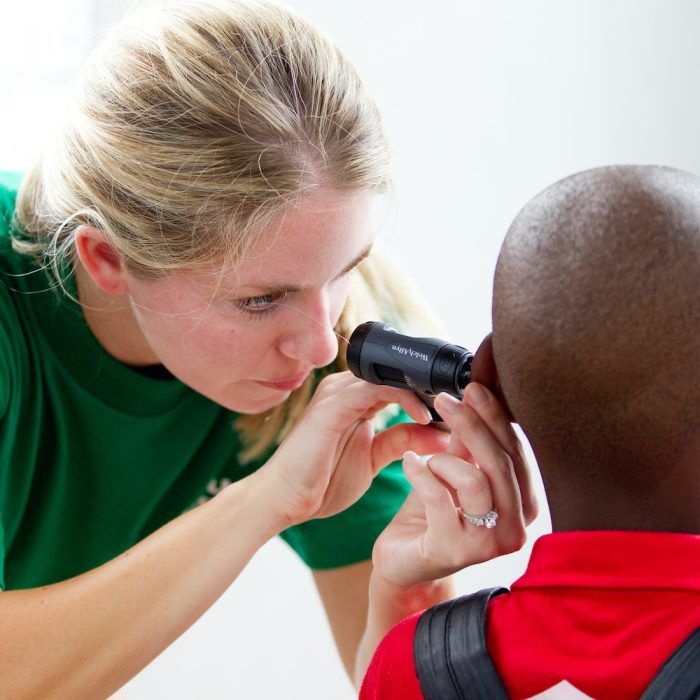 Are you currently in medical school or looking to start? You may be wondering what medical school specialties you might want to pursue.
Physicians specializing in pediatrics diagnose and treat patients from infancy through adolescence. Pediatricians practice preventative medicine and diagnose common childhood diseases, such as asthma, allergies, and croup. They work as a primary care pediatrician or may narrow their scope of practice to a pediatric subspecialty.
St. George's University would like to introduce three doctors currently practicing in pediatrics to share what led them to choose pediatrics as a specialty, what a day in the life of a pediatrician looks like, how you can stand out in the field of pediatrics, and more.
We asked them seven questions about life in pediatrics. Read what they had to say, and learn how pediatrics can be a rewarding specialty.
Dr. Stefanie Paulson graduated SGU in 2015. She has recently completed her residency and is currently an Attending Pediatric Hospitalist at Lutheran Children's Hospital in Fort Wayne, Indiana.
Dr. Karolina Petro, class of 2017, was wrapping up her third year of residency at Morristown Medical Center in Morristown, New Jersey at the time of the interview. She is now their Chief Pediatric Resident.
Dr. Emily Wassmer recently matched for her residency and is about to begin her pediatrics residency at Good Samaritan Hospital Medical Center in West Islip, New York.
Question 1: What Led You to Choose a Career in Pediatrics?
"I've always loved working with children," Dr. Stefanie Paulson said. "I had volunteered and mentored junior high kids and did kids' camps and all those sorts of things. However, I definitely tried to keep a very open mind when I went into my clinical rotations to make sure that I experienced all of the rotations. I had the opportunity to really feel which one fit me the best and pediatrics hit the spot."
Dr. Karolina Petro also agreed that it's important to keep your options open when doing your rotations. "Just like Stefanie, I did want to keep an open mind to everything, to other specialties. I really liked surgery and I liked OB/GYN but I always kept coming back to pediatrics. I'm in my third year, finishing up my residency, and I can't wait to continue doing pediatrics." Dr. Petro also loved working with children. She said, "I always knew I wanted to go into pediatrics and work with kids, and I really loved science. What better way to combine those two than to be a pediatrician?"
Dr. Emily Wassmer shared how her own childhood experiences influenced her desire to become a pediatrician. "I had a lot of health problems as a child, and I was hospitalized a lot. That is what led me into medicine. It was kind of cool that the hospital where I matched was one where I had been a patient a lot growing up. Plus everything I've done for work or volunteering when I was growing up was related to kids. I tutored, I nannied, I babysat…I did all that in college. I spent time teaching kids in hospitals how to read. I was always really into teaching so I also liked that aspect of pediatrics. You get to teach the kids a lot."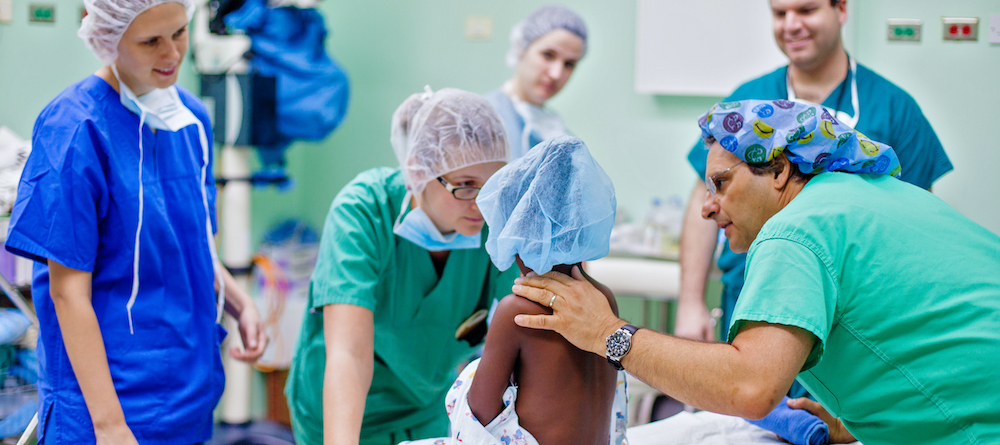 "I really liked surgery and I liked OB/GYN but I always kept coming back to pediatrics."
Question 2: How Did Medical School Prepare You?
Chanel Parks, the Associate Director of Admissions at SGU, shared how the Office of Career Guidance and Student Development (OCGSD) supports SGU students by developing a personalized residency strategy. "We actually have affiliations with over 70 hospitals and health systems where our students complete their clinical rotations. They have the opportunity to network with Residency Directors, some of whom are the same directors who would be part of the residency selection process."
Dr. Wassmer shared that the OCGSD helped her prepare for residency applications. "They help you tailor your application from how you scored on your Step exam to what specialties would be a good fit for you to how many letters of recommendation you should get for pediatrics. They even read and help edit our personal statements when we get to that point." Wassmer also benefited from joining SGU's Pediatrics Club, a student organization for SGU students who want to learn more about the field of pediatrics. "One of the coolest parts about the Pediatrics Club is that it's involved with clinics that we hold for the locals on the island for free throughout the semester. So from the time I was in my first month of medical school, I was going to these clinics with the Pediatrics Club and I knew from that first semester how to do a full pediatric exam, which was really awesome."
Dr. Petro was also a part of the Pediatrics Club and appreciated the vast affiliations that SGU enjoys, saying, "The fact that SGU has so many clinical affiliations is really, really great. In your fourth year, you're able to pick different hospitals where you want to do your electives. I was able to do pediatrics rotations in six or seven different hospitals including pediatric cardiology, gastroenterology, and pulmonology. And then I was able to obtain interviews for all of those rotations for my residency. That really helped me out, along with SGU's having such a large network of pediatricians and being able to ask them questions."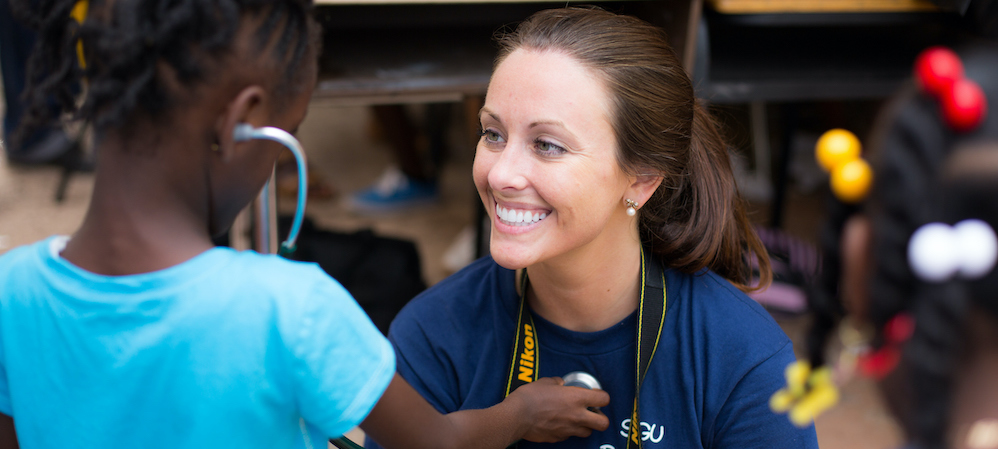 Question 3: What Does a Day as a Pediatric Resident Look Like?
Dr. Petro said, "Starting as an intern is pretty difficult sometimes because you're kind of just thrown in." She described a typical day as starting around 5:30 or six in the morning, getting reports from the night team about an hour later, and having the morning report to go over specific cases about an hour after that. The day is then spent making rounds, talking with patients and their families, doing procedures, hearing lectures, talking about cases with the program director, or being taught by the seniors. "Around 5:30 or six o'clock that night, we sign out to the night team and kind of do it all over again the next day. Once you reach your third year, you are the resident who's leading the interns. The schedule and rotations kind of change according to what rotation you're in."
Dr. Paulson shared some differences in resident life versus Attending life. "It's not as much of a change as you'd probably think, but a lot of it depends on what you end up doing as an Attending. A general pediatrician who works in a clinic is going to be much more of an eight-to-five Monday through Friday schedule. During your residency, you're working overnights and 24-hour shifts sometimes. Because I am a Hospitalist, I will be on for four or five days for 24 hours at a time, so it doesn't feel much different for me than my residency. I have a very fluctuating schedule and spend two weeks of every month completely off. I'm not on call. I'm not required to be at the hospital. I just get to be home. I like that schedule, but it's not for everyone. As a mom and as someone who's balancing multiple hats, I really like it and it fits my personality well."
Dr. Paulson also found that her being a mom helps her identify with and have patience for her patients' parents. "As physicians, hospitals are comfortable. It's where our friends are. It's where we do our favorite part of our day. But for parents, it's their worst nightmare. I honor their feelings, and I look them in the eye and say, 'I know you are scared and worried because your child is sick. I know you feel helpless. Because with all my medical training and all the knowledge I have, it's completely obsolete when it's my child.' You have to put it in perspective of what they're going through and how they're feeling."
Question 4: Did Graduating From an International Medical School Negatively Impact Your Future?
When asked about attending an international medical school, Dr. Paulson said, "I love this question. SGU was actually my first choice mostly because I really felt like SGU was offering me a unique opportunity. The educational curriculum is identical to what you're going to get in the U.S. but I felt like everything else SGU offered, I just didn't see consistently at U.S. medical schools. Our Department of Educational Services offers tutoring, test-taking strategies, and more. You have the ability to do additional international trips through SGU, SGU offered an immense amount of mentoring, and our alumni are very accessible."
Dr. Paulson added that aside from her, almost everyone she works with went to the same medical school and trained at the same hospital. This puts her in a unique and valued position. "Most of the time, I'm the bringer of new ideas. They'll say, 'Oh, you're from somewhere different. Tell us what they did where you were trained.' They also look to me to bring in new ideas from my 'exotic' training and from all the vast experiences I have from traveling all about. Again, it's a total plus."
Dr. Wassmer also saw SGU as being distinctive when applying for medical school. "When I was first looking into med schools, I saw SGU as separate from all the other international schools. SGU has been around for almost 45 years and has proven itself time and time again within the medical community." Being from New York also informed Dr. Wassmer's knowledge of SGU. "SGU's New York office is one town over from where I grew up. SGU is a huge provider in the tri-state area of New York, New Jersey, and Connecticut — we have so many SGU grads who are populating these hospitals. We really excel. Our reputation precedes itself."
Dr. Paulson added, "SGU carries a great reputation. When applying for fellowships, you'll hear, 'We've had a ton of amazing SGU graduates come through our hospital.' And then they look primarily at what you did as a resident to determine your eligibility for fellowship."
SGU also offers an online Residency Appointment Directory where prospective students can see where current students matched for their residencies.
Question 5: What Are the Pros and Cons of Practicing in a Hospital Vs. in Private Practice?
There are pros and cons to both, but Dr. Paulson states, "It depends on your personality. For me, the pro of working in a hospital setting is the flexibility of the schedule. If you work in a clinic, you pretty much have to work Monday through Friday every single week. It can be harder to take vacation or to plan large times away because your patients are dependent on you. In the hospital world, you tend to be part of a group. When you're off service, you're just off so the hospital things kind of cease to exist and aren't part of my life. But those of us who love hospital work, we thrive in that fast-paced, high-stress environment where you're making quick decisions and you're seeing sicker kids."
She points out that there are times, however, where being a Hospitalist versus a pediatrician in private practice can be seen as a potential con. "Working times can be longer or more stressful at the hospital, and someone has to work in the hospital every single day. We're not allowed to close or to say, 'We don't do Christmas.' I definitely have to work weekends; I have to work holidays. Pediatric office staff will usually be at a minimum after-hours."
Dr. Paulson notes another difference being that Hospitalists don't get to follow their patients. "A lot of people love pediatrics for being able to follow kids. You see them from Day One when they're born as this teeny tiny squishy infant and then you watch them grow up and go to college. I don't get that with my patients. But what I love is seeing kids coming in very sick with very scared parents, and I get to watch them get better. I get to see their personalities come back alive. I get to see their parents relax and be so thankful that we were able to help them."
Question 6: What Are the Subspecialties Within Pediatrics?
Dr. Paulson said, "Once you complete your three-year pediatric residency that makes you a general pediatrician, which for most people means you're going to be a pediatric provider working in a clinic or office setting. But you can also choose to specialize by completing a fellowship which is generally an additional three years of education. I'm a Pediatric Hospitalist, which means I specialize in hospital medicine. In fact, the American Board of Pediatrics just recently declared Hospitalist Medicine as a distinct specialty that now comes with its own Board certification."
The following are subspecialties of pediatrics certified by the American Board of Pediatrics:
Adolescent Medicine
Child Abuse Pediatrics
Developmental-Behavioral Pediatrics
Neonatal-Perinatal Medicine
Pediatric Cardiology
Pediatric Critical Care Medicine
Pediatric Emergency Medicine
Pediatric Endocrinology
Pediatric Gastroenterology
Pediatric Hematology-Oncology
Pediatric Hospital Medicine
Pediatric Infectious Diseases
Pediatric Nephrology
Pediatric Pulmonology
Pediatric Rheumatology
The American Board of Pediatrics also co-sponsors the subspecialties below with other American Board of Medical Specialties Boards:
Hospice and Palliative Medicine
Medical Toxicology
Sleep Medicine
Pediatric Transplant Hepatology
Question 7: How Can Others Stand Out in the Field of Pediatrics?
Dr. Wassmer shared that continuing to spend time working with children will help you stand out in the end. "Keep doing all the things you do that are kid-focused. That will come through on your resumé and it will be apparent down the road that you're truly interested in working with children. A big part of this field is wanting to go into it for the right reasons."
Dr. Petro said, "Have a set goal in your mind and do whatever it takes to reach that goal. You're going to experience bumps in the road, but you just have to keep going and focusing on that goal." She also reminds students not to be afraid to pivot. "If you think you want to do pediatrics and then you get into med school to do your clinical rotations and you're like, 'This is not for me. I cannot work with parents,' that's okay too. It's totally fine to switch your path. Just continue to do what makes you happy."
Dr. Paulson recommends taking things one step at a time. "Tackle each hurdle one at a time. With each one that you accomplish, you get better and stronger and more prepared to tackle the next one." Dr. Paulson also stressed the importance of setting your goal and staying focused on it. "Write what you truly want on a sticky note. Put it on your bathroom mirror so every day you see it: 'Become a doctor. Be a pediatrician.' Every day when you see your goal written down, ask yourself, 'What am I going to do today to work towards that goal?' You'd be surprised how quickly four years of medical school or three years of training can fly by. Before you know it, you'll realize: 'Here I am doing exactly what I've always wanted to do.' Now, being at the end of this process, I wake up every day and do my dream job. The job I've always wanted to do. And while it was a lot of work and there were a lot of challenges along the way, at this point, it kind of doesn't matter because I tackled them. I've done it. And now I get to do what I love."
Ready to start your medical school journey?
Are you considering St. George's University Medical School? If you need any more convincing, just reach out to some graduates or current students. They're happy to tell you what their experiences were like.
If you feel like SGU could be the right medical school for you, take the next step. Continue your research by visiting our request information page.