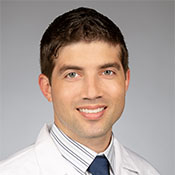 Adam Bierzynski
Graduation Date: 2011
Grenada
Fort Lauderdale, FL
Interventional Cardiologist
Grenadian national Adam Bierzynski, MD '11, is making waves in the field of interventional cardiology through the use of robotics in outpatient settings.
As an interventional cardiologist on staff at several hospitals in the Fort Lauderdale, FL area, Dr. Bierzynski performs complex heart procedures on patients in need. In 2020, he was among the team who performed the first-ever outpatient robotic percutaneous coronary intervention (PCI) at an ambulatory surgery center.
Dr. Bierzynski spoke to SGU News about why the procedure was groundbreaking, the potential life-saving capabilities of robotics within the field of cardiology, his experience at St. George's University, and how his medical training set him up for success.
SGU: Did you always want to become a doctor?
Dr. Bierzynski: I wanted to be a doctor for most of my life. My grandfather was the chief medical officer of Grenada for a time, and I was always interested in the sciences and being able to apply knowledge to helping and healing.
SGU: What appealed to you about the field of interventional cardiology?  
Dr. Bierzynski: Cardiology piqued my interest most throughout my clinical rotations. Once within cardiology training, the allure of interventional cardiology was too much to ignore. The ability to place a stent in someone's artery who is having a heart attack and have them walk out as early as the next day with almost no damage done is truly one of the most rewarding feelings in medicine. The field is also always evolving with new techniques and procedures, so it is difficult for it to ever become mundane.
SGU: Where did you do your training?
Dr. Bierzynski: After being raised and completing high school in Grenada, I attended the University of Ottawa for my undergraduate studies before returning to Grenada to attend SGU. I graduated in 2011 and was fortunate enough to start my internship and residency in internal medicine at Lenox Hill Hospital in Manhattan. I was accepted into the general cardiology fellowship program at Lenox Hill Hospital Heart and Vascular, then did a further subspecialty in interventional cardiology at the same institution, completing my long haul of training in June 2018.
SGU: In 2020, you performed the first-ever outpatient robotic percutaneous coronary intervention (PCI) at an ambulatory surgery center. Could you explain what that experience like for you?
Dr. Bierzynski: Being able to do something that hasn't been done before was definitely the highlight of my career. My training really helped me to be confident in my ability to execute the procedure safely and address any complications that may arise. Fortunately, that first procedure couldn't have gone better, and the patient was discharged home hours later. I have continued to perform this procedure robotically whenever feasible.
It is likely that robotic PCI will become more and more commonplace and performing it in the outpatient setting will also become routine, and it will always be awesome for me to look back and think, "but I did it first!"
SGU: Describe your SGU experience, especially as someone from Grenada?
Dr. Bierzynski: Attending SGU was a fantastic experience. The campus is state-of-the-art, and uniquely breathtaking in its location. Coupled with a diverse student body and accessible faculty, I can truly say that I thoroughly enjoyed my time at SGU and would recommend it to anyone considering applying.
As a Grenadian, it was surprising how even though you felt at home, it was simultaneously like being in a different country. I had attended university overseas so I was comfortable with the change, but I was aware of the difference you feel when on campus. So even for those who feel they want to have a university experience elsewhere, I can assure you that you are exposed enough to different experiences that you do not feel stifled.
SGU: Why did you decide to start med school in January?
Dr. Bierzynski: As I approached the end of my University degree and hoped to be accepted to SGU, the option of being able to start in January was appealing to me. It allowed for me to gain some work experience and also to earn income and save money prior to having to start the semester. It was also nice to have a break and not have to feel rushed to continue on right after finishing undergrad. Looking back I certainly do not regret taking those extra months before starting.
SGU: Did you receive any scholarships? If so, how did this help with your decision to go to SGU?
Dr. Bierzynski: I was fortunate enough to receive a partial scholarship to attend SGU. Having financial assistance to help with the cost of tuition is a relief that is life changing and the benefits of which cannot be overstated.  I encourage everyone to pursue all avenues to attain financial relief because it is not until much later that you can fully appreciate the difference it has made.
SGU: What insights do you have for other Caribbean students who may be considering medical school?  
Dr. Bierzynski: I sat in the lecture halls at SGU like everyone else, and heard from professors about when we will be doing residency or fellowship, and eventually practice as physicians, and I think everyone at some point has the same thought: "Can and will this really happen for me?" Rest assured, SGU graduates—including those from the Caribbean—can get the residency they want, the specialty they want, and become excellent physicians in their chosen field—if you work hard enough.
SGU: Favorite places in Grenada, suggestions to students to who are arriving on island for the first time?
Dr. Bierzynski: I would suggest you DO NOT miss the Rhum Runner welcome cruise! It is a great way to meet people when you first arrive and you might make friendships that last through your SGU experience. While it is important to focus and study hard to achieve your academic goals, the students that take the time to experience Grenada always have fonder memories of attending SGU and are less stressed throughout their time on island. Visiting the Annandale waterfalls and feeding monkeys at Grand Etang Lake, going to the Northern end of the island to Belmont Estate and seeing turtles lay eggs at Levera beach, a relaxing lunch and stroll on the beach at LaSagesse Nature reserve; these are must-dos for every student, and I could go on and on!
SGU: How often do you get back to Grenada?
Dr. Bierzynski: Not nearly enough! I generally go twice a year but due to the pandemic, two years had gone by without being able to return home. I have been back twice in the last 12 months, trying to make up for lost time!
— Published April 2022
Find out if St. George's University is right for you.
https://www.sgu.edu/wp-content/uploads/2020/02/sgu-logo-grenada.svg
0
0
lchartor
https://www.sgu.edu/wp-content/uploads/2020/02/sgu-logo-grenada.svg
lchartor
2022-05-02 13:49:52
2022-05-24 09:40:29
Adam Bierzynski