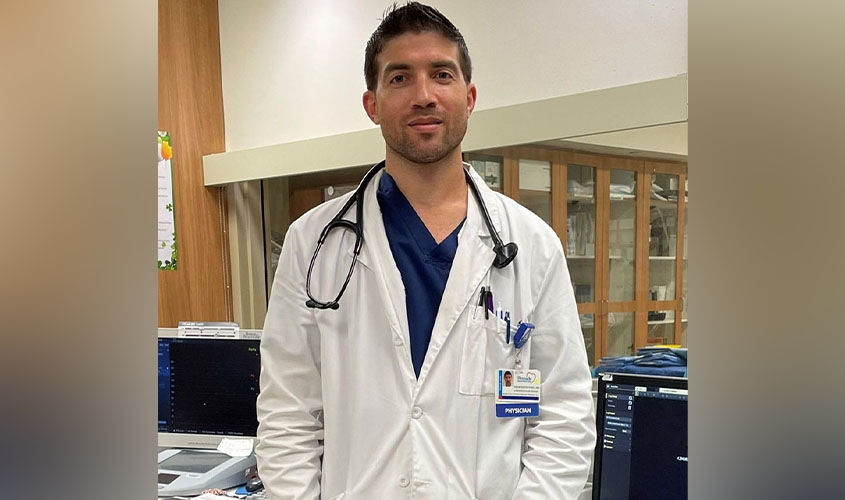 Grenadian national Adam Bierzynski, MD '11, is making waves in the field of interventional cardiology through the use of robotics in outpatient settings.
As an interventional cardiologist on staff at several hospitals in the Fort Lauderdale, FL area, Dr. Bierzynski performs complex heart procedures on patients in need. In 2020, he was among the team who performed the first-ever outpatient robotic percutaneous coronary intervention (PCI) at an ambulatory surgery center.
Dr. Bierzynski spoke to SGU News about why the procedure was groundbreaking, the potential life-saving capabilities of robotics within the field of cardiology, his experience at St. George's University, and how his medical training set him up for success.
SGU: Did you always want to become a doctor?
Dr. Bierzynski: I wanted to be a doctor for most of my life. My grandfather was the chief medical officer of Grenada for a time, and I was always interested in the sciences and being able to apply knowledge to helping and healing.
SGU: What appealed to you about the field of interventional cardiology?  
Dr. Bierzynski: Cardiology piqued my interest most throughout my clinical rotations. Once within cardiology training, the allure of interventional cardiology was too much to ignore. The ability to place a stent in someone's artery who is having a heart attack and have them walk out as early as the next day with almost no damage done is truly one of the most rewarding feelings in medicine. The field is also always evolving with new techniques and procedures, so it is difficult for it to ever become mundane.
SGU: Where did you do your training?
Dr. Bierzynski: After being raised and completing high school in Grenada, I attended the University of Ottawa for my undergraduate studies before returning to Grenada to attend SGU. I graduated in 2011 and was fortunate enough to start my internship and residency in internal medicine at Lenox Hill Hospital in Manhattan. I was accepted into the general cardiology fellowship program at Lenox Hill Hospital Heart and Vascular, then did a further subspecialty in interventional cardiology at the same institution, completing my long haul of training in June 2018.
"Being able to do something that hasn't been done before was definitely the highlight of my career. My training really helped me to be confident in my ability to execute the procedure safely and address any complications that may arise."
SGU: In 2020, you performed the first-ever outpatient robotic percutaneous coronary intervention (PCI) at an ambulatory surgery center. Could you explain what this is and why a patient would need this?
Dr. Bierzynski: The coronary arteries supply blood to the heart muscle. A "heart attack" is when those arteries are blocked and blood flow to the heart muscle stops and that muscle dies. A PCI is the placement of a stent into the coronary artery that opens the blockage and allows for blood to flow through the artery once again. Typically, this is done in a hospital and the performing doctor is standing at the operating table wearing heavy lead shielding to protect from radiation that is used to perform the imaging. A robotic PCI utilizes a mechanical arm that advances the wires, balloons, and stents that we use during the procedure in order to open the blocked arteries. I am able to sit in the adjacent control room and control the robot to perform the procedure instead of having to stand at the procedure table next to the radiation generator.  This has only ever been done inside a hospital until recently.
SGU: What was that experience like for you?
Dr. Bierzynski: Being able to do something that hasn't been done before was definitely the highlight of my career. My training really helped me to be confident in my ability to execute the procedure safely and address any complications that may arise. Fortunately, that first procedure couldn't have gone better, and the patient was discharged home hours later. I have continued to perform this procedure robotically whenever feasible.
It is likely that robotic PCI will become more and more commonplace and performing it in the outpatient setting will also become routine, and it will always be awesome for me to look back and think, "but I did it first!"
SGU: Why is this an important advancement in cardiac medicine, especially during the COVID pandemic?
Dr. Bierzynski: Cardiology is a fast, ever-changing field. The things we routinely do now were considered impossible or impractical 10-15 years ago.
This was a timely innovation during the pandemic. By performing it as an outpatient at a surgical center, patients could be assured that there were no COVID patients at the facility so that they were at minimal risk. This was important as people were postponing life-saving care, especially early on in the pandemic, due to their desire to avoid exposure to a potentially life-threatening disease. Also, it allowed the performing doctor to minimize his exposure to the patient as well.
SGU: Looking forward, what is the potential for this technology within cardiology?
Dr. Bierzynski: There are many areas within the US that do not have interventional cardiologists nearby. When someone is having a heart attack they are losing heart muscle with every second. Being able to open their artery as quickly as possible makes all the difference to that individual's life and also their quality of life. In those places where there is no access to providers capable of these interventions, it is possible that there can be staff trained in setting up and initiating the robot, while an interventional cardiologist performs the required intervention from a remote workstation.
On a global level, there are many countries that do not have an interventional cardiologist present to perform the required procedure in those suffering from an acute heart attack. Potentially, one operator could provide coverage to multiple hospitals, or different countries remotely without having to leave his own room.
In addition, interventional cardiologists have high rates of disability from orthopedic injuries due to long careers wearing heavy lead shielding while performing complex procedures.  Using the robot allows the operator to perform the same procedure while sitting down, relieving all the strain on the back and neck that interventional cardiologists have to suffer daily. It also reduces the radiation that we expose ourselves to by an estimated 50 percent and allows for more accurate measurement and stent placement which is better for the patient.
SGU: Describe your SGU experience, especially as someone from Grenada?
Dr. Bierzynski: Attending SGU was a fantastic experience. The campus is state-of-the-art, and uniquely breathtaking in its location. Coupled with a diverse student body and accessible faculty, I can truly say that I thoroughly enjoyed my time at SGU and would recommend it to anyone considering applying.
As a Grenadian, it was surprising how even though you felt at home, it was simultaneously like being in a different country. I had attended university overseas so I was comfortable with the change, but I was aware of the difference you feel when on campus. So even for those who feel they want to have a university experience elsewhere, I can assure you that you are exposed enough to different experiences that you do not feel stifled.
SGU: What insights do you have for other Caribbean students who may be considering medical school?  
Dr. Bierzynski: I sat in the lecture halls at SGU like everyone else, and heard from professors about when we will be doing residency or fellowship, and eventually practice as physicians, and I think everyone at some point has the same thought: "Can and will this really happen for me?" Rest assured, SGU graduates—including those from the Caribbean—can get the residency they want, the specialty they want, and become excellent physicians in their chosen field—if you work hard enough.
— Ray-Donna Peters and Laurie Chartorynsky
Related Reading
https://www.sgu.edu/wp-content/uploads/2022/05/Bierzynski-845.jpg
500
845
lchartor
https://www.sgu.edu/wp-content/uploads/2020/02/sgu-logo-grenada.svg
lchartor
2022-05-02 13:35:44
2023-09-14 13:13:14
Cardiologist from Grenada Pioneers Robotic Procedure in Outpatient Setting