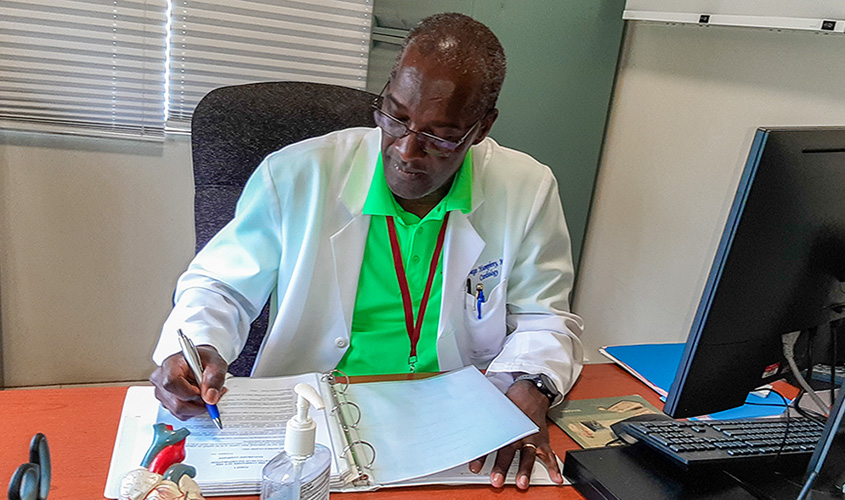 For Diego Humphrey, MD '84, the road to achieving his dreams of becoming a doctor was not an easy one. Although fraught with obstacles, especially financial ones, he never deviated from his path to one day practice medicine.
Now with more than 35 years as a practicing cardiologist, the native Grenadian serves the retired men and women of the US Armed Forces at the Jack C. Montgomery Veterans Affairs Medical Center in Muskogee, OK.
Dr. Humphrey was born in Birchgrove, St. Andrew's, but grew up in the bustling industrial area of Grand Anse after his mother moved their family so she could be closer to her job at a nearby hotel. Upon completing secondary school, he received partial sponsorship from the Grenadian government to attend SGU, graduating in 1984 as one of the original members of the first class of Grenadian-born SGU alumni.
After graduating, he spent two years at the General Hospital serving the Grenadian people. That's when he stepped out of his comfort zone.
"In 1986, I felt destined to venture out for additional training and took a big chance in relocating to the US," he said. "In those days—unlike today—it was very difficult to get into a residency training program as an international medical graduate. It took three years before I got an internship/resident position at Episcopal Hospital in Philadelphia. Once I got my foot in the door, my passion, drive, and hard work paid off when I became one of the first to be accepted into the cardiology fellowship program."
SGU students now have access to clinical training opportunities at over 70 leading hospitals and clinical centers in the United States, Canada, Grenada, and United Kingdom, and secure quality US-based residencies every year, including more than 960 first-year positions in 2019 alone.
"I am proud to be part of a program that, since its inception in 2008, has provided millions of dollars in service to the Grenadian people and has saved countless lives."
After achieving much success in the US, Dr. Humphrey, who never forgot his roots, turned his eye back to Grenada, officially joining the SGU-Physician Humanitarian Network (SGU-PHuN) in 2016. He now returns each year, donating his time and expertise to the program that enables St. George's University alumni and friends to aid the Ministry of Health and Government of Grenada in providing cost-free healthcare services such as ophthalmology, podiatry, endoscopy, and cardiology among others to the country's citizens.
"Dr. Diego Humphrey is unique to us at SGU-PHuN in that he is our only Grenadian cardiologist within the adult cardiology program" said Brendon La Grenade, vice provost for institutional advancement. "As one of the first Grenadian graduates of St. George's University School of Medicine, he continues to support his home country by providing desperately needed cardiology services. SGU and the island of Grenada are extremely proud and grateful for the work that he has been doing for us and wish to have him on board for many years to come."
"The work we do here in Grenada is priceless," stated Dr. Humphrey. "I am proud to be a part of a program that, since its inception in 2008, has provided millions of dollars in service to the Grenadian people and has saved countless lives. In the future, I would like to go a step further and develop a registry of cardiovascular medicine, which would allow us—the Grenadian medical community—to know how we're doing in managing this chronic disease that poses such a danger to us."
To that end, Dr. Humphrey, who also practices preventive medicine, has founded Green Heart Mobile Clinic, an organization created to spread information from parish to parish on maintaining a heart-healthy lifestyle, as well as provide essential cardiology services such as diagnosing, monitoring, and treating cardiovascular disease island-wide.
"Attention needs to be paid not just to treating the problem but to preventing the problem in the first place," stated Dr. Humphrey. "My mission is to go around the island, especially the rural communities, informing people of the status of their cardiovascular health to help prevent congestive heart failure, heart attack, and stroke."
He hopes to one day see these efforts culminate in a competition between the parishes for the title of Healthiest Parish in Grenada.
– Ray-Donna Peters
https://www.sgu.edu/wp-content/uploads/2019/12/Humphrey-845-x-500.jpg
500
845
bpmauser
https://www.sgu.edu/wp-content/uploads/2020/02/sgu-logo-grenada.svg
bpmauser
2019-12-05 16:22:32
2019-12-05 19:23:49
Grenada-Born SGU Alum Returns Home To Care For His Nation's Heart