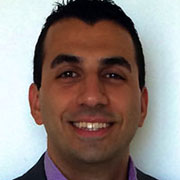 Ilan Danan, MD
Graduation Date: 2011
United States
Treating and preventing head injuries has been at the forefront of sports medicine in recent years, and Ilan Danan, MD SGU '11, co-chief resident of neurology at Westchester Medical Center in New York, will be on the cutting edge of the field in 2015 when he begins a unique fellowship in sports neurology at the Kerlan-Jobe Orthopaedic Clinic in Los Angeles.
"The field is just beginning to develop, and I look forward to being a part of its continued growth over the coming years," Dr. Danan said. "I feel very fortunate to have been given this opportunity. I can't even begin to explain how excited I am."
Focus on reducing brain trauma prevalence has taken off with the recent attention to injuries in sports, particularly in the National Football League. Doctors are addressing not only the treatment of head injuries but more importantly their prevention, from the professional levels all the way down to youth sports.
"It's important that athletes and parents alike are comfortable knowing that they are under the care of physicians with expertise in the field," Dr. Danan said. "In the past, these injuries were not appropriately managed mainly because physicians didn't necessarily know how to manage it."
Born and raised in New Jersey, Dr. Danan obtained his Bachelor of Arts in psychology from Rutgers University, and went on to earn a master's degree in biomedical science from the University of Medicine and Dentistry of New Jersey (UMDNJ). He diligently researched his options for medical school and, noticing its track record for success, decided to enroll at St. George's University. In addition to the rigorous curriculum, Dr. Danan found time to take part in the Student Government Association, Jewish Student Association, and intramural sports. He took full advantage of the University's Department of Educational Services.
"The camaraderie among students was great, and it didn't necessarily have that medical school mentality that you hear about where everyone is trying to one-up each other," Dr. Danan said. "Your classmates are looking out for you and want you to do as well as possible."
After two years of basic sciences, he completed the majority of his clinical rotations in his home state of New Jersey, including Saint Barnabas Medical Center and Newark Beth Israel Medical Center. "I had been waitlisted at a few of the New Jersey medical schools, and was able to come back two years later and rotate at the same hospitals as New Jersey medical students," Danan said.
Dr. Danan gives back to SGU by speaking with prospective students about his experience in Grenada, interviewing prospective students and talking one-on-one with them at information sessions. He also meets with incoming students at New York area welcome sessions.
"I remember being in their shoes, having so many questions and being uncertain," Dr. Danan said. "Having one-on-one interaction with a current student or an alum to put some of their uncertainties to rest is really beneficial. I'm able to give them my story and let them know that, if you put in the effort, success is commonplace at SGU."
He is one of those success stories.
"I would do it all over again the exact same way," Dr. Danan said. "I'm very appreciative that SGU gave me the opportunity to fulfill my dream of becoming a sports neurologist. I couldn't think of a better career for me."
Published August 2014
Find out if St. George's University is right for you.
https://www.sgu.edu/wp-content/uploads/2020/02/sgu-logo-grenada.svg
0
0
Erin Shaw
https://www.sgu.edu/wp-content/uploads/2020/02/sgu-logo-grenada.svg
Erin Shaw
2016-12-28 18:19:10
2021-02-02 15:01:51
Ilan Danan, MD