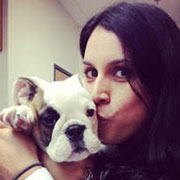 Jennifer Lopez, DVM, MBA
Graduation Date: 2011
United States
As a veterinarian, Jennifer Lopez, DVM '11, MBA '13, is accustomed to making important decisions that affect the welfare of her patients. Now as medical director of VCA Castle Shannon Animal Hospital in Pittsburgh, PA, her decisions affect the entire practice. It's a position for which she is well prepared, having obtained both her Doctor of Veterinary Medicine and Master of Business Administration from St. George's University.
"The reason I got this job was because of my MBA," Dr. Lopez said. "They were looking for someone with management experience, and a lot of the things that I learned in class I use every day."
Having made a positive impression at Banfield Pet Hospital during four separate stints on her breaks from school, Dr. Lopez began practicing as an Associate Veterinarian at Banfield's midtown Miami location in 2011. It was during that time that she enrolled in SGU's MBA program, specializing in multi-sector health management. With the exception of two one-week residency sessions in Grenada, classes were held entirely online, which worked well with her hospital schedule. She completed her MBA in fewer than 18 months, and graduated in 2013 with a deeper understanding of international business, global health, and principled leadership.
Dr. Lopez now oversees 12 doctors and 30 support staff in her role as medical director. She also works as an emergency and general practice veterinarian, visiting with patients for well visits and conducting critical care treatment, including surgeries, on a regular basis. In addition, the hospital gives back to the community, hosting community days, donating their services and educating owners on how to best take care of their pets. For her leadership, Dr. Lopez was recognized in the 2016 edition of Icons of Pittsburgh, a book that annually recognizes prominent figures in the Steel City.
Dr. Lopez grew up in Miami, FL, where her parents bred Rottweilers. "We always had puppies around, so I thought that was a normal thing," she said. "I don't even know what else I would do if it didn't involve animals." She obtained her Bachelor of Science in animal biology from the University of Florida in 2001, and went on to earn a bachelor's deggree in business administration from the University of Phoenix in 2004. While pursuing those degrees, she worked in UF's College of Veterinary Medicine as a veterinary technician, specializing in dermatology, which she also researched in depth.
Tara Paterson, DVM '03, and Janet Caracciolo, DVM '03, came through Florida during their clinical year and spoke glowingly about their experience at SGU. They encouraged her to apply, and she enrolled in 2006.
Dr. Lopez found veterinary school to be a challenge, but she was up to that challenge. She embraced the Grenadian culture and appreciated the hands-on experience that the School of Veterinary Medicine provided early on, identifying Drs. Timothy Ayliffe and Marta Lanza-Perea as especially influential figures in her education. She and her classmates held numerous community outreach events, including vaccine clinics and sponsoring lunches.
"It was more difficult than I expected," Dr. Lopez said. "You don't just sit at the beach with flash cards every day, although you definitely do occasionally. It's a good balance. Grenada is a beautiful country and its people are amazing."
In addition, she served as president of the Jewish Student Association and American Animal Hospital Association, mentored incoming students as part of the SGU's Footsteps program, and held the position of student representative for Pfizer and VCA Hospitals.
"The friends and the connections that I made and the confidence that I gained made me a better veterinarian and person," Dr. Lopez said. "The faculty spent time with us. They really cared about us doing well, going on to do clinics well, and becoming very good veterinarians."
She has become one herself, and hopes to pass down the knowledge and skills she has gained to her staff. For a Floridian, relocating to the northeast was an adjustment for Dr. Lopez and her bulldogs, but she admits she has had her time in the sun. "In Florida and Grenada, I wore a lot of flip-flops and shorts, so I'm good with scarves and boots."
Find out if St. George's University is right for you.
https://www.sgu.edu/wp-content/uploads/2020/02/sgu-logo-grenada.svg
0
0
Erin Shaw
https://www.sgu.edu/wp-content/uploads/2020/02/sgu-logo-grenada.svg
Erin Shaw
2016-12-28 18:35:36
2021-02-02 17:49:37
Jennifer Lopez, DVM, MBA