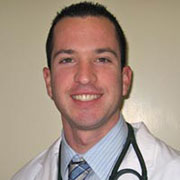 Joshua Morgenstern, DVM
Graduation Date: 2011
United States
Advanced Veterinary Care Center, Lawndale, CA
Veterinary Cardiology
Dr. Joshua Morgenstern is a first-year veterinary cardiology resident at Advanced Veterinary Care Center in Lawndale, CA, a practice with specialty services in cardiology, internal medicine, oncology, and surgery, as well as emergency care. He is involved in everything from installing pacemakers, performing balloon valvuloplasties, and many other interventional intravascular procedures. In addition to his work in the catheter lab, he manages dogs and cats in congestive heart failure, animals with congenital heart defects, and others with complex arrhythmias.
"Cardiology isn't for everybody, but I've found that I excel at it and really enjoy it," Dr. Morgenstern said. "It takes a certain type of person to treat older patients and diseases we often can't fix. Cardiology is a rapidly growing field in both human and veterinary medicine."
Upon graduating in 2011, Dr. Morgenstern further enhanced his clinical skills and resume by doing a rotating internship in medicine and surgery at the prestigious Animal and Medical Center in New York and then completing a cardiology internship at BluePearl Veterinary Partners in Tampa, FL. Dr. Morgenstern then matched with the cardiology residency at Advanced Veterinary Care Center. His primary case load at AVCC involves cats and dogs, but on occasion everything from birds and rabbits to horses. He has even performed an echocardiogram on a grizzly bear.
Born and raised in New York, Dr. Morgenstern majored in animal science at The Ohio State University's College of Food, Agricultural and Environmental Sciences and earned his Bachelor of Science in Agriculture in 2007. When weighing his veterinary medical school options, a family friend who was also a veterinarian raved about the caliber of SGU graduates with whom he crossed paths. Dr. Morgenstern diligently researched the University and its programs, and in August 2007, he enrolled at SGU, studying basic sciences for three years in Grenada.
"It's an experience that I wouldn't trade even if I had an opportunity to go to a state school," Dr. Morgenstern said. "It's rewarding in that you learn about more than just medicine; you learn about life. The level of education is second to none, and it provided me with the tools that I needed to excel. Not a day goes by that I don't appreciate the opportunity I was given by St. George's University."
Upon arriving, he immediately took advantage of unparalleled access to faculty members and student support from the award-winning Department of Educational Services. It also didn't take long for him to grow fond of his new classmates.
"Moving to a new country, we were all experiencing the same thing, and we all had a passion and drive to become a veterinarian," said Dr. Morgenstern, who also has helped SGU with student recruitment and counseling.  "I think we all found comfort in that and grew together not only as a class but as a family."
As a veterinarian, he draws great satisfaction from keeping families of a different kind together.
"It's wonderful when we are able to take a bad situation and make it right," Dr. Morgenstern said.
"The feeling of getting our patients back home to their families and the appreciation that we receive is extremely rewarding."
Published February 2012
Find out if St. George's University is right for you.
https://www.sgu.edu/wp-content/uploads/2020/02/sgu-logo-grenada.svg
0
0
Erin Shaw
https://www.sgu.edu/wp-content/uploads/2020/02/sgu-logo-grenada.svg
Erin Shaw
2016-12-28 18:50:46
2021-02-04 20:00:34
Joshua Morgenstern, DVM