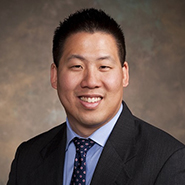 Lowell Su, MD
Graduation Date: 2010
United States, Taiwan
Tufts Medical Center/Lahey Clinic
Cardiothoracic Surgery Fellow
From the specialty he's in to the training that he's receiving, Lowell Su, MD '10, cherishes the position that he's in. As a cardiothoracic surgery fellow at Tufts Medical Center and Lahey Clinic and Medical Center in Boston, MA, he's learning from some of the world's foremost leaders in the field, in one of the most competitive fields to gain admittance.
His two-year fellowship in and around Boston is only the latest stop on a journey that has taken the St. George's University graduate to some of the country's most renowned institutions—the acclaimed Mayo Clinic and Brigham & Women's Hospital among them.
"I went to medical school wanting to do CT surgery, so you could say that I'm living my childhood dream," he said. "I've been lucky enough to be learning from leaders in cardiothoracic surgery, from the people who write the textbooks."
Dr. Su recently entered his second year at Tufts, where he sees a breadth of cardiac and thoracic cases. In the morning, he rounds in the cardiac intensive care unit (ICU), reviewing patient plans with attendings and working with the department's residents. From there, he scrubs into the operating room at Tufts' Heart Failure and Cardiac Transplant Center, which ranks number one in New England in heart transplant volume, and has produced some of the country's most favorable transplant outcomes. Dr. Su also practices at the nearby Lahey Clinic, which is at the forefront nationally in robotic-assisted thoracic surgery and tops in New England in regards to robotic case volume.
"Operating on the heart and lungs, it's very rewarding to know that you're changing the course of people's lives," Dr. Su said. "Thoracic surgery has made significant technologic advancements in the past decade; consequently, an increasing number of cases are done minimally invasively. Heart surgery is still primarily performed through an open approach, and I relish the opportunity to literally get my hands inside the chest to operate. It's amazing to operate in the chest, to feel the heart beating and the lungs breathing, and to know that each operative decision helps determine the course of a patient's life. Ultimately, to be in a position to help out patients through these operations is why I love this field."
Becoming a physician was Dr. Su's goal from a young age. Born in Taiwan, he and his family moved to Minnesota when he was young, his father and mother taking positions at the prestigious Mayo Clinic, him a dermatologist and her a radiologist. It was then that Dr. Su's interest in medicine began to bloom.
"I remember when I was in elementary school, my dad showed me videos of heart surgery performed at the Mayo Clinic, and I would just watch them all afternoon," Dr. Su said. "I told myself that one day I would be wearing those surgeon's gloves."
Dr. Su earned his Bachelor of Arts in biology from Northwestern University in 2000 before going on to obtain a master's degree in intercultural studies from Trinity International University in Chicago. He firmly believed that his grade point average and test scores were strong enough for admission into any American school but instead he was waitlisted.
At an impasse, he evaluated his options, speaking to several of his father's Mayo Clinic colleagues who had gone the Caribbean route and become successful physicians. Instead of waiting a year to re-apply to American schools, Dr. Su enrolled at SGU because of its high residency match rates and campus accommodations.
"It was unclear to me at the time why the door to matriculating into an American school was closed," Dr. Su said. "In retrospect, however, there is a time for everything, and a season for every activity. That time was meant for me to pursue a master's degree that would build a foundation of integrating medical care into different cultural settings and delivering this care to different people groups. In the end, SGU effectively gave me the same opportunity while saving me a year of re-taking entrance exams."
As a student at SGU, he was part of the Iota Epsilon Alpha medical honor society, and tutored for two years through the University's Department of Educational Services. He also took advantage of the array of intramural sports on campus and recreational opportunities around the island.
"I found it to be a valuable experience because I met people from different countries and backgrounds, many of whom I'm in touch with to this day," Dr. Su said. "I also enjoyed living in a different culture."
After graduating from SGU, he did his surgical internship year at the Mayo Clinic, before completing a five-year general surgery residency at Marshfield Clinic with rotations at the University of Wisconsin Medical School and Medical College of Wisconsin. From there, Dr. Su joined a two-year minimally invasive thoracic surgery fellowship at Brigham and Women's Hospital in Boston and the Veteran's Affairs Hospital in West Roxbury, MA, programs run by Harvard Medical School.
"Brigham is the birthplace of thoracic surgery in the United States and is the largest thoracic program in the United States. Approximately 25 percent of all thoracic surgeons in this country were trained at this hospital," he said. "There are 18 attending surgeons who are experts in everything thoracic. It was the chance of a lifetime to learn everything I did from them."
Looking ahead, Dr. Su eagerly anticipates finishing his fellowship and then seeking a position that combines both his clinical and academic background. Looking back, he's proud of the path he's taken and thankful for the foundation he built at St. George's University.
"St. George's University gave me everything I needed to get where I am," Dr. Su said. "Without a doubt, I had to put in the work and prove to people that I could handle the workload, and SGU provided me with the medical knowledge and clinical rotations to succeed. At the end of the day, I'm right where I want to be."
Published July 2019
Find out if St. George's University is right for you.
https://www.sgu.edu/wp-content/uploads/2020/02/sgu-logo-grenada.svg
0
0
bpmauser
https://www.sgu.edu/wp-content/uploads/2020/02/sgu-logo-grenada.svg
bpmauser
2019-07-15 14:41:50
2021-02-03 19:03:31
Lowell Su, MD