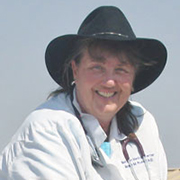 Margaret Russell, MD
Graduation Date: 2005
United States
In 2008, Dr. Margaret Russell, MD SGU '05, took a walk down Main Street—the only street with businesses in Yerington, Nevada—and it felt like home. For a self-proclaimed "small-town girl," practicing medicine at South Lyon Medical Center, an all-encompassing medical facility at the base of the Sierra Nevadas, was the perfect fit.
"I had not been in Yerington more than two days, and I had fallen in love with the town," Dr. Russell recalled. "I just knew that I wanted to do rural medicine and that it was a good fit."
Five years later, she continues to serve as one of four doctors at South Lyon. In such a community, the medical personnel must wear many hats, together operating a 14-bed hospital, physicians clinic, long-term care unit, and 24/7 emergency room, visiting with patients old and young, rich and poor. For patients requiring a higher level of care, they work closely with major hospitals in Reno and Carson City, 65 miles away, coordinating emergency helicopter flights or accompanying patients on ambulance trips. Dr. Russell also facilitates low-cost or free healthcare for low-income individuals.
"You have to be an advocate for your patients, which is very different from a big city," she said. "We may have to give our patients gas money to be able to see a specialist or have to call a colleague consult like a surgeon who might be willing to do a back surgery for $150. There really are people like that out here. Many specialists treat us as colleagues and arrange telemedicine or video conferencing to help us rural docs out."
Yerington resembles Dr. Russell's hometown of Kellogg, ID, a mining/ranching town of about 3,000 people. After high school, she earned her Bachelor of Science in biology and chemistry from Eastern Washington University in Cheney, WA, and embarked on a 21-year journey as a teacher. It included an 11-year stint in Royal City, WA, a farming community without a single doctor or nurse. When a neighbor's infant child died of pneumonia, in part due to the lack of area health care, Dr. Russell re-directed her focus.
"I thought to myself, 'I am going to fix this situation. I am going to be a doctor in a rural town that needs me,' " she said.
At SGU, Dr. Russell immersed herself in her studies as well as the Grenadian culture. She joined the Emergency Medicine Club and Surgery Club, and also served as a Department of Educational Services (DES) instructor for two years. In her free time, she learned how to SCUBA dive and to sail, and explored Grenada's many rainforests.
After leaving the Caribbean, Dr. Russell completed her third and fourth years at Kern Medical Center in Bakersfield, CA. Upon graduation, she completed a family and community medicine residency through the University of Nevada's Las Vegas-based program.  She credits St. George's University for preparing her in all aspects of medicine and clinical care.
"I've been told I don't miss much in terms of my evaluation of a patient, and that's because I was taught a different way," Dr. Russell said. "St. George's really had us use all of our senses right off the bat. I depend on the skills I was taught at SGU, and those skills have never let me down. Students at St. George's University receive a phenomenal well-rounded education."
Published September 2013
Find out if St. George's University is right for you.
https://www.sgu.edu/wp-content/uploads/2020/02/sgu-logo-grenada.svg
0
0
Erin Shaw
https://www.sgu.edu/wp-content/uploads/2020/02/sgu-logo-grenada.svg
Erin Shaw
2016-12-07 18:48:23
2021-02-08 15:10:23
Margaret Russell, MD