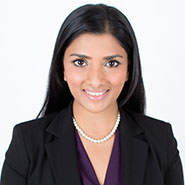 Namrita Prasad, MD
Graduation Date: 2016
Fiji
The Brooklyn Hospital Center
Internal Medicine
Namrita Prasad, MD SGU '16, never imagined that she would leave her home or her family, never mind come this far. She grew up in the Fiji Islands, her family had limited resources, and no family member on either side had graduated college. Yet in March, after raising the bar with each year gone by, she celebrated yet another remarkable achievement in her journey, having secured an internal medicine residency at The Brooklyn Hospital Center in New York.
"It's unreal to me that I'm even here," she said, joining fellow St. George's University graduates at the annual Match Day luncheon. "It was all a dream that seemed unattainable when I was at a community college while working full time. The one thing that led me here was perseverance. I wasn't the smartest student but I knew how to work hard and ask for help whenever I needed it. I was blessed with wonderful mentors that guided me to where I am today and I am just so extremely humbled."
She comes from modest beginnings. At age 16, a military coup forced her family to relocate from Fiji to San Bruno, CA, in South San Francisco. Money was tight and her career options, she thought, minimal. However, Dr. Prasad volunteered at several hospitals in the area and joined a summer youth program through Kaiser Permanente, through which she discovered a deep passion for medicine. Dr. Prasad kept pressing forward, enrolling at American River Community College before moving on to the University of California, Davis, where she earned her bachelor's degree in biological science, with an emphasis on neurology, physiology, and behavioral science. She did this all while working long hours to put herself through school.
Although her family thought it might, Dr. Prasad's journey didn't stop there. A UC Davis friend turned her on to SGU, citing its prowess not only in the region but globally. After researching SGU and learning of its wide network of physicians practicing in the United States, Dr. Prasad scored well on the Medical College Admission Test (MCAT), applied, and soon found herself on her way to Grenada, first as part of SGU's Master of Public Health program. She also served as public relations officer in the Public Health Students Association.
"It was the most amazing experience that I could have ever asked for," Dr. Prasad said. "The MPH program taught us to think about community health – not just individual health – and to promote healthy living to prevent diseases and empower individuals through education to become active participants in their own health. The health promotions and disease prevention theories and models that I learned in MPH program are still very applicable in everyday interaction that I have with patients to limit the number of readmissions."
That included during Dr. Prasad's research, which she conducted while obtaining a Master of Medical Research through SGU. She has created and submitted several manuscripts to peer-reviewed publications, bolstering her residency resume in the process.
Dr. Armand Asarian, Vice Chairman for the Department of Surgery at Brooklyn Hospital and Assistant Dean of Students at SGU, served as a mentor for Dr. Prasad while and after she trained as a clinical student in New York City, a new frontier for her. His protégé's unique skills were evident to him early.
"She didn't have an easy trip to this point, but she came early every day, worked hard, she asked for help, she listened to that advice, and did everything she could to better her future," Dr. Asarian said. "I'm really excited to see her succeed."
Dr. Prasad shared similar praise for her mentor, Brooklyn Hospital Medical Student Coordinator Karine Camacho, as well as Daniel Ricciardi, MD SGU '81, Dean of Clinical Studies at SGU and Director of Undergraduate Medical Education at TBHC. All of those she has met along the way have shaped her into the physician – and the individual – that she has become.
"I feel like SGU creates a family for you," Dr. Prasad said. "I'm grateful that I have encountered such wonderful people because I know I couldn't have done this without their help and guidance. It wasn't easy being an immigrant with no idea on how to go about making my dream a reality. The only way I can think of showing my gratitude is to pay it forward and guide students to keep their dream alive and just keep swimming."
Published June 2017
Find out if St. George's University is right for you.
https://www.sgu.edu/wp-content/uploads/2020/02/sgu-logo-grenada.svg
0
0
bpmauser
https://www.sgu.edu/wp-content/uploads/2020/02/sgu-logo-grenada.svg
bpmauser
2017-06-12 18:26:40
2021-01-20 15:46:04
Namrita Prasad, MD