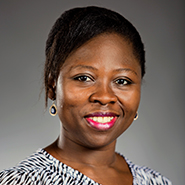 Nana Yaa Baffour-Awuah, MD
Graduation Date: 2015
Ghana
Southside Hospital, Bay Shore, NY
Family Medicine Resident
As she comes to the end of her family medicine residency at Southside Hospital in New York, where she treats area residents as well as people from all over the world, Nana Yaa Baffour-Awuah, MD '16, looks back fondly on the path she's taken, and eagerly awaits discovering what the future holds.
Originally from Ghana, Dr. Baffour-Awuah moved to the US for college and, following "four fabulous years" at St. George's University in Grenada, she is helping a diverse population, of which more than 85 percent of patients are uninsured and many are undocumented immigrants.
"Some patients have been coming to the hospital for years," she said. "They appreciate the continuity of care and the ability to obtain extra help or reduced fees."
Dr. Baffour-Awuah also volunteers at local homeless shelters and is working with a telehealth program designed to expedite the admissions process from the emergency room. The program also provides support to patients in areas with limited access to medical care.
Upon completing her residency, she will transition to family medicine to be a primary care doctor, in addition to getting more involved with research.
"I've always been keen on family medicine as it covers a bit of everything," Dr. Baffour-Awuah said. "I like the continuity of knowing a person for years and years."
Her path to medicine began at Connecticut College, where she studied biochemistry as well as cell and molecular biology, and was also recognized with an Outstanding Student award. During this time, she volunteered in an ER—an experience that helped make up her mind about becoming a doctor.
After studying in the US, she returned to Ghana with the intention to enroll at medical school there, but only one school featured with a four-year medical program mirroring the US system. That's when she looked abroad.
"St. George's University appealed to me because it is similar to US schools," she said. "I had a good feeling about going to SGU, and I wasn't disappointed."
In her two years in Grenada, she benefited from small-group settings for teaching and discussion sessions, as well as from the support of SGU's international faculty. Following two years on the island, Dr. Baffour-Awuah's clinical rotations—based in New York City—covered hematology, oncology, child and adolescent psychology, surgery, emergency medicine, and family medicine. After earning her Doctor of Medicine, she gave back to her alma mater but serving as a learning strategist, mentoring junior students and helping them with learning and exam strategies.
"I loved my time in Grenada," she said. "It was just what I was looking for in terms of the coursework, and the island itself was fantastic. It has great weather, beaches, and people from all over the world living and studying there."
Published October 2019
Find out if St. George's University is right for you.
https://www.sgu.edu/wp-content/uploads/2020/02/sgu-logo-grenada.svg
0
0
bpmauser
https://www.sgu.edu/wp-content/uploads/2020/02/sgu-logo-grenada.svg
bpmauser
2019-10-30 19:09:35
2021-02-03 21:03:25
Nana Yaa Baffour-Awuah, MD