Back to Blog
5 Primary Care Specialties Aspiring Doctors Should Consider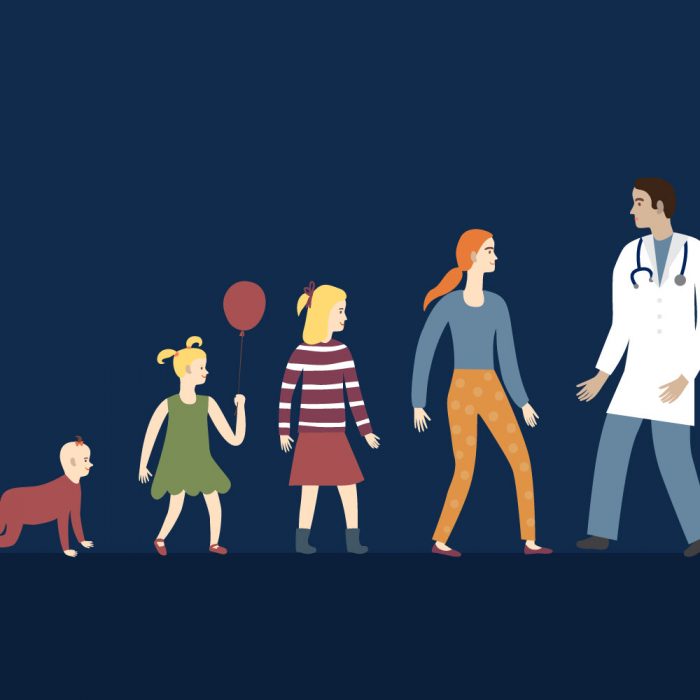 It's easy to see why an aspiring physician like yourself would be interested in primary care — there's an array of cases and diseases, something new every day, and the opportunity to develop long-term relationships with your patients through the years.
Not to mention the opportunity to help combat the looming shortage of primary care physicians. According to the Association of American Medical Colleges (AAMC), the US is projected to face a deficit of primary care physicians as high as 55,200 by 2033.
This extreme demand makes pursuing a career in primary care a promising decision. But the decision doesn't end there. You must also choose which area of the field you'd like to focus on.
Join us as we break down five primary care specialties that provide care for various members of the community. Learn about what each entails, so you can decide which best aligns with your skills and interests.
5 Primary care specialties to consider for your career
Primary care is critical to patient health. Patients who have regular access to a primary care physician are admitted to hospitals and emergency rooms less frequently. They are better able to maintain their health and manage chronic conditions. Access to primary care allows people to live longer, miss less work, and evade disability.
Keep reading to learn about the different primary care specialties you could pursue.
1. Family medicine
Family medicine physicians work with both children and adult patients. They generally work in an outpatient setting, diagnosing and treating a variety of diseases. They also perform physicals, health screenings, and provide general preventive care. Family physicians receive extensive training in order to treat most conditions and provide comprehensive health care for everyone, regardless of age.
In an effort to promote continuity of care in doctor-patient relationships, family medicine emerged in the 1960s in response to the medical field's increasing fragmentation through specialization. While other specialists work with a particular age group, disease, or organ, family medicine serves the entire family unit, from young children to aging adults, along with a wide array of conditions.
2. Internal medicine
Internal medicine is another specialty within the primary care family. Internal medicine physicians, also called internists, work with adult patients on many common diseases, such as diabetes, obesity, or high blood pressure. They also provide health screenings and general preventive medicine. Some work in hospitals, while others work in clinics or doctors' offices.
The roots of internal medicine extend further back than family medicine, emerging in the late 1800s as medicine grew increasingly scientific. Science-backed approaches to diagnosis and treatment were applied to an array of diseases common to adults.
As the pediatrics field developed into a child-devoted discipline, internal medicine emerged to support the primary care needs of adults. Internists continue to treat all types of adult diseases today — everything from common ailments to severe, chronic diseases to rare and complicated conditions.
3. Pediatrics
Pediatricians are primary care doctors trained to diagnose and treat babies, children, and adolescents. They specialize in providing care for diseases and injuries common to younger patients. They also handle vaccinations, physicals, and general preventive medicine. When caring for younger patients, pediatricians counsel parents on the growth and development of their children.
Some pediatricians start their own private practice, while others work in a clinic or hospital. Demand for pediatricians continues to grow in tandem with population growth.
4. OB/GYN
Not everyone considers OB/GYN a primary care specialty, but despite the medical field's debate, obstetricians and gynecologists play a critical role in serving the healthcare needs of the female population.
Gynecologists are physicians who diagnose, treat, and care for the female reproductive organs for patients in adolescence through adulthood. Obstetricians are physicians who provide care before, during, and after pregnancy. They also oversee labor and delivery.
Gynecologists and obstetricians typically see patients in their office. They may work in a private practice or in a clinic or hospital. Most OB/GYNs are generalists, providing preventive examinations and other forms of primary care for their patients.
5. Geriatrics
Geriatrics is another area of medicine that is not always considered to be primary care, even though it is increasingly needed as the baby boomer population ages.
Geriatricians are specially trained to care for adults over the age of 60. They diagnose and treat an array of diseases and injuries common among older adults, including injuries related to falls and memory issues. They also assist with medication management, as older patients tend to have more prescriptions for chronic and acute conditions.
Working in geriatrics involves an increased focus on patient well-being and maintaining their independent functioning. Geriatricians work in private practices, group practices, long-term care facilities, and hospitals.
Which primary care specialty interests you?
Now that you're more familiar with these five primary care specialties, what are you waiting for? Primary care physicians are needed now more than ever. Patients rely on primary care physicians to be their first point of contact in the convoluted health care system. They need an insightful, personable, and trustworthy physician to count on for all of their health and wellness needs.
That physician could be you.
If you're ready to start on your path toward a career in primary care, it's time to do your research about the education and training you'll need to endure. To learn more about what you can expect from the programs at St. George's University and see how they can help you get your start in primary care, visit our article, "10 Surprising Facts About the SGU School of Medicine."
This article has been updated from a previous version to include current facts and figures.