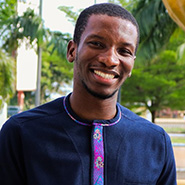 Nathan Kwablah, MD, MBA
Graduation Date: 2011
Ghana
Action Clinic, Accra, Ghana
Medical Director
Nathan Kwablah, MD '11, MBA '12, is the very embodiment of individual hard work and dedication, and St. George's University's commitment to global medicine.
Born and raised in Ghana, Dr. Kwablah attended SGU on a merit-based scholarship offered to qualified students from Commonwealth countries. He dreamt of becoming a doctor since he was a teenager, inspired by his father, who was a biomedical scientist, as well as the American TV show, ER. When it came time to choosing a medical school, St. George's University was a highly desirable choice.
"SGU appealed to me because of the learning structure and the opportunities I knew it would give me," he said. "A family friend had also studied there and highly recommended it. The scholarship offer was the deciding point and I'm delighted at the path I chose."
The SGU Commonwealth Scholarships are offered to students who demonstrate academic excellence and a commitment to their chosen discipline. They are primarily granted to students from countries where the need for trained professionals is high.
"I knew I'd want to return to Ghana and practice medicine after I graduated," Dr. Kwablah said.
After earning his Doctor of Medicine at SGU, he stayed in Grenada to complete a Master of Business Administration in Multi-Sector Health Management. His education prepared him well for his return to Ghana, where he currently serves as medical director at Action Clinic in Accra, with designs on becoming a specialist in family medicine.
"There is so much work to be done in Ghana," Dr. Kwablah said. "We have very capable doctors but limited resources and the country's medical services are behind in terms of technological advancements. Most doctors are based in urban areas which means medical support for people living in rural areas is hard for them to access.
To resolve this issue, Dr. Kwablah aims to develop health technology in Ghana. He currently is part of a telemedicine initiative that provides a low-cost medical advice service by phone for people who are unable to visit with a doctor. It has proven to be especially beneficial for low-income individuals and families, particularly those residing in remote areas.
"I'd like to do more research in this field and I feel well equipped to take on its challenges after having the advantage of a global education at SGU. The exposure I had during my clinical placements in New York City and California really helped shape my mindset, and I apply the principles from my learning in my day-to-day work.
"As well as a fantastically well-rounded medical education, SGU taught me skills in clinical research, medical education, data analysis, and public speaking, all of which have helped me get to where I am today."
Published September 2019
Find out if St. George's University is right for you.
https://www.sgu.edu/wp-content/uploads/2020/02/sgu-logo-grenada.svg
0
0
bpmauser
https://www.sgu.edu/wp-content/uploads/2020/02/sgu-logo-grenada.svg
bpmauser
2019-09-13 18:41:18
2021-02-03 19:17:04
Nathan Kwablah, MD, MBA