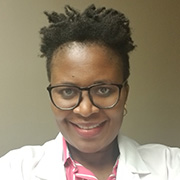 Seleipiri Akobo, MD, MBA
Graduation Date: 2015
Nigeria
Hennepin County Medical Center
Family Medicine
Before and during her time at St. George's University, Seleipiri Akobo, MD SGU '15, MBA SGU '16, had traveled all over the world—from her native Nigeria to the United States, United Kingdom, Thailand, and more. Now with a degree from SGU's School of Medicine, she believes she can go anywhere she wants to continue her career as a physician.
"In family medicine, you have real experiences, use a wide range of skills, and are trained to deal with patients of different ages and backgrounds," said Dr. Akobo, a second-year family medicine resident at Hennepin County Medical Center in Minneapolis, Minnesota. "I really want to be better at every aspect of it, and know that I can. I like that there are so many career options, including fellowships, that I can do.
"I can't tell you for sure how my life will turn out," she added, "but I see the big picture and believe that I am equipped to make decisions that will help patients and families."
Dr. Akobo's desire to enter the world of medicine took root at age six when a sickness left her brother bedridden in the hospital. His condition meant many hours waiting for a resolution, waiting for improvement.
"I had all these questions, and I saw how effective the doctors and nurses were in helping alleviate the pain and struggle that our family was going through," she said.
She expressed her ambitions to her parents, who connected her with family friends in the medical field. Dr. Akobo's upbringing then included even more trips to the hospital, but for a different reason—she wanted to learn and to help.
Dr. Akobo went on to earn her bachelor's degree in human physiology from the University of Port Harcourt in Nigeria, and then immigrated to the United States to continue her education at Pittsburg State University in Kansas. She earned a Bachelor of Science in nursing from PSU before going on to serve as a registered nurse in Minnesota and Texas.
Dr. Akobo then turned her sights toward becoming a physician. When considering her options, at some point in the process, she "fell in love with SGU" because of its beautiful setting and track record for graduate success.
"I remember telling my dad that if I was able to go to the Caribbean, it has to be SGU," she said.
The St. George's University Of Grenada School Of Medicine/Northumbria University
Four-, Five- and Six-Year MD Program(formerly the Keith B. Taylor Global Scholars Program), for which students spend their first year of study at Northumbria University in Newcastle, United Kingdom, presented a unique opportunity that she couldn't pass up. Upon enrolling, Dr. Akobo enjoyed its small class sizes, one-on-one time with NU faculty, and the ability to explore the region in her free time. In addition, her newfound friends became a tight-knit family that joined its Grenada classmates beginning in Term 3.
Dr. Akobo took advantage of the plentiful educational resources at SGU, including its Department of Educational Services, which provided test-taking strategies and study skills that prepared her for important exams and her clinical training in New York City. She diversified her résumé by completing a two-week medical selective in Thailand, as well as a research and teaching fellowship at SGU. After graduating, Dr. Akobo added a Master of Business Administration (MBA) as well, and she also holds a Master of Public Health (MPH) from Des Moines University.
"It's nice to put in the work and see it pay off," Dr. Akobo said. "SGU gives you the resources that allow you to succeed."
Her success came when matching into the family medicine program at HCMC in 2016, fulfilling a lifelong dream.
"Medical school is not just about intelligence; the process is about staying power and resilience," she said. "Along the way, you might actually have setbacks, but that you're passionate about it and that you're willing to commit to working toward that goal will set you apart. At the end of the day, I wanted this and I did it."
Published January 2018
Find out if St. George's University is right for you.
https://www.sgu.edu/wp-content/uploads/2020/02/sgu-logo-grenada.svg
0
0
bpmauser
https://www.sgu.edu/wp-content/uploads/2020/02/sgu-logo-grenada.svg
bpmauser
2018-01-22 17:30:01
2021-01-20 19:50:59
Seleipiri Akobo, MD, MBA