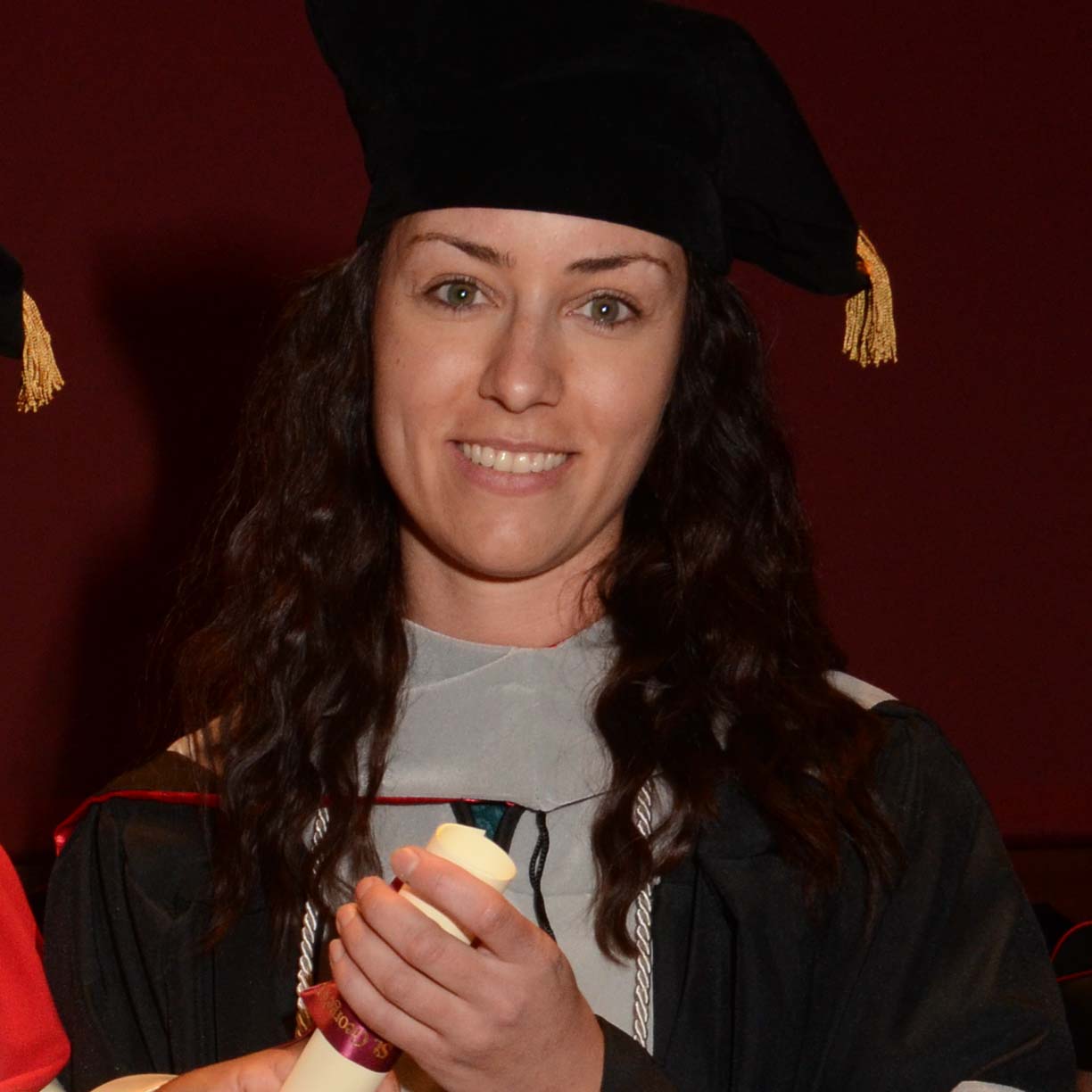 Sylke Lohmann, DVM
Graduation Date: 2016
Canada
As an emergency veterinarian at VCA Newark Animal Hospital in Delaware, Sylke Lohmann, DVM '16, is met with a new challenge each day, requiring her to regularly draw upon all she learned as a veterinary medical student at St. George's University.
"I definitely feel prepared," she said. "We learned everything we needed to learn. It's just a matter of accessing that information again and putting it into practice."
Growing up in Rimbey, Alberta, a town of a couple thousand people located four hours outside Calgary, becoming a veterinarian had always been the plan for Dr. Lohmann. At her family's farm, she was surrounded by cows, horses, chickens, ducks, and "everything else you could imagine," she said. Dr. Lohmann's mother, who was originally from Germany, had always wanted be a vet yet never had the opportunity. Instead, with the farm, she prepared her daughter to follow her own dream.
"I've always loved being around animals," she said. "I love the connection you make with them, and how they're unconditionally loving and easy to be around."
From the farm, Dr. Lohmann became a registered veterinary technician, working in clinics in and around Calgary full- and part-time while working toward a Bachelor of Science from the University of Calgary. The path took her all the way to St. George's University School of Veterinary Medicine, to which, after receiving positive reviews from past colleagues at veterinary practices, she applied and enrolled thanks in part to a partial scholarship.
In Grenada, she joined the Hashing Club—joining friends on long hikes—and volunteered for the Student Veterinary Emergency and Critical Care Society (SVECCS) and Grenada Society for the Prevention of Cruelty to Animals (GSPCA). In the classroom, she especially enjoyed her junior surgery classes with Drs. Marta Lanza Perea and Tara Paterson.
"They were great; they were so encouraging and made surgery such a great experience," Dr. Lohmann said. "I loved that we got so much hands-on experience, including many, many spays and neuters in our second and third years. They really wanted us to be good doctors, and it was helpful that we could touch the animals and interact with them. With the relatively short time the professors had with us, it was clear they really cared and wanted to teach us everything possible."
In 2014, Dr. Lohmann was welcomed to the SVM's Phi Zeta National Honor Society. Her surgery experience was so impactful that she hoped to make a career out of it, and it has been only one of her responsibilities in Newark.
"With surgery, it's an amazing feeling to be able to put something back together," Dr. Lohmann said. "You're able to take an animal who isn't walking and have it walking the next day. You can really make a difference, just like you can with people."
Updated February 2021
Find out if St. George's University is right for you.
https://www.sgu.edu/wp-content/uploads/2020/02/sgu-logo-grenada.svg
0
0
bpmauser
https://www.sgu.edu/wp-content/uploads/2020/02/sgu-logo-grenada.svg
bpmauser
2017-01-20 17:27:30
2021-02-05 03:42:34
Sylke Lohmann, DVM