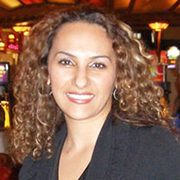 Yousra Hawli, MD
Graduation Date: 2004
Lebanon
Yousra Hawli has always set high goals for herself, working tirelessly to achieve each one.  She graduated from St. George's University School of Medicine (SGU SOM) in 2004 having scored in the 99 percentile on the USMLE Step One and Step Two exams.   Her exceptional performance at SGU SOM led to a coveted internal medicine residency at University of Connecticut Health Center and a two-year endocrinology and metabolism fellowship at American University of Beirut Medical Center in Lebanon.
It was during her residency that she set perhaps one of her most challenging goals. Inspired by her work at the St. Francis Diabetes Care Center in Connecticut, she hoped to someday bring a similar full-service, outpatient clinic home to Lebanon; Dr. Hawli saw a great need for this type of polyclinic and was eager to establish a center that would provide a wide range of ambulatory care in a more accessible environment. She was encouraged by Dr. Nicolas Abu Rizk, who ran the clinic in Connecticut, and who coincidentally, was also Lebanese. He substantiated the many benefits such a clinic could bring to the underserved people of their native country.
After completing her fellowship in June 2009, Dr. Hawli wasted little time.  The doors of the Hawli Clinic opened for business on August 14th in Tripoli, the second largest city in Lebanon.
Dr. Hawli invited medical doctors from throughout Northern Lebanon to personally visit the facility, and was pleased by their response.  Although in its fledgling stages, the clinic has a dietician and psychologist on staff with plans to add a cardiologist and ophthalmologist in the near future.  She also enlisted the help of her medically trained sister Sura Hawli who is providing patients with valuable diabetes education.
Dr. Hawli explained that diabetes is a real concern in her country, stemming from "a great fear and ambiguity about the disease."  She believes that the clinical care and education provided will help raise awareness of the disease as well as promote prevention and treatment options available. Dr. Hawli looks forward to the clinic becoming a treatment facility for children and adults, as there are very few medical centers specifically designed to meet their needs.  She is aware of only one other clinic in Lebanon which is the Chronic Care Center that offers  Insulin Pump Therapy to children and adolescents. She is eager to include that as part of her clinic's treatment options.
There is no doubt Yousra Hawli's determination will yield a successful health center that will improve the quality of life of community members.  Her goals are achieved through a combination of passion and hard work.  Yousra wanted to study medicine in another part of the world and she did just that.  The abundance of diverse cultures at St. George's University was invaluable to her personally and professionally. She wanted to be trained in the United States to gain a better understanding of its health care system.  That too, she achieved. But most of all, she wanted to bring something important and vital back to Lebanon.
She is well on her way to healing community members that would otherwise not avail themselves of needed health care and education. As victims of perceived stigmas, these individuals would have suffered needlessly from diseases and conditions treatable with modern-day medicine.
Next on Dr. Hawli's list is to secure a hospital or university affiliation for the clinic and reach out to pharmaceutical companies to increase the scope and productivity of the clinic's programs.  St. George's University looks forward to hearing more about the evolution of Dr. Hawli's extraordinary endeavor.
https://www.sgu.edu/sgu-main-website/wp-content/uploads/2016/01/SGU-Signature-Horizontal-SPOT-300x55.png
0
0
Erin Shaw
https://www.sgu.edu/sgu-main-website/wp-content/uploads/2016/01/SGU-Signature-Horizontal-SPOT-300x55.png
Erin Shaw
2016-12-07 20:15:24
2017-01-30 22:25:12
Yousra Hawli, MD