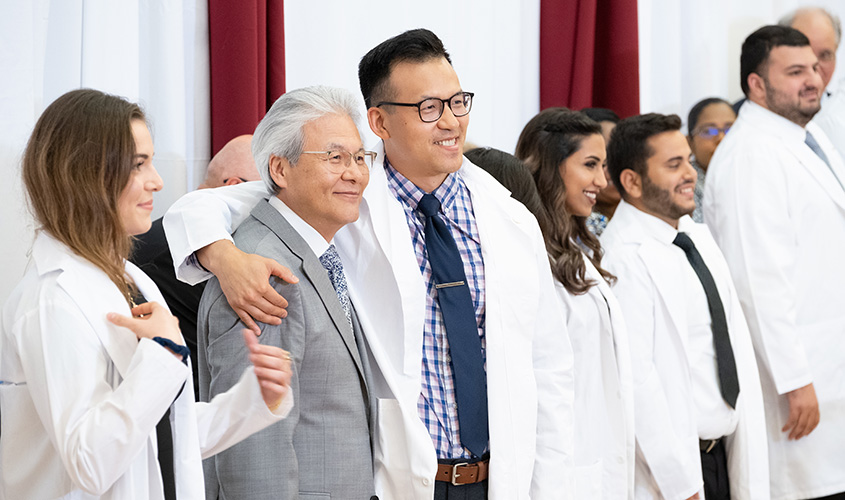 Oftentimes older siblings have a strong influence on their younger siblings. Such was the case for St. George's University medical student Moe Badran, who followed in the footsteps of his sister, Nawal Badran, MD '09, and brother, Sam Badran, MD '11, each of whose path to a career in medicine wove through Grenada.
With his own SGU education, Moe Badran looks forward to joining his sister, a board-certified physician in internal medicine based in Southern California, and brother, a child psychiatrist in Cincinnati, OH, in the medical field. He took one step closer to that goal, partaking in the Fall 2019 SOM White Coat Ceremonies.
"I grew up hearing about SGU for almost a decade from my siblings," said the first-year student. "I had always heard great things and knew for a fact that SGU had that prestige and reputation of producing great doctors, so I proudly accepted the offer to come here."
Similarly, Dr. Cameron Charchenko, a urologist from Bismarck, ND, was very influential in his sister Celeste's decision to attend medical school. According to Dr. Charchenko, coating his sister was the second greatest day of his life, after his wedding day.
"My field of interest is surgery, but I'm hoping that one day my brother and I can work together," Ms. Charchenko said. "He's shown me a bit of urology surgery that I find really interesting so I'm hoping to grow up to follow in his footsteps. Sharing this moment together and him coating me was amazing and something I will never forget."
This sentiment of families following in each other's footsteps and working together was echoed by alumnus and master of ceremonies Leonard Levin, MD '83. He returned to SGU after coating his son, Jacob, in this very same ceremony last year. Dr. Levin looks back fondly on his medical student experience.
"SGU is a family," stated Dr. Levin. "There are families you're born into and families that accepted you and you accepted them. Unlike being an undergraduate where there's a lot of competition, here a rising tide floats all boats. So be there for each other, help each other, work with each other, be a team, and support each other through the trials and tribulations that will be out there in the future."
Delivering the keynote address was Dr. Ross Upshur, who in 2015 was named one of the Top 20 Canadian Pioneers in Family Medicine Research and Family Medicine Researcher of the Year by the College of Family Physicians of Canada. He reminded members of the Class of 2023 that they stood on the threshold of commencing a career in one of the most respected professions and that, after donning their white coats, they would join a tradition of service to humanity that dates back through millennia.
"I'm thrilled that you have chosen to make the practice of medicine your career," said Dr. Upshur, Dalla Lana Chair, Head of the Division of Clinical Public Health, Dalla Lana School of Public Health, University of Toronto. "You will be constantly stimulated, seldom bored, and often awestruck by what you learn from your patients. They will be your greatest and most humbling teachers. You will garner insights about humanity that few others can.
"You will have enormous power and privilege—use it wisely and judiciously," he continued. "Be generous and give back. I wish each of you success in your studies and hope that you have long and rewarding careers."
In addition to serving as a rite of passage for aspiring physicians, the School of Medicine White Coat Ceremonies coincide with a weekend of activities that help make up Beyond Spice Family Weekend. The University's bi-annual event welcomes students and family members to soak up nature and culture in Grenada.
– Ray-Donna Peters
https://www.sgu.edu/wp-content/uploads/2019/09/SOM-WCC-August-2019-845-x-500.jpg
500
845
bpmauser
https://www.sgu.edu/wp-content/uploads/2020/02/sgu-logo-grenada.svg
bpmauser
2019-09-06 20:58:12
2021-02-25 21:15:58
A Family Affair at School of Medicine White Coat Ceremonies