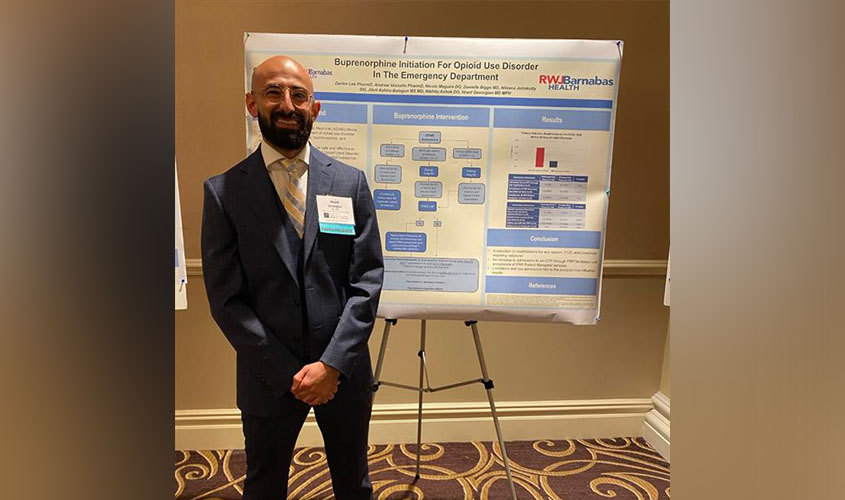 Hrant Gevorgian, MD/MPH '21, recently received the honor of being named "Resident of the Year" by the New Jersey Chapter of the American College of Emergency Physicians. Dr. Gevorgian is a PGY-2 emergency medicine resident at Rutgers Health/Community Medical Center.
A native of Los Angeles, CA, Dr. Gevorgian also recently won first place for the Research Abstract Competition at the NJ-ACEP 2022 Scientific Assembly. His abstract explored how the opioid buprenorphine is administered in the emergency department. He and his team developed a withdrawal scoring system program for patients receiving buprenorphine to help avoid opioid addiction.
Dr. Gevorgian, whose first name means "unextinguishable fire" in Armenian, shared with SGU News what winning Resident of the Year means to him, his most challenging experience in the emergency department so far, and his ABC's of advice for aspiring physicians.
St. George's University: What does receiving the Resident of the Year award mean to you?
Dr. Gevorgian: It's extremely humbling and unexpected. It highlights the dedication and opportunities my first-year program offers residents. Every faculty member has provided enormous amounts of mentorship to help us succeed. I will continue challenging myself every day to push my limits and by mentoring to my co-interns who are all doing amazing things.
SGU: Why were you drawn to emergency medicine?
Dr. Gevorgian: I love working in a fast-paced environment and being exposed to a multitude of pathologies. I also enjoy having the opportunity to do a variety of cool procedures at bedside.
SGU: What is your advice for residents starting their first year?
Dr. Gevorgian: My best advice for incoming residents is simple: don't forget your ABCs.
Accountability: If you say you're going to do something, do it.
Betterment: Always try and learn something new every day and better yourself.
Compassion: In addition to being a compassionate provider, makes sure to always be compassionate to yourself because residency is tough with good and bad days.
"SGU has taught me that hard work always pays off and that nothing is impossible."
SGU: Share a challenging emergency department moment and how you were able to treat your patient.
Dr. Gevorgian: Sometimes it's hard to find the balance of providing the best possible care, but also respecting the patient's wishes. One patient I had during my intern year of January 2021 (when COVID cases were rising again) was COVID-positive and in the emergency department for respiratory failure. I was in the process of getting him admitted to the ICU when he signed out against medical advice. I had multiple conversations with him explaining the risks involved. He was aware that his condition was life threatening, and his exact words were, "if I die I want to be home and be with my dogs." But somehow my team and I managed to have home oxygen and appropriate medications delivered to his house prior to his discharge.
Being able to provide this patient that level of care, at the last minute, on a Friday night was a miracle—we were so thankful it was coordinated. I felt reassured that my team and I went above and beyond the call of duty for caring for our patient.
SGU: Recount a favorite memory from SGU.
Dr. Gevorgian: Exploring the North side of Grenada was always a blast. My friends and I would drive and explore different secluded beaches. There was something special about the North side, it was so quiet and calm. Once we stayed up all-night watching leatherback turtles come to shore and lay their eggs with endless shooting stars in the sky. It was an unforgettable night.
SGU: How did your experience at SGU help you get to where you are today?
Dr. Gevorgian: SGU has taught me that hard work always pays off and that nothing is impossible.
–Ronke Idowu Reeves and Sarah Stoss
Related Reading
https://www.sgu.edu/wp-content/uploads/2022/10/hrant-gevorgian_845.jpg
500
845
lchartor
https://www.sgu.edu/wp-content/uploads/2020/02/sgu-logo-grenada.svg
lchartor
2022-10-25 10:44:34
2022-10-25 10:44:50
Advice from Resident of the Year: "Hard Work Always Pays Off"