They used St. George's University as a springboard to their own success, and in August 2013, four graduates helped pave the way for select MD entering students to achieve their own goals through the University's Alumni Mentor Scholarship Program.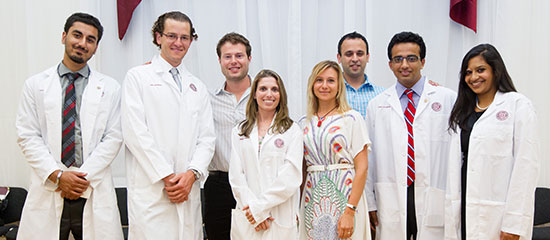 The first class of students to receive Alumni Mentor Scholarships, all nominated by SGU graduates, took its first step toward becoming doctors at August's White Coat Ceremonies. As recipients, they had demonstrated the commitment and dedication necessary to achieve academic success, as well as the passion and drive to become physicians.
"In these students, our graduates see the same qualities that have made them successful in their own medical careers," St. George's University Chancellor Charles R. Modica said. "We look forward to equipping these highly promising individuals with the knowledge and skills necessary to thrive as future doctors."
Among the Fall 2013 recipients was Moeed Chohan, who worked alongside his mentor, Dr. Omair Chaudhary, MD SGU '11, in the Department of Emergency Medicine at SUNY Upstate Medical University. Thanks to a partial-tuition scholarship, Mr. Chohan can gain a strong medical education at SGU at a lower cost.
"I was overjoyed and very thankful to receive such a scholarship out of all the qualified applicants," said Mr. Chohan. "To use a metaphor, it's like the passing of a torch, as if by receiving this scholarship, I have to live up to my mentor's name.
"This scholarship also goes to show how much SGU values the opinions of its graduates," he added. "I appreciate the generous 'gift' by SGU towards my education and I owe it to SGU to give back to such an exceptional medical school both through my practice of medicine in the near future and throughout my time here at SGU."
First-term MD student Martik Tahmasian was nominated by Fred Berlin, MD SGU '07, a vascular and interventional radiologist at Imaging Subspecialists of North Jersey.
"Financially, the scholarship helps alleviate some pressure, and academically, it pushes me to step up my studies to an even higher level," Mr. Tahmasian said. "The education I receive at SGU will be the foundation for my career, for which I hope to practice medicine not only in the US, but around the world."
If you would like to nominate a promising medical student for an Alumni Mentor Scholarship, visit sgu.edu/alumnimentor.
https://www.sgu.edu/wp-content/uploads/2016/10/news-alumni-mentor-scholarships-open-door-med-vet.jpg
240
550
VS
https://www.sgu.edu/wp-content/uploads/2020/02/sgu-logo-grenada.svg
VS
2013-11-05 17:46:40
2017-01-18 00:09:54
Alumni Mentor Scholarships Open Door for Med/Vet Students to Attain SGU Education