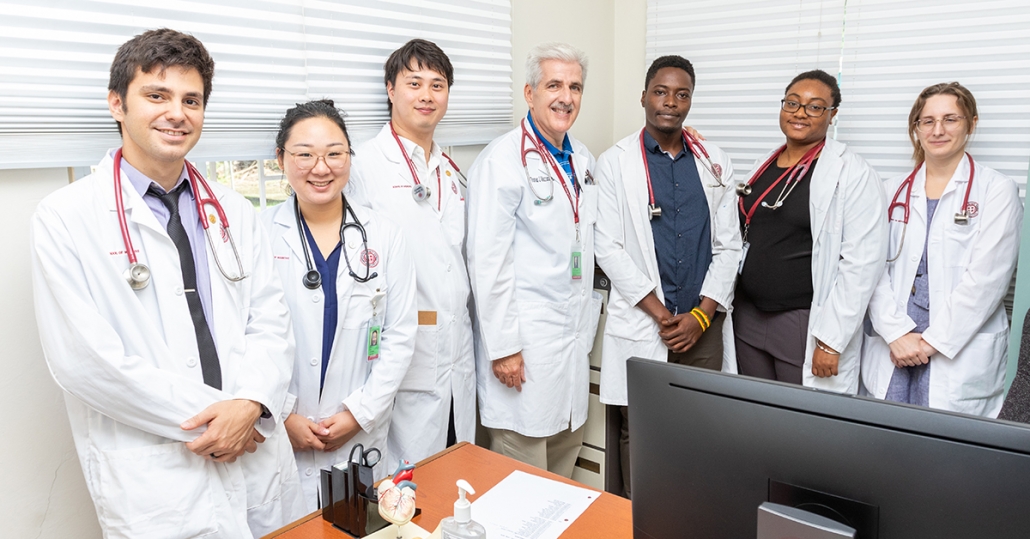 St. George's University graduate Thomas Vazzana, MD '85, feels compelled to give back to the place where he began his three-decade-long career in medicine. Now a practicing interventional cardiologist in New York, Dr. Vazzana provides essential cardiology services to the people of Grenada free of charge.
The impact of his visits is undeniable, but there is still work to be done, which is why he returns two to three times a year to the island that gave him his start.
"Education is key, especially when explaining how important it is for patients to continue taking their medication—but I think we're making progress," said Dr. Vazzana, associate director of the cardiology fellowship program at Staten Island University Hospital. "I see several of the same patients and follow up with them when I'm here, and they're doing fine."
His visits are arranged through the SGU-Physician Humanitarian Network (SGU-PHuN), a program that enables St. George's University alumni and friends to aid the Ministry of Health and Government of Grenada in improving healthcare in the country.
Since its official launch in 2008, the adult cardiology program continues to provide much-needed heart care services for at least 10 months of the year. With each visit seeing approximately 15-20 patients per day and about 80 each week, the program offers consultations, cardiac testing, pacemaker implantations, angioplasties, echocardiograms, and referrals for those needing advanced care. It has provided millions of dollars in service to the Grenadian community, resulting in countless lives saved.
"Dr. Vazzana is a very special member of our cardiology team," said Brendon La Grenade, vice provost for institutional advancement. "He makes up one of only a handful of interventional cardiologists providing vital cardiovascular services to our population. From the program's inception under coordinator Johansen Sylvester, MD '00, to now in its 11th year, we at SGU are thankful to Dr. Vazzana and the vast network of alumni and friends who allow SGU and the Government of Grenada to bridge the cap in healthcare disparity."
For several years, Dr. Vazzana has been making the trip to Grenada with his wife, Kathleen, a hospital administrator who serves as his clinical assistant while in Grenada. Now, also eager to return is their daughter Virginia Vazzana, MD '17, who attended SGU after she and her older sister participated in the Med-Vet Summer Leadership Academy a few years earlier. While there, Dr. V. Vazzana also married fellow SGU alum Hamfreth Shaul Rahming, MD '17. Both are currently completing their residencies in pediatric endocrinology and internal medicine respectively. According to the elder Vazzana, he made sure to pass along his passion for paying it forward.
"I always say, especially to my students, 'when you get to your final destination, don't forget where you came from,'" Dr. Vazzana added. "Because if it wasn't for here, you wouldn't have gotten to there."
About Dr. Vazzana
Dr. Thomas Vazzana graduated with a bachelor's degree from New York University in 1981 before earning his medical degree from St. George's University School of Medicine in 1985. He then completed an internship and residency at St. Joseph's Hospital and Medical Center in Paterson, NJ, before serving as a cardiology fellow at the former St. Vincent's Catholic Medical Center, West Brighton (now Richmond University Medical Center). He became an attending physician at St. Vincent's Catholic Medical Center in Manhattan and held the same position at the former Doctors' Hospital in Concord and again in West Brighton until July 1991, when he opened his own practice.
Two years later, Dr. Vazzana teamed up with fellow cardiologist, Dr. Marc Bogin and was managing partner at Vazzana and Bogin Cardiology Associates in Staten Island until 2011. Dr. Vazzana also served as co-director of the cardiology division for the Staten Island Physician Practice until 2012 and is currently an associate professor at Donald and Barbara Zucker School of Medicine at Hofstra University.
– Ray-Donna Peters
https://www.sgu.edu/wp-content/uploads/2019/10/Vazzana-845-x-500-2.jpg
500
845
bpmauser
https://www.sgu.edu/wp-content/uploads/2020/02/sgu-logo-grenada.svg
bpmauser
2019-10-03 21:54:53
2021-02-25 21:16:00
Cardiologist's Heart Is With Grenada