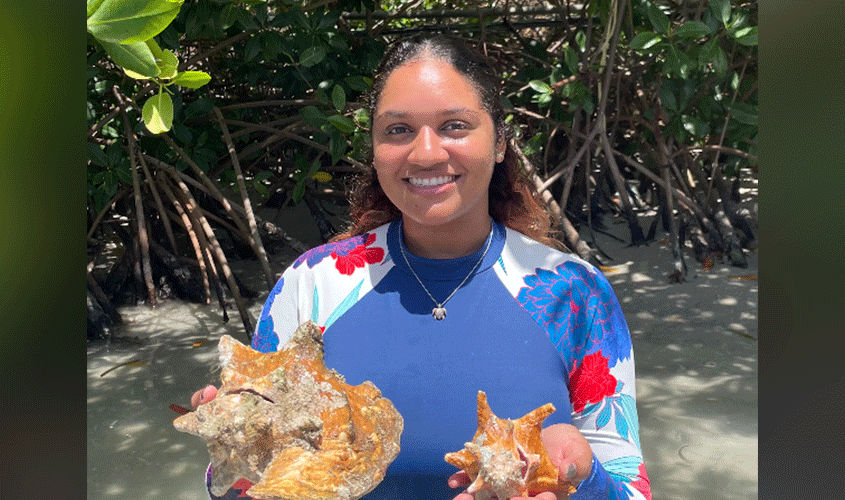 St. George's University proudly congratulates Shanelle Gilkes on winning the Royal Society of Biology award for top student. The RSB award recognizes outstanding achievements in biological research by students in the accredited B.Sc. in marine, wildlife, and conservation biology program. The honor represents a significant accomplishment of a student's dedication to scientific research. Shanelle is a recent alumna and the first SGU awardee from the program.
The Royal Society of Biology is responsible for advancing education and professional development and encouraging public interest in the life sciences. One student who has completed their capstone research project receives the award yearly. The Royal Society of Biology award is highly regarded within the scientific community. The honor provides students a significant advantage when applying to universities for graduate studies or pursuing further scientific research.
The winning project
Shanelle's winning capstone research project focused on comparing harvested Queen Conch (lobatus gigas) populations using empty shells as a proxy measure of age at the Woburn Bay and Hog Island sites in Grenada. A lack of data in Grenada on the population structure of the queen conchs makes determining sustainability challenging. This study aimed to estimate the age of harvested queen conchs via empty shell measurements as a metric to determine whether the population is being sustainably managed. Maintaining sustainable yields and harvest of queen conchs has important implications for species conservation, local fisheries, and overall ecosystem health.
"With a personal interest in marine wildlife and conservation, I was drawn to Queen Conch research. This species is of significant ecological and economic importance," Shanelle said.
When asked about her plans for the future, Shanelle discussed her desire to make a difference.
"My ultimate goal is to positively impact my field and contribute to meaningful change. I plan to use the knowledge and skills gained through my studies and this recognition to further this goal and pursue my passions."
Shanelle's SGU experience
Shanelle says that pursuing the marine wildlife and conservation program offered educational and personal growth opportunities. With the challenging academic curriculum and experienced faculty, SGU provided a solid foundation in her field of study.
"Attending SGU and pursuing the marine, wildlife, and conservation program provided me with an excellent academic foundation, practical experience, and valuable connections. This all helped me succeed in my academic and professional pursuits. With hard work and dedication, SGU helped me reach my goals and achieve my dreams," Shanelle said.
Shanelle embodies the remarkable caliber of students produced in our accredited B.Sc. program in marine, wildlife, and conservation biology. The department extends congratulations for receiving this significant award. They hope it further motivates Shanelle to pursue endeavors in scientific research and conservation biology.
—Madeleine Otto and Sarah Stoss
Related Reading  
https://www.sgu.edu/wp-content/uploads/2023/06/S.Gilkes-845.gif
500
845
sstoss
https://www.sgu.edu/wp-content/uploads/2020/02/sgu-logo-grenada.svg
sstoss
2023-06-01 10:29:19
2023-06-01 10:35:22
SAS Alumna Awarded Top Student by Royal Society of Biology