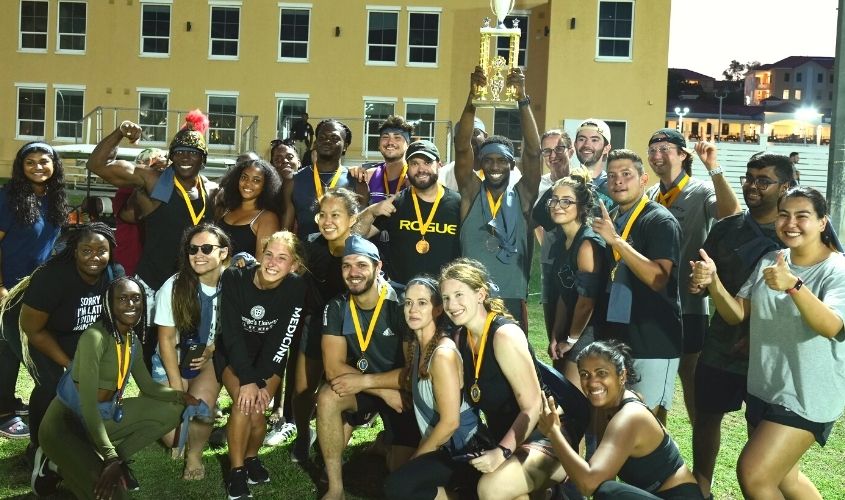 After a two-year hiatus, St. George's University School of Medicine Olympics returned last weekend. Students and faculty of each of the nine Colleges competed in a battle of physical endurance to win the title of "Olympic Champions."
The event took place on the True Blue campus playing field, where students and faculty competed in games that included friendly competition in volleyball, dodgeball, an obstacle course, 100-meter race, 400-meter relay, three-legged and wheelbarrow races, and the highly anticipated tug-of-war. The day also featured a half-time show performance by SGU's cheerleading squad and ended in a prize giving ceremony announcing this year's Olympic Champions.
"The SOM College Olympics' primary purpose is to bring together students, staff, and faculty to participate in a day of healthy competition," said Dr. Vivek Nuguri, Curie College director and clinical instructor within the Department of Pathology. "Additionally, it fulfills another major objective of helping the students relax amid their challenging schedules. It also helps inculcate a feeling of fraternity and togetherness among the students and faculty and helps improve campus wellness."
The triumphant team was decided by winning the evening's most popular event—the tug-of-war. Rivals Galen and Blackwell Colleges met in the final rounds, but it was the Galen team that emerged victorious this year. With the additional 50 points earned from winning the tug-of-war, Galen College was able to secure the lead at 286 points, followed by Fleming College with 217 points, and Blackwell College placing third with 211 points.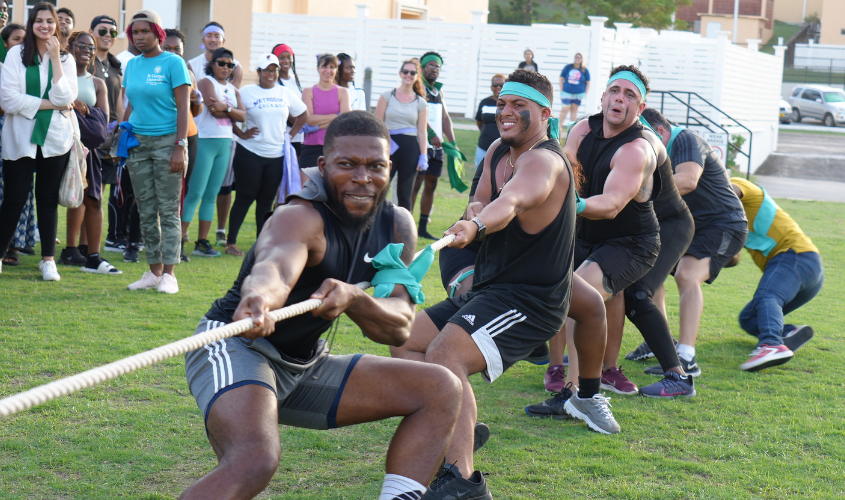 "This win means so much to me personally," shared Chukwuebuka Udokporo, SOM Term 5 student and Galen College member.
"This is my last semester here at SGU, so I'm really happy I got to participate in the games before I leave the island," Mr. Udokporo said. "The memory of this experience is something I get to take back with me to the United States when I do my clinical rotations. When I arrived on the field today, I didn't know anybody outside of my college but over the course of the day I got to meet new people and form friendships that will hopefully last a lifetime."
The SOM College system was created in 2018 and named after influential physicians and scientists in history—consisting of Blackwell, Galen, Taylor, McIndoe, Peabody, Curie, Fleming, Metrodora, and Hippocrates Colleges. The mission of the system is to create an intimate learning environment in which students are consistently supported (both socially and academically) as they develop the knowledge, skills, compassion, and integrity required to be a practicing physician while adjusting to life in Grenada.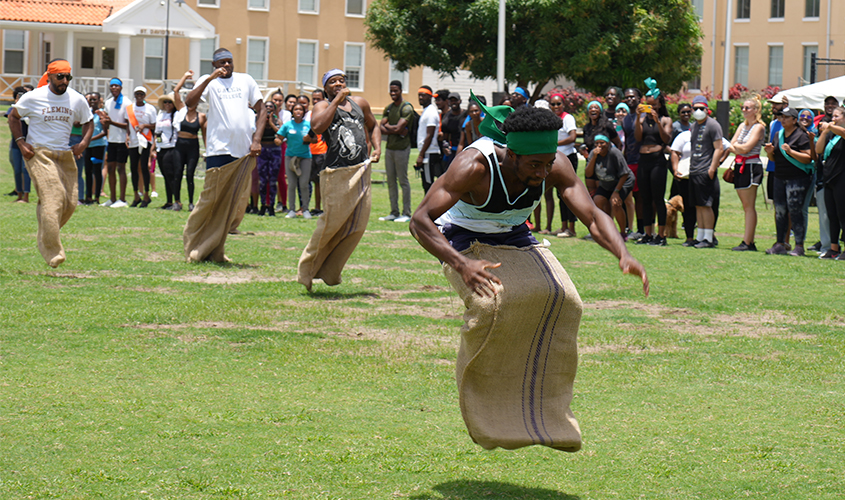 During the competition's inaugural event in 2019, it was the Curie College team that was victorious, despite entering the Olympic games as underdogs. The event was then canceled for 2020 and 2021 due to the COVID pandemic. Staff and faculty were eager to restart the games this year.
"Each College represents an academic family that supports the wellness of students and fosters the academic, personal, and professional development of its membership," said Dr. Lucy Clunes, SGU's dean of students, and a proud member of Galen College. "The SOM College Olympics and other intercollegiate social events and competitions were created to nurture that feeling of school spirit by providing an opportunity for the campus community to both compete—and get out there and have some fun."
– Ray-Donna Peters
Related Reading 
https://www.sgu.edu/wp-content/uploads/2022/05/TWASGU-845x500-1.jpg
500
845
rpetersgmail
https://www.sgu.edu/wp-content/uploads/2020/02/sgu-logo-grenada.svg
rpetersgmail
2022-05-17 15:13:31
2022-05-25 15:30:28
Victory! After Two-Year Hiatus, SOM College Olympics Returns