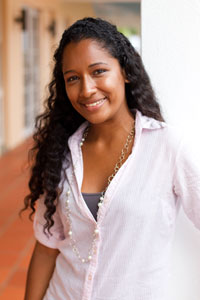 St. George's University student Krystle Noel recently returned from American University's Washington DC campus. She is the first School of Arts and Sciences student to take advantage of the Washington Semester Program, a partnership between St. George's University and American University. The International Business major spent her fall semester at American University—including a three week visit to China in November. Krystle has returned to the St. George's campus with rave reviews of the program, saying, "This program reinforced so much of what I have learned at St. George's—I felt very well prepared for participation in the program."
Dr. Reccia Charles, Associate Professor and Program Coordinator of the Department of Business, is behind the St. George's partnership with American University. On the success of the first participant, Dr. Charles said, "In observing Krystle after her return, I can see a transformation in her outlook on the world as well as an increase in her overall confidence." The Washington Semester Program allows students to research topics in their field of study, network with leaders and experts in their respective fields, engage in international travel, and build friendships with other college students— the byproduct of which is usually an increase in a student's enthusiasm in their education. Dr. Charles continued, "I am very proud of Krystle's success."
The Washington Semester Program's intense schedule included presentations from more than 50 guest speakers—including Krystle's now favorite author, Pulitzer-winning New York Times columnist and author of The Lexus and the Olive Tree, Thomas Freidman. In addition to rigorous study, Krystle, along with her classmates, had the opportunity to visit various government agencies and corporations in the US and China, including the Library of Congress; the Embassy of the Sultanate of Oman; the International Monetary Fund and World Bank; the United States Federal Reserve; the New York Stock Exchange; Goldman Sachs; Beijing's Peking University, Hyundai, and IDC China; Shanghai's Autodesk (the company which produces AutoCad); and the Hong Kong Stock Exchange. Additionally, Krystle volunteered at the Annual Global Services Summit and interned at the Center for Social Leadership.
"It was better than I thought possible," commented Krystle. "The University put so much effort into making the experience remarkable. It is something that I will be able to draw from for the rest of my life." Krystle was very impressed by the cultural diversity she met in the Washington Semester Program and was happy to have been exposed to the business cultures of both China and Washington DC.
Dr. Charles offered insight into some of the challenges of recruiting for a study abroad program for local students. "The families of some students are often reluctant to allow their children to study abroad or travel much on their own or with peers," she said. "However, the Washington Semester Program offers a supervised compromise that is acceptable to parents, especially with available generous financial aid. This unique program gives students an opportunity they might not have otherwise had to expand their knowledge beyond the borders of their home country."
The next group of students is expected to go to Washington DC in Fall 2011. Beginning this spring, directors of the Washington Semester Program plan to hold information sessions via video conference to answer any questions students may have regarding the program.
St. George's University, which began its partnership with American University in 2009, is the only university in the Caribbean (apart from Puerto Rico) to be part of this affiliation. Dr. Charles and the rest of the University have high hopes for the partnership as it extends St. George's mission to offer an international education beyond its Schools of Medicine and Veterinary Medicine, to a blossoming School of Arts and Sciences.
https://www.sgu.edu/wp-content/uploads/2016/10/news-Krystle-Noel.jpg
300
200
VS
https://www.sgu.edu/wp-content/uploads/2020/02/sgu-logo-grenada.svg
VS
2011-05-02 15:58:36
2017-01-18 01:18:04
St. George's and American University - A Unique Partnership, A Remarkable Experience