St. George's University, in partnership with the Windward Islands Research and Education Foundation (WINDREF) and Drs. Clare Heath and Desiree LaBeaud of Stanford University, has embarked on a study to learn more about the long-term health consequences of the Chikungunya virus (CHIKV) following infection.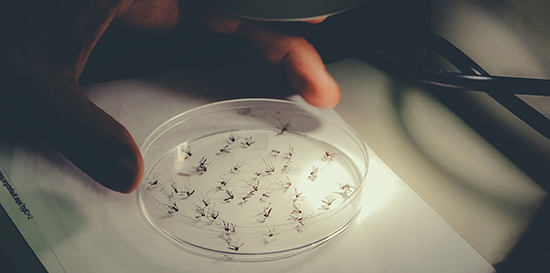 Recently awarded the prestigious American Society for Tropical Medicine and Hygiene (ASTMH) Robert E. Shope International Fellowship in Infectious Diseases, Dr. Heath partnered with SGU and WINDREF faculty, research scientists, and students to conduct the study in Grenada through the end of 2015.
"Not only is this a very prestigious grant to have received, it is also the type of high-value project that fits in perfectly with SGU's Global Health Initiative," said Dr. Calum Macpherson, Director of Research, St. George's University. "SGU's capacity to help develop research protocols to understand the long term impacts of CHIKV will certainly be of importance regionally but will also have global relevance."
The Robert E. Shope International Fellowship in Infectious Diseases was established in honor of Robert E. Shope, one of the world's foremost authorities on insect-borne viruses. The fellowship provides support for international training opportunities in arbovirology and emerging diseases for postdoctoral researchers.
"Worldwide, the Chikungunya virus is relatively understudied, the genetics, the epidemiology, and certainly not how it affects people over the long term," added Dr. Heath. "Grenada offers a location where the virus infected a large number of immunologically naïve people over a short time period. The people in Grenada had never seen the virus before."
This research will build on a screening program put in place through a partnership between the Ministry of Health's Chief Medical Officer, SGU's Department of Microbiology, the University Clinic, WINDREF, and the US Navy, which aimed to confirm transmission and associated symptoms of CHIKV in Grenada during the outbreak.
A year has passed since the CHIKV epidemic struck the Caribbean, yet much remains unknown about the long-term health consequences following infection.
The aim of this new collaborative study is to follow up with many of the 450 infected patients to determine if they're still being affected by symptoms of the disease. If the intricacies of this disease can be better understood, an effective treatment and management program to improve the health of the patients may be possible.
"Our partnership with Stanford, with Grenada's Ministry of Health, and with local physicians and the community is essential, as SGU hopes to be at the cutting edge of research into this emerging disease," said Dr. Macpherson. "This project is a good example of our focus on global health because CHIKV is found throughout the tropics, has spread rapidly in the Western Hemisphere, and today poses a threat to the US and other areas where it has not occurred to any great extent. Ultimately, this is a global initiative looking at a global problem through partnerships."
https://www.sgu.edu/wp-content/uploads/2016/10/SGU-Collaborates-with-Stanford-University.jpg
273
550
VS
https://www.sgu.edu/wp-content/uploads/2020/02/sgu-logo-grenada.svg
VS
2015-11-12 17:32:23
2017-02-10 19:18:00
SGU Collaborates with Stanford University and WINDREF on Research Examining Long-Term Impact of Chikungunya Virus