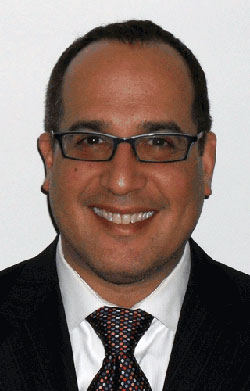 Dr. Laurence Dopkin, SGUSOM '98, has been appointed the Assistant Dean of Students for Clinical Students at St. George's University. His appointment is the latest example of SGU's initiative to build on its strong tradition of administrative and academic support for students during clinical training. Dr. Dopkin, as well as Dr. Gary Ishkanian, Assistant Dean of Clinical Students on the east coast, and Dr. Matt Coulson, Assistant Dean on the west coast, visit the University's affiliated hospitals to monitor students' progress and performance while also evaluating the hospital's clinical training program.
Clinical training is a crucial stage in the development of future doctors and Dr. Dopkin recognizes the importance of keeping students on track. In his new role, he will work with SGU clinical students to help them reach their full potential, not only as academics but as professional physicians. Dr. Dopkin is dedicated to providing support for every student as they work to discover the kind of physician they want to be, whether it means nurturing their talents and guiding their interests or making sure they keep on top of their studies.
Clinical training is a step between medical student and practicing doctor where students gain their base knowledge of how to conduct themselves in the professional medical community. Dr. Dopkin's goal is to ensure that all St. George's University clinical students perform to the best of their ability so that they have every possible opportunity available to them after graduation.
"Assuming the role of Assistant Dean of Students for St. George's University School of Medicine is exciting and a great honor," Dr. Dopkin said. "In my capacity as Assistant Dean of Students, I will be working with our medical students as an administrator, educator, and mentor – ensuring they receive the best possible education and training. I will assist in providing our students the necessary structure to support their professional development so that they become compassionate, competent physicians."
Dr. Dopkin is currently the Director of Psychiatry Residency Training and Deputy Chief of Service at Metropolitan Hospital Center in Manhattan, New York. He has been an Associate Professor in Psychiatry at SGUSOM since 2008 and an advisor in the Office of Career Guidance and Student Development (OCGSD) since 2010.
From 2003 to 2008, Dr. Dopkin worked at Elmhurst Hospital Center in Queens, New York, as the Director of the Psychiatric Emergency Room, Associate Director of Residency Training, and Clerkship Director for SGUSOM. In 2007, he received the "Best Teacher of the Year" award from the Mount Sinai-Elmhurst psychiatry residency program. In 2008, Dr. Dopkin moved to Lincoln Medical and Mental Health Center and Morrisania Diagnostic and Treatment Center in the Bronx, New York, where he served as vice chair of clinical operations, associate director of residency training, director of Child and Outpatient Psychiatry, psychiatry clerkship director and associate director of medical education for SGUSOM.
The Dean of Students office aids medical students at every step in their careers, from first setting foot on campus to completing their residency. They also advocate for alumni participation in University programs such as the Office of Career Guidance and Alumni Admission Mentor Program (AAMP).
https://www.sgu.edu/wp-content/uploads/2016/10/news-laurence-dopkin-e1486756385333.jpg
250
250
jrichardsink
https://www.sgu.edu/wp-content/uploads/2020/02/sgu-logo-grenada.svg
jrichardsink
2012-04-13 18:51:04
2017-01-18 00:58:49
Clinical Student Support Expands at SGU: Dr. Laurence Dopkin Named Assistant Dean of Students for Clinical Students