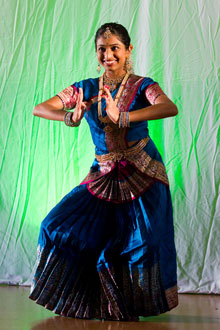 This November, the Indian Cultural Student Association (ICSA) held its semi-annual cultural show, "Taal, a Beat of Passion." The collaboration and camaraderie between students of different nationalities and backgrounds to produce such a show speaks to the multicultural environment at St. George's University. It was an event that brought a taste of India to all faculty, staff, students, as well as to the local community.
The show began with an introduction of the ICSA Fall 2010 board members Neha Rana, Priti Dave, Johnny Wu, Rushabh Shah, Simran Nahal, Satjit Sanghera, Prashanth Boddeti, and Kyrie Kanhai. President of ICSA, Neha Rana explained the importance of the event. "We are normally consumed by class and studying. The show allows students to share something beyond medical school that they enjoy with the SGU community." One of the emcees of the cultural show, Ayanna Rocke agreed, "It is important to the Indian Student body as well as SGU to have a cultural show as it helps in a way to give the students a voice."
Dances of the night ranged from classical to bhangra to hip hop. A semi-classical dance was followed by fusion hip-hop, bhangra, and Bollywood dance performances. Neha describes the audience and recalled, "Charter Hall was completely packed with people standing in the aisles to catch a glimpse of the performers. Members from the entire SGU community were in attendance, ranging from professors and their families to students and local vendors."
Overall, the ICSA was successful in showcasing the talents of the entire student body as well as bringing traditional Indian culture to share with the St. George's University community. As fifth term medical student, Satjit Sanghera explains, " Not only was it a night of tradition, entertainment, culture and rhythm, but also a night in which the SGU community came together under one roof to watch students showcase talent that is often buried deep in the blur of medical school."
ICSA is one of the largest student organizations at St. George's University. It was founded in 1996 to share the Indian culture with the entire University and Grenada. ICSA hosts several events throughout the year including Holi, Diwali, dance classes, semiannual theme-based parties, and the ICSA Cultural Show.

https://www.sgu.edu/wp-content/uploads/2016/10/news-fall2010-ICSA.jpg
330
220
VS
https://www.sgu.edu/wp-content/uploads/2020/02/sgu-logo-grenada.svg
VS
2010-12-02 15:01:30
2017-01-18 01:25:33
Fall 2010 ICSA Culture Show: "Taal, a Beat of Passion"