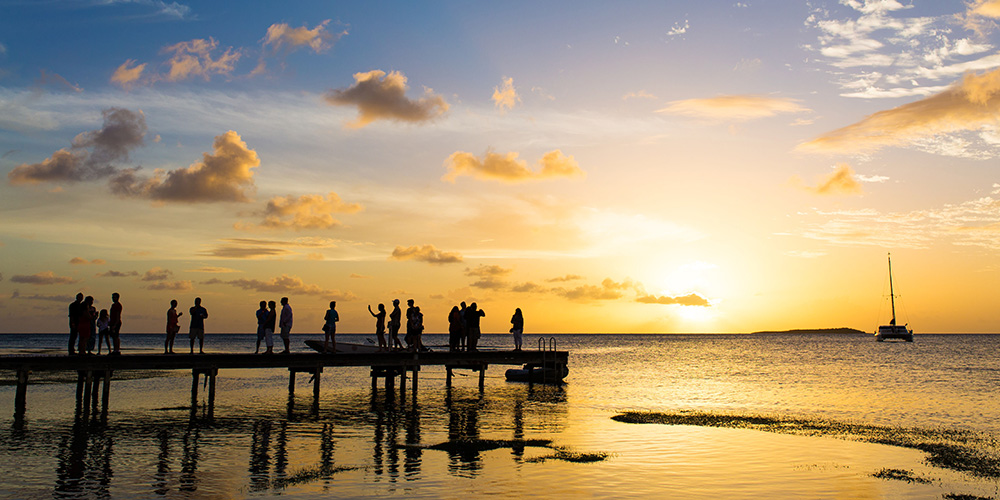 For James and Joyce Johnston, supporting their son Alexander's dreams wherever they've led him was always a priority. First it was in his pursuits as a competitive ice hockey player. Now Alexander is a first-term student at St. George's University School of Medicine, which prompted the Johnstons to join their son in Grenada at SGU's 18th Beyond Spice Family Weekend.
"After getting injured while playing hockey, our son became inspired by his orthopedic surgeons to become a doctor," shared Mr. Johnston. "We found out about SGU while researching medical schools together online and I encouraged him to apply. We couldn't be prouder of his accomplishment."
The Johnstons were one of dozens of families who soaked in Grenadian culture over the weekend, taking part in events such as a heritage tour, sea excursion, shopping opportunities, and a sunset barbecue. In addition, the weekend coincided with White Coat Ceremonies for medical and veterinary students, an event that marks their official entry into their respective professions.
"It's a little hard on us with him moving so far away, so we decided to make it a vacation and join him for Family Weekend," said Ms. Johnston. "I think every student should have a family member here for the Family Weekend. It connects parents with their students by letting them see firsthand what they're getting involved in and it helps the parents get a better peace of mind."
Michael Jacoby's parents, on the other hand, had no qualms about their son moving three thousand miles away to attend medical school at St. George's. Through their own research, Annie Allen and Doug Engman knew that students' safety was paramount to SGU. The couple worried more about how Michael was going to get any studying done surrounded by such a spectacular view.
"I wasn't the least bit worried about my son coming to SGU because I knew he would be safe there," said Ms. Allen. "The island is wonderful and I'm already planning my next trip back."
"The campus is distractingly beautiful, but in life, you're going to have distractions," stated Mr. Engman. "You have to be laser-focused on your goals. I don't think SGU could have provided a more peaceful setting for students to get their studies done."
Now celebrating its 11th year, Family Weekend continues to invite family members to visit the country and campus that their students have now made their home away from home.
"Each semester we happily look forward to opening our doors to host students' families who've traveled from across the globe to experience a weekend of sun, sea, and family in the Spice Isle," said Robert Ryan, dean of admission. "Family Weekend was also designed to allow our visitors to have meaningful interactions with our top administrators. The sense of pride and accomplishment with which the parents speak of their students not only brings joy to us but serves as a reminder of St. George's deeply held commitment to assisting students in realizing their various academic and professional aspirations."
According to Mr. Ryan, those who attended the sunset barbecue even had the opportunity to witness a green flash, a natural solar phenomenon that rarely occurs just as the sun dips below the horizon.
– Ray-Donna Peters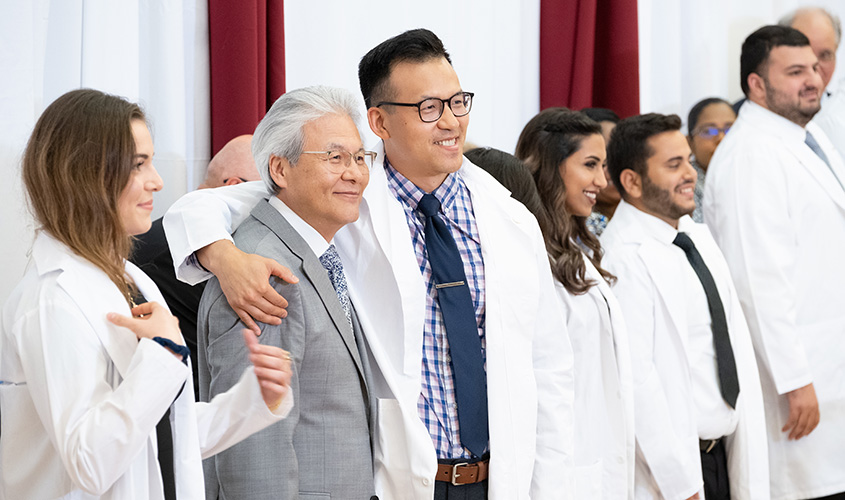 https://www.sgu.edu/wp-content/uploads/2019/09/Family-Weekend-845-x-500.jpg
500
845
bpmauser
https://www.sgu.edu/wp-content/uploads/2020/02/sgu-logo-grenada.svg
bpmauser
2019-09-16 20:13:26
2021-02-25 21:15:58
Fall 2019 Visitors Join Extended SGU Family at 18th Beyond Spice Family Weekend