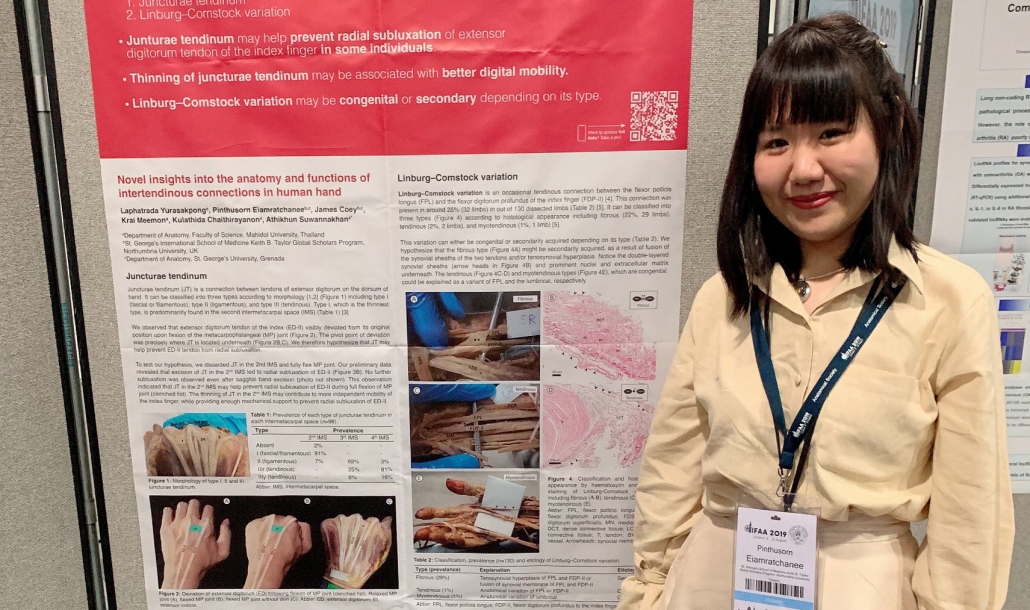 Pinthusorn "Blue" Eiamratchanee, a first-year medical student in the St. George's University/Northumbria University 4-Year MD Program in the United Kingdom, recently presented the initial findings from a research collaborative between Mahidol University International College (MUIC) and SGU at the 19th Congress of the International Federation of Associations of Anatomists (IFAA) in London.
Blue's research presentation titled, "Novel insights into the anatomy and function of intertendinous connections in human hand" was part of a collaboration established by Dr. James Coey, Assistant Dean of Basic Sciences at SGU, and Athikhun Suwannakhan, a PhD student in the Department of Anatomy at MUIC. The research group was also the first to classify the Linburg-Comstock variation—an anatomical variant of flexor tendons of the hand—into three different types with immunochemistry, and proposed that its etiology is secondary to a traumatic injury or an excessive use of the hand.
"It was such an honor to work with Dr. Coey, an expert in the field of anatomy, and Mr. Suwannakhan, who comes from one of the most prestigious universities in Thailand," said Ms. Eiamratchanee. "I was really excited about participating and presenting my work at the IFAA conference. It was an amazing opportunity for me to engage in both technological and educational discussions with different associations of anatomists from around the world.
"I have always wanted to be a medical doctor and a researcher," she added. "I believe that, by being both, it would give me opportunities to use the current knowledge of science to help people understand the problems and obstacles in providing healthcare to patients, as well as expand the current knowledge as a tool for other physicians to provide better and more accurate medical diagnosis, treatment, and/or surgery."
St. George's University was further represented at the conference through platform presentations from Dr. Marios Loukas, dean of basic sciences and research at SGU, along with numerous poster presentations and artwork submitted by Dr. Robert Hage, professor of anatomical sciences at SGU, and his daughter, Lisa Hage, MD '10.
This research collaboration continues to strengthen the relationship between SGU and MUIC, following the partnership established in 2014 that launched a dual BSc/MD degree between the two universities, and most recently the MOU signed in 2018 allowing Mahidol students who successfully complete a preclinical year of study to be eligible to enroll in SGU's MD degree program.
"Blue is one of the first students to capitalize on this partnership, progressing from MUIC to SGU's Northumbria program, and in her first year has managed to present at a prestigious international conference," Dr. Coey said. "Additionally, the fact that this research was a collaboration with Mahidol paves the way for continued joint ventures in the future."
– Ray-Donna Peters
https://www.sgu.edu/wp-content/uploads/2019/09/Blue-at-IFAA-845-x-500.jpg
1013
1711
bpmauser
https://www.sgu.edu/wp-content/uploads/2020/02/sgu-logo-grenada.svg
bpmauser
2019-09-17 15:26:19
2021-02-25 21:15:58
First-Year MD Student Presents Research at International Anatomy Conference