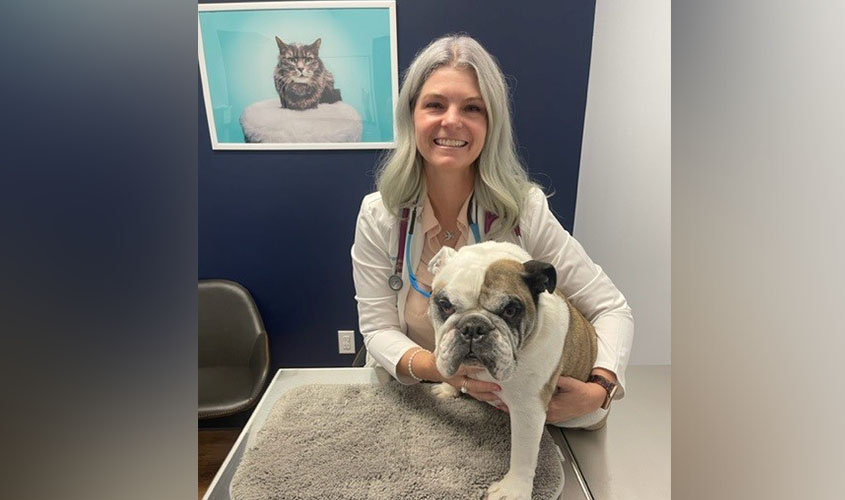 As a board-certified dentist and oral surgeon, Dr. Chanda Miles, DVM '06, has treated all types of animals for their oral health—including tigers, an Asian small-clawed otter, an American River otter, chimpanzees, a Silverback gorilla, gibbons, opossums, skunks, and chinchillas, not to mention cats and dogs.
Dr. Miles credits St. George's University for helping her become comfortable with surgical procedures. At SGU, "we were able to perform a large amount and variety of general surgeries that helped me shape my love for surgery and later form my decision to pursue dentistry and oral surgery," Dr. Miles said.
Earlier this year, Dr. Miles and a colleague co-opened Veterinary Dentistry Specialists in Katy, Texas to answer the high demand for pet oral care in the greater Houston area.
Dr. Miles didn't set out to be a veterinary dentist at first. While working as a new veterinarian, she was tasked with overseeing several dentistry procedures a day but found herself frequently asking for help from colleagues since she had little dentistry training. She wanted to learn more and decided to attend an intense three-day weekend course to learn "everything that I could about dentistry for animals," Dr. Miles recalled.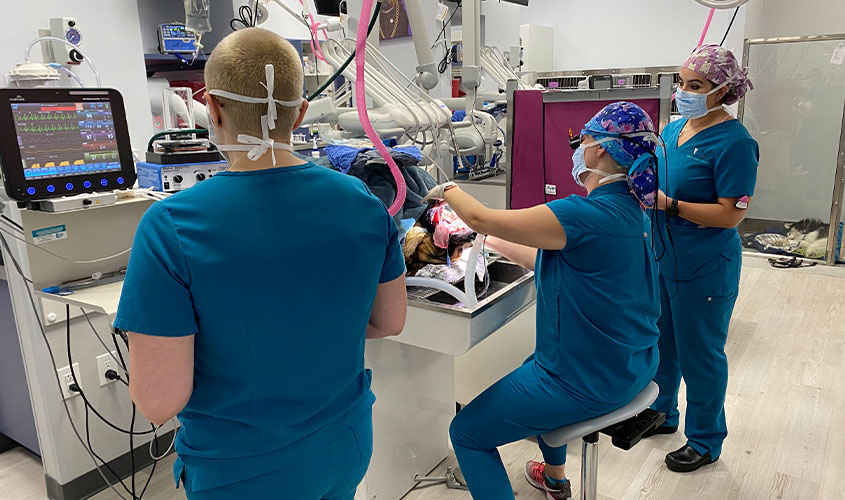 "It was then that I realized I had a passion for dentistry and oral surgery. It was calming and came easy to me," she said. To refine her skills, she pursued a residency in the specialty at the University of Wisconsin in Madison—and the rest, as they say, was history.
Dr. Miles spoke to SGU News about why she is passionate about dentistry, new technology in the field that improves her patient care, and what advice she would give to new veterinary students just starting out.
St. George's University: What types of patients do you see and what are some examples of the procedures that you perform?  
Dr. Miles: I work with primarily cats and dogs, but we can treat exotic patients if they are in need.  I love working with large cats such as tigers, leopards, etc.
I treat all kinds of conditions: I perform procedures in periodontics, endodontics (root canals), oral surgery (extractions, jaw fracture repair, surgical resections, prosthodontics (crowns), orthodontics, and oral medicine.
SGU: Why are you passionate about the vet dentistry field?  
Dr. Miles: It gives me instant gratification of accomplishing something good for the patient who benefits remarkably from it. When patients have a healthy, comfortable mouth they can have an excellent quality of life. It isn't a discipline that is taught readily in vet school so I'm also passionate about teaching it appropriately to general practitioners as well.
SGU: Tell us about your new clinic.  
Dr. Miles: VDS is a stand-alone specialty dentistry and oral surgery practice with a full-time board-certified anesthesiologist. We offer advanced imaging (cone beam CT) and are equipped with modern anesthesia monitoring equipment.
My colleague, Dr. Carlos Rice, opened the first VDS in Mt. Laurel, NJ and then a second one with another colleague in Chadds Ford, PA. Dr. Rice and I decided that opening one in the greater Houston area (where I live) would be a great addition to the VDS family. There is a big demand for dentistry in Houston's pet population.
SGU: What is the most challenging part of the job? 
Dr. Miles: On a day-to-day basis it's keeping the flow of the day manageable.  One patient can throw a curve ball in the whole day with unexpected pathology that needs treatment. Because we provide outpatient care, it's important to treat our patients with completeness, but also make sure they have enough recovery time to be discharged adequately.
My other big challenge that I face at times is treating complicated maxillofacial traumas in young dogs.  These can be very difficult to treat when they have both deciduous and permanent dentition at the same time and are still growing.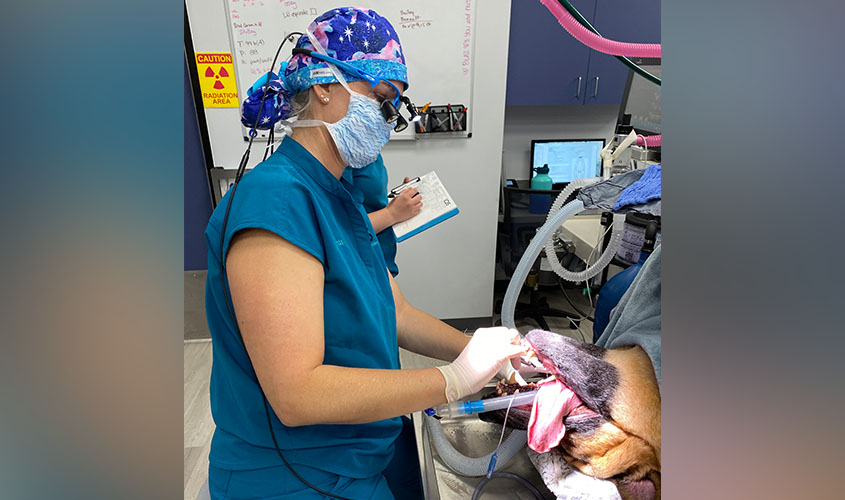 SGU: What new technology or procedures have developed to help you do your job?
Dr. Miles: Cone beam CT has been a game changer for me. This is an imaging modality that allows me to render 3D images of my patient's skull for complete evaluation of maxillofacial trauma. It also gives me precise images for small things such as early endodontic lesions. The imaging is crystal clear and helps me understand the extent of pathology in many facets.
What made you pursue veterinary medicine? 
Dr. Miles: It sounds cliché, but I've always wanted to be a veterinarian since I was little.  At the minimum I knew I wanted to pursue something in the medical field.
SGU: How has your training at SGU helped you succeed, specifically in your specialized career?
Dr. Miles: Having spent time at two separate universities for my clinical year and residency, I was around many specialists that were teaching students and the SGU professors were far more compassionate in their teaching and encouragement to us.
One of the key takeaways in my training at SGU was surgical preparation. We were able to perform a large amount and variety of general surgeries that helped me shape my love for surgery and later form my decision to pursue dentistry and oral surgery.
SGU: What was your clinical year like at Kansas State University? What takeaway would you pass on to students?
Dr. Miles: I absolutely loved Kansas State! Every clinician and student was so incredibly nice at this school. I learned so much on each and every rotation.
The biggest takeaway from my clinical year that I would pass on to students would be to participate in every rounds session and conversation that you have. The clinicians want you to be engaged.
SGU: What would you say to an aspiring vet student considering going to SGU? 

Dr. Miles: Do it! It's an experience of a lifetime and you will get an education like nowhere else in the US!  SGU provided me with so much more than my degree and I loved that the school offered flexible matriculation. I didn't want to wait another year to apply to vet school.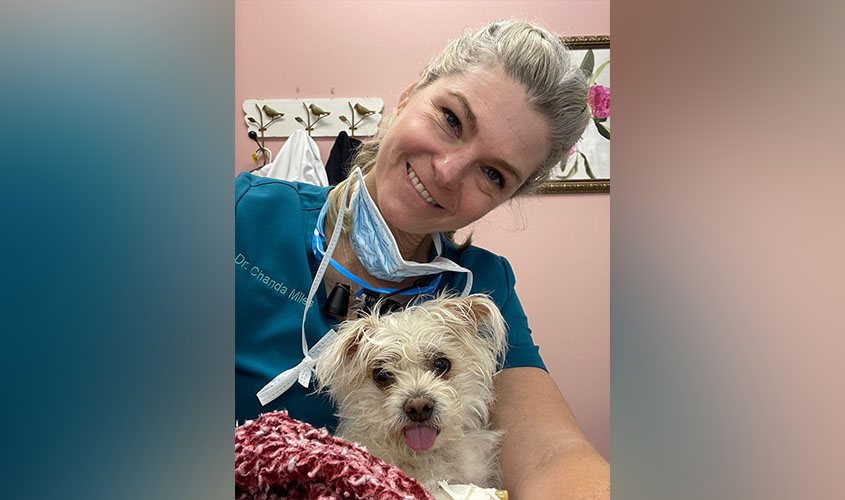 — Laurie Chartorynsky
Related Reading
·       SGU confers degrees to School of Veterinary Medicine Class of 2022
·       SVM grad helps refugees and pets in need on Ukraine-Poland border
·       SGU veterinarians secure postgraduate training positions in VIRMP match
https://www.sgu.edu/wp-content/uploads/2022/06/chanda-miles-bulldog-845.jpg
500
845
lchartor
https://www.sgu.edu/wp-content/uploads/2020/02/sgu-logo-grenada.svg
lchartor
2022-06-27 14:10:25
2022-06-29 10:50:22
From tigers to canines: SVM grad finds her path as a vet oral surgeon