Andrew Kushnir, DVM '19, felt a greater calling to help those in need. Dr. Kushnir, a graduate of St. George's University School of Veterinary Medicine, traveled to Poland in late March to provide on-the-ground support for refugees—and their pets—who have evacuated from war-torn Ukraine.
Dr. Kushnir, a staff veterinarian at San Diego, CA-based Project Wildlife, teamed with nonprofit organization International Fund for Animal Welfare (IFAWglobal) to assist shelters, sanctuaries, and zoos as they handle the influx of animals needing care. He shared why he felt the need to contribute to the relief efforts in the region.
St. George's University: Where are you located and how did you get involved with IFAWglobal?
Dr. Kushnir: I am currently deployed with IFAW at the Ukrainian-Polish border crossing in Medyka, Poland. When the war in Ukraine started, I immediately started reaching out to every organization I could find that was providing support for animals in conflict.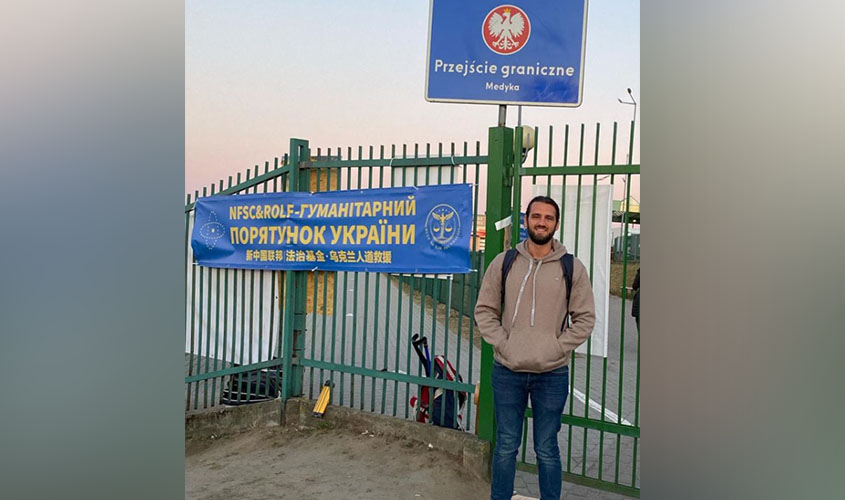 SGU: Was it a difficult decision to make this commitment?
Dr. Kushnir: My father and his family were once refugees fleeing Ukraine during World War II, and I knew that I had to step up in whatever capacity I could to help support people fleeing conflict. We veterinarians don't just help animals; we also help people through animals.
Being here on the border providing food, water, pet carriers, food bowls, fresh bedding, and warm clothes to pets really makes a huge impact on refugees. Along with getting the peace of mind of a vet looking over their animals, these displaced people have a little bit less to have to worry about as they move onwards to their next destination.
SGU: How will your training as a veterinarian translate to field medicine like this and on people?
Dr. Kushnir: Veterinarians are used to working in scenarios where one has to get creative with the tools available to achieve the most optimal outcome. So triaging stressed, injured, and sick animals out of a tent approximately 100 feet from the border of a war-ravaged country isn't totally out of the scope of what I and other veterinarians are trained to do.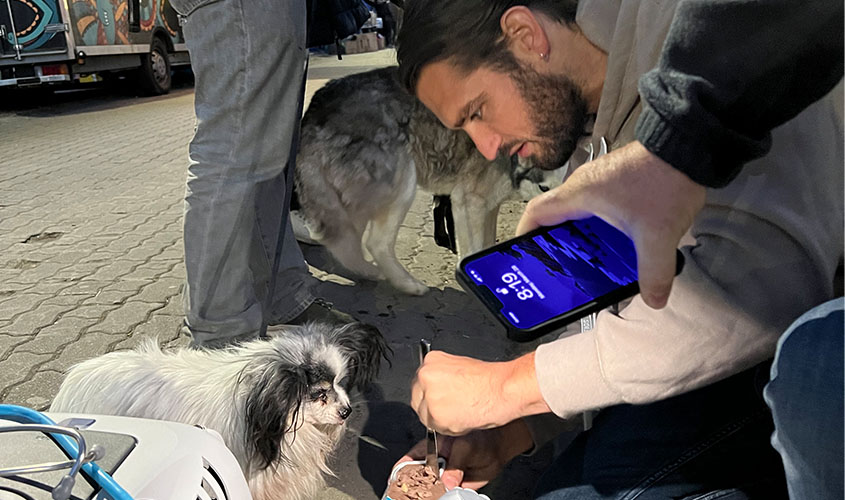 SGU: How would you describe your emotions now that you're seeing the strife firsthand?
Dr. Kushnir: Since being here at the refugee camp, I have felt the full kaleidoscope of human emotions. Every moment here, I am surrounded by an endless stream of people seeking shelter and safety from war, who have had to pack their entire lives into a few suitcases and grocery bags. When they reach the refugee camp, volunteers of humanitarian organizations from all over the world greet them with smiles, warm food and drink, and the assurance that they are safe. For many folks, their pet is family and a great comfort at this time so being able to provide veterinary and supportive care to their critters is an exceptionally profound service to offer.
SGU: Have you done any sort of field medicine like this before?
Dr. Kushnir: Working at animal shelters and wildlife centers, I have a lot of experience treating a variety of animals in field conditions, but working in a refugee camp is a first for me.
SGU: What characteristics does a doctor—of any type—need to have to be able to handle field medicine like this?
Dr. Kushnir: There are many qualities I think a veterinarian/doctor needs to have if they want to feel comfortable working in field/disaster relief settings.
Being exceptionally resourceful is important because you'll need to adapt to a potentially ever-changing environment. For example, the tent you're examining a scared cat inside of suddenly collapses under the weight of pouring rain and strong winds!
Being OK with not having the best tools or medicines available but still being able to tackle the problem as best as you can.
Knowing that limitations will surely arise, but nevertheless staying positive and focused on getting the job done.
SGU: How has your training at SGU prepared you for this type of front line aid?
Dr. Kushnir: Studying at SGU and living in Grenada definitely helped me build up not just my foundation of knowledge and comfort in a clinical setting, but it also fostered a passion for wanting to work with the most vulnerable animal populations in whatever environment they're found. The investment is great, and the rewards are greater!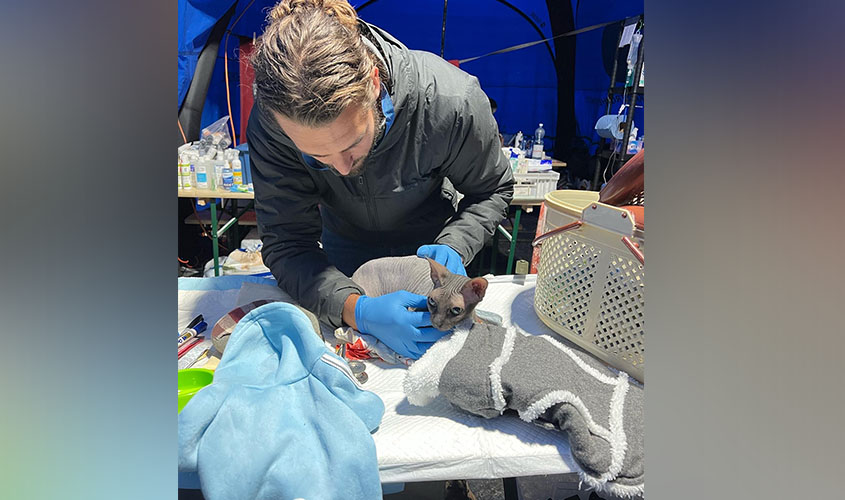 — Laurie Chartorynsky
Related Reading
https://www.sgu.edu/wp-content/uploads/2022/04/kushnir_ukraine_cat_845.jpg
500
845
lchartor
https://www.sgu.edu/wp-content/uploads/2020/02/sgu-logo-grenada.svg
lchartor
2022-04-01 11:51:52
2022-05-31 13:17:53
SVM grad helps refugees and their pets at Ukraine-Poland border