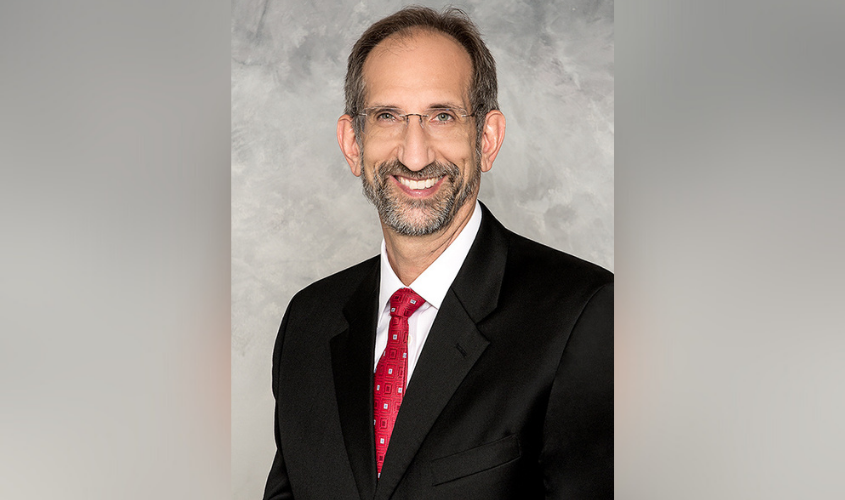 Having grown up in and around New York City, Ray Kaplan was more familiar with city and suburban life than the world he one day found in farm country. In high school, he sought more wide open spaces by spending summers working on dairy farms, a setting in which he felt right at home.
"The farm atmosphere was new to me, but I loved the physical and outdoor nature of the work," said Dr. Kaplan, a new associate dean of graduate studies at St. George's University School of Veterinary Medicine. "I also developed an appreciation of dairy cows and found them to be lovely animals to work with."
He added to his experience by studying dairy science as an undergrad at Virginia Tech, diving deep into parasitology research at Virginia-Maryland College of Veterinary Medicine, and following that up with a PhD in veterinary parasitology from the University of Florida.
Throughout his career as a clinician, Dr. Kaplan emphasized research, including the US Army Veterinary Corps, where he worked at the Walter Reed Army Institute of Research in a malaria drug discovery program. Several years later, he took an assistant professor position at the University of Georgia Veterinary School, where he would spend the next 23 years developing an internationally recognized parasitology research program.
Excited to now start a new chapter at SGU, Dr. Kaplan shares how he plans to use his knowledge and expertise in research to help improve the SGU School of Veterinary Medicine program, mentor students, and help faculty succeed in their research endeavors.
St. George's University: What led you to join SGU, and what are you looking forward to the most as an official faculty member?
Dr. Ray Kaplan: I am thrilled to be a part of the SGU family. Although I just started as professor of parasitology and associate dean for graduate studies for SVM in August, I have been coming to SGU as a visiting professor for the past 20 years, so I knew that I loved Grenada, and the community spirit of SGU. I also joined because I had reached a point in my career where I wanted to do something a little different. Though I did a considerable amount of teaching in my earlier years at UGA, over time my position evolved into being predominantly research focused, and I found that I missed the interaction with veterinary students.
At SGU, I am looking forward to returning to doing more teaching and engaging with students, including establishing a vet student parasitology club, as well as conducting some new areas of research, such as parasites of aquatic animals. And in my role as associate dean of graduate studies, I look forward to building and improving the SVM graduate program.
"I firmly believe that learning the scientific process by participating in research builds critical thinking skills, which are essential to practicing evidence-based medicine, and can be applied in so many aspects of life."
SGU: What do you consider to be some of the benefits to students participating in research?
RK: The field of veterinary medicine is dynamic and ever changing, and the amount of information is increasing too fast for anyone to keep up with everything. However, experience in research gives students a better foundation to critically evaluate what they read and hear, and thus provides a step up in maintaining the highest standards of practice. I firmly believe that learning the scientific process by participating in research builds critical thinking skills, which are essential to practicing evidence-based medicine, and can be applied in so many aspects of life.
SGU: Why is research so important, especially now with COVID-19?
RK: Understanding research and science in general is essential to controlling COVID-19, as well as many other of society's current concerns. Veterinary researchers play a large and critical role in the animal-based research that provides benefits to both animal and human health. These researchers and healthcare professionals played an important role in responding to this pandemic, and they will continue to play an important role in helping to prevent the next one. Hence, the world needs more veterinary researchers.
SGU: What future research topics and projects would you like to see covered at SGU?
RK: As a large university in the Caribbean, SGU is uniquely positioned to address research on topics relevant to this region, such as aquatic animal medicine and conservation, and sustainable control of parasites in tropical environments. For instance, SGU is the perfect place for developing a major center for aquatic animal health, and the achievements of such an institute could provide valuable international recognition for the school.
SGU: How would you describe the student journey and what will help make students successful here at SGU?
RK: Students of veterinary medicine are a fairly unique group in their level of passion and dedication to their pursuit. This intense pursuit to become veterinarians involves a lot of emotional and economic investment. Veterinary students tend to be high-achieving idealists who have chosen the profession because they want to help animals.
Over the years of coming to SGU as a visiting professor, I have been impressed with the academic skills and enthusiasm of SGU students. I think building on those core strengths through increasing opportunities for pre-professional groups and professor-student interactions will aid in their success. I also believe that the geographic location of Grenada and being away from their homes creates a stronger student community, which creates an environment where students help other students be successful.
— Ray-Donna Peters
Related Reading
https://www.sgu.edu/wp-content/uploads/2021/09/Ray-Kaplan-3.png
500
845
rpetersgmail
https://www.sgu.edu/wp-content/uploads/2020/02/sgu-logo-grenada.svg
rpetersgmail
2021-09-30 15:47:33
2021-10-01 17:25:39
New SVM Associate Dean Inspires Future Veterinary Researchers