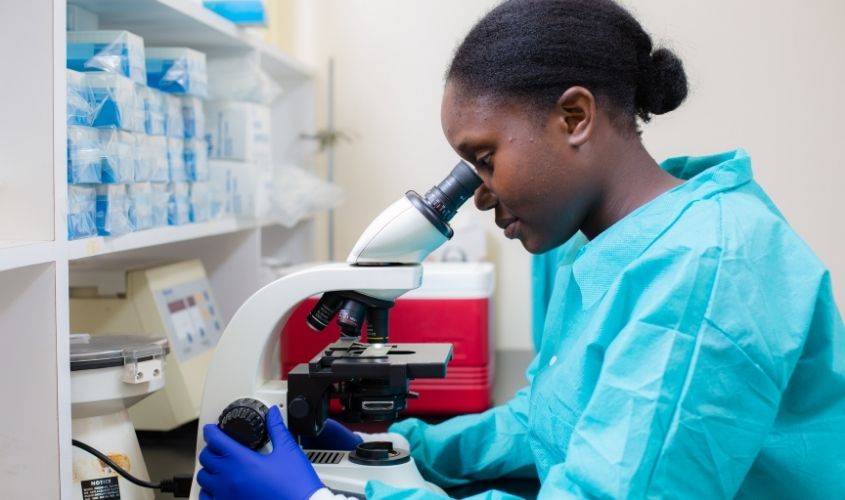 Research will once again take center stage at St. George's University this fall. After a two-year hiatus since a record-breaking turnout in 2019, the campus will host its 19th SGU Research Day and Phi Zeta Research Emphasis Day on Saturday, October 23, at Open and Upper Modica Hall.
This year's event will feature Dr. Carissa Etienne, director of the Pan American Health Organization (PAHO), as the keynote speaker. For the first time, the event will include virtual presentations. The change will allow for collaborators, graduates, students, faculty, and alumni not located in Grenada to contribute, including those in the St. George's University of Grenada School of Medicine/Northumbria University program in Newcastle, UK. Clinical faculty in the Schools of Medicine and Veterinary Medicine may also participate.
"Those who participate in research benefit, in that it makes them more holistic and impactful in their chosen field of study," said Dr. Martin Forde, professor of environmental and occupational health in the Department of Public Health and Preventive Medicine. "One of the goals of Research Day is to allow our students to demonstrate that they are not only interested in gaining knowledge but in making meaningful contributions to the knowledge base of their chosen profession. Through it, they can demonstrate their ability to help answer questions that still are unanswered and highlight where we still need to dig deeper."

Recognizing that research is an integral part of a university, SGU established the Medical Student Research Institute (MSRI) in 2009 to encourage, support, facilitate, and centralize medical student research during the four years of a student's medical education. The MSRI offers medical students who have demonstrated academic excellence the opportunity to work on faculty-mentored research projects, and if their abstract is accepted to Research Day, they will qualify to be considered for a Distinction in Scholarly Activities award at graduation.
Recently appointed to head up the MSRI, Michael Montalbano, MD/MBA '16, an assistant professor in the Department of Anatomical Sciences at SGU, revealed the goals he hopes to accomplish.
"I am very grateful to be given the opportunity to head the MSRI," said Dr. Montalbano. "In my new role, I want the MSRI to give students the skills that accompany sound scientific approaches to complement the large volume of medical knowledge they learn from their classes. I believe that, armed with the proper cognitive exploratory tools, a student can better map out the dense territory of medical facts, make an informed clinical decision when faced with a choice of paths, and perhaps even start a trail of knowledge in previously uncharted terrain. In short, I want to not just keep curiosity alive but actively promote it."
Call for Abstracts
Research Day is open to all. Those selected will have the opportunity to present their oral or poster presentations in a chance to compete for the title of best faculty or best student oral presentation, as well as best faculty or best student poster presentation based on originality, scientific merit, and level of involvement.
The SGU community is invited to send in abstracts on or before Monday, September 27. Please send submissions to Kareem Coomansingh at kcoomans@sgu.edu. 
– Ray-Donna Peters
Related Reading
https://www.sgu.edu/wp-content/uploads/2021/06/Research-stock-845.jpg
500
845
lchartor
https://www.sgu.edu/wp-content/uploads/2020/02/sgu-logo-grenada.svg
lchartor
2021-06-25 19:06:57
2021-06-28 13:46:48
SGU's Research Day Returning This October