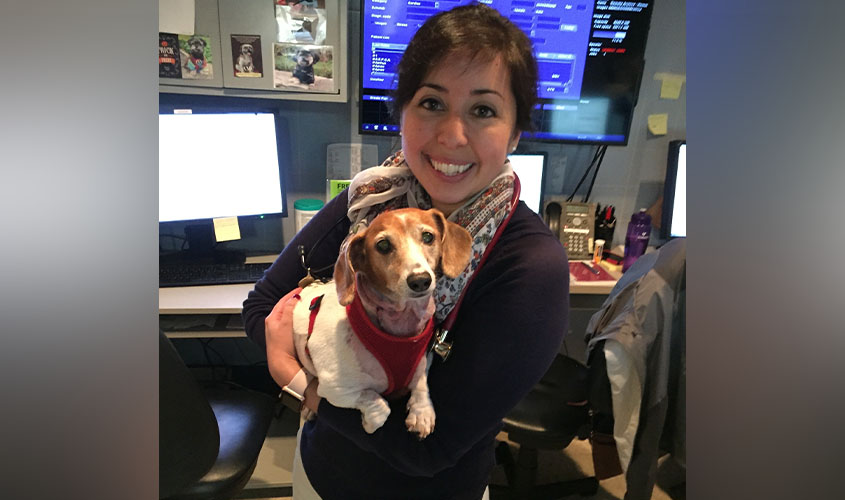 During a typical day at the office, Amanda LaRose, DVM '15, a cardiology resident at The Animal Medical Center in New York City, sees an array of different animals. While she mainly treats dogs and cats, technology within the field of vet cardiology has allowed Dr. LaRose to diagnose and care for other small animals, including ferrets, guinea pigs, birds, and even a tegu, that may have heart conditions.
"Growing up as a horseback rider helped me realize how valuable the human animal bond is to a person's health and mental stability," Dr. LaRose said. "I wanted to become a vet to enhance that bond through general wellness and client education."
Dr. LaRose shared what it means to be a vet cardiologist, why she chose the specialty, and her advice to School of Veterinary Medicine students.
SGU: Why did you choose to specialize in cardiology?
Dr. LaRose: It is the one specialty where you can be a jack of all trades. I not only get to diagnose a disease through echocardiograms but I can manage it with medications or potentially fix it with minimally invasive surgery (if it's a congenital lesion). I also enjoy the long-term follow-up care that's required with many patients and being able to provide adequate education for their owners. Finally, through our services we're able to provide quality time for our terminally ill patients. I can't begin to explain the feeling of being able to give an owner more time with their pet and provide those last days or weeks to come to terms with their pet's condition.
I also became a specialist to continue to educate owners, referring veterinarians, post-grads, and students. I don't think there's anything more important than understanding and setting expectations when it comes to certain diseases and being able to provide support for the referral veterinary community and future veterinarians.
"As human medicine advances, so does vet med. I'm excited about the prospects of minimally invasive medical devices and investigative new drugs that could potentially help our patients, especially those where treatments are quite limited."
SGU: As a vet cardiology resident, how long is the program and what are you learning?
Dr. LaRose: I started my third year in July and will complete the residency July 2022. As part of the residency program and becoming a specialist, we are required to be well versed in the basic anatomy, physiology, and sciences of the cardiovascular system and how they can be used to diagnose and manage cardiomyopathy in domestic animals.
Some of the procedures and activities we do include:
Diagnosis and management of various acquired cardiomyopathies, arrhythmias, and congenital diseases of the heart
Diagnosis often occurs through various imaging modalities, the most common of which is echocardiography, but we also become more proficient in reading chest x-rays, CT scans, and angiography studies.
A requirement of the program is also to learn minimally invasive management and treatment of congenital diseases such as transvenous closure of patent ductus arteriosus and balloon valvuloplasty for the treatment of pulmonic stenosis.

SGU: What gets you up in the morning when it comes to your job?
Dr. LaRose: The unknown of the day. What congenital case will we see? What animal we save today? What cool cardiomyopathy might we come across? What will today's teaching point be?
SGU: What new technology or procedures are there that excites you when it comes to the specialty?
Dr. LaRose: As human medicine advances, so does vet med. I'm excited about the prospects of minimally invasive medical devices and investigative new drugs that could potentially help our patients, especially those where treatments are quite limited, as in our feline patients with hypertrophic cardiomyopathy.

SGU: Why did you choose SGU?
Dr. LaRose: SGU provided an opportunity for me to gain an education in veterinary medicine and offered a unique life experience. The thought of moving to another country was daunting; however, all of the students and graduates that I had spoken with were happy with their experience and education.
SGU: What was the best part of your SGU experience?
Dr. LaRose: The people and the island by far. As a student, I truly took advantage of what SGU and the island had to offer. This included participating in things like world vets, wet labs, school clubs, and class fundraisers (even if I was just attending). I also really tried to enjoy the island by taking advantage of the tourism and local events. I loved that after a rough test or midterms, we could go to one of the most beautiful beaches in the world to unwind. I was even fortunate enough to spend one Easter weekend sailing the Tobago Cays. It was an incredible experience that I would highly recommend to every student. There was always something new to experience.
SGU: If you had to give SVM students one piece of advice, what would it be?
Dr. LaRose: Take advantage of everything the island and the school have to offer. Get close with your classmates and enjoy your time as a student. The veterinary community is small—make friends, meet people, and keep a positive attitude. These attributes will help you go far!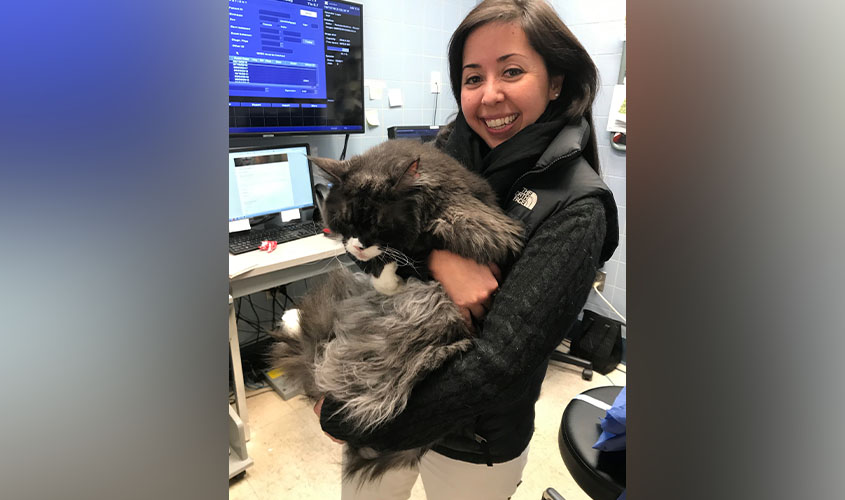 – Laurie Chartorynsky
Related Reading
https://www.sgu.edu/wp-content/uploads/2021/10/amanda-larose-lead-845.jpg
500
845
lchartor
https://www.sgu.edu/wp-content/uploads/2020/02/sgu-logo-grenada.svg
lchartor
2021-10-18 19:50:53
2021-10-18 19:57:11
Vet Cardiologist Inspired to Strengthen Animal and Human Bond