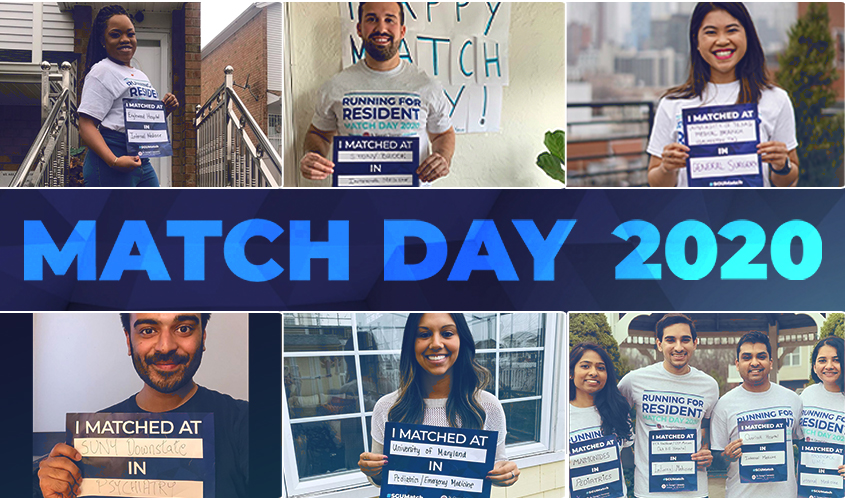 With the ongoing coronavirus disease (COVID-19) pandemic, St. George's University students and graduates who will be called on to assist in the fight against the virus received much awaited news on Match Day 2020. On Friday, 1,027 soon-to-be physicians learned of where they will begin their residencies in the United States this summer, the news coming down from the National Resident Matching Program (NRMP) as the clock struck noon. The residency match number is expected to climb even higher in the coming weeks and months.
Positions were secured across a wide range of specialties—including anesthesiology, emergency medicine, orthopedic surgery, pathology, and many more—and spanned 43 of the United States. The newest class of residents join a proud network of SGU physicians who are making a difference in healthcare throughout hospitals around the world.
"It is especially in times like these that we, as physicians, are turned to in order to provide valuable, high-quality care in communities around the world, for individuals who desperately need it," said Dr. G. Richard Olds, president of St. George's University. "With the skills and knowledge with which they have been equipped, I am confident that our students are prepared to meet this challenge head-on."
In the place of in-person celebrations, SGU students and graduates utilized technology to celebrate Match Day with their colleagues. For Nick Mulchan, MD '20 (expected), he and his medical school friends connected via video chat, each opening up their emails from the NRMP simultaneously to simulate SGU's annual Match Day Luncheon in New York City, which was canceled for the safety of all attendees.
Mr. Mulchan's excitement was evident on the call, having matched into a neurology residency at New York University Grossman School of Medicine.
"It was helpful to experience it with everyone who I went to med school with," he said. "We all looked out for each other. It was great to see and hear from everyone. A lot of us got our top choices. We all did really well and I'm so proud of everyone."
"We all worked hard, and SGU prepared us really well," he added. "SGU went above and beyond my expectations, which allowed us to excel."
Mr. Mulchan was a biological engineering major at Cornell University before going on to earn a master's degree in biomedical engineering at Columbia. He then enrolled in the St. George's University of Grenada School of Medicine/Northumbria University Four-Year MD Program (formerly the Keith B. Taylor Global Scholars Program), where he built a strong bond with his fellow students. Through studying in the United Kingdom, Grenada, and the United States, he built a strong foundation for his medical career. It set him up to go on "15 or 16" interviews, primarily in the northeast US, but he felt especially at home in NYU, citing its reputation, wealth of resources and fellowship opportunities, as well as the proximity to his roots on Long Island.
"A lot of us got our top choices. We all did really well and I'm so proud of everyone."
Another native New Yorker—Raven Crusco, MD '20 (expected)­—will be headed south this summer, having matched into a combined pediatrics/emergency medicine residency program at University of Maryland Medical Center. It is one of fewer than 10 such positions in the entire US.
"Between the hardships, the stress, and the studying, it has been quite a journey, but it's all been worth it," she said. "It all paid off. I'm so happy to say that I got my first choice. I have had the program on my radar for a while. I couldn't be more excited."
Ms. Crusco came directly to SGU after obtaining a Bachelor of Science in neuroscience from Binghamton University. Early on, her affinity for pediatrics was clear, and throughout her experience in the hospitals and with the Emergency Medicine Club at SGU, she was drawn to both.
She finished her final clinical rotation earlier in the month, and she waited anxiously ever since for the residency news to arrive. That she matched into a combined residency will allow her to become board certified in both pediatrics and emergency medicine after five years.
"Going to SGU is clearly a good path to medicine, and I'm just really happy to be a part of it," she said.
"It all paid off. I'm so happy to say that I got my first choice. I have had the program on my radar for a while. I couldn't be more excited."
Her close friend, Evan Maisel, MD '20 (expected), will complete his intern year in internal medicine at Mather Hospital in Port Jefferson, NY, before going on to an anesthesiology residency at Kendall Regional Medical Center in Miami, FL. It's not far from where he did his undergraduate studies (University of Miami) and where his parents expect to retire.
"When you're in the trenches during medical school, it feels like it's going so slowly, but looking back, I feel like I blinked my eyes and it was over," he said. "It was all worth it. I got the field and the place that I wanted, and it's an amazing feeling."
Mr. Maisel grew up around medicine—his dad a cardiologist on Long Island, his uncle specializing in anesthesiology. In going through his coursework and clinical training, he felt more drawn to the latter.
"I've always been interested in pharmacology, and I did well in it too," he said. "When I got to my clinical years and found myself in the OR, I liked being hands-on with the patients and caring for them during a vulnerable time, as well as there being a mixture of continuity of care perioperatively with acuity of care intraoperatively."
"It was all worth it. I got the field and the place that I wanted, and it's an amazing feeling."
The Match Day news comes three weeks after 13 St. George's University students secured residency in Canada through the Canadian Residency Matching Service (CaRMS). For a complete list of 2020 residency appointments, visit our website.
In the US, Canada, and around the world, this year's class of residents join the medical profession officially this summer, in a time when new doctors are especially welcome to assist. Currently, more than 10,000 St. George's University physicians are practicing in the United States alone.
"With the number of people being impacted by the coronavirus and without knowing how long it's going to go on, I'm thankful to be a part of the task force that's going to help to beat this virus," Mr. Mulchan said. "There's more of a need now than ever."
– Brett Mauser
https://www.sgu.edu/wp-content/uploads/2020/03/MD_845x500-copy.jpg
500
845
lchartor
https://www.sgu.edu/wp-content/uploads/2020/02/sgu-logo-grenada.svg
lchartor
2020-03-20 21:38:29
2020-05-01 13:07:02
More Than 1,025 Future Physicians Secure US Residency Positions on Match Day 2020