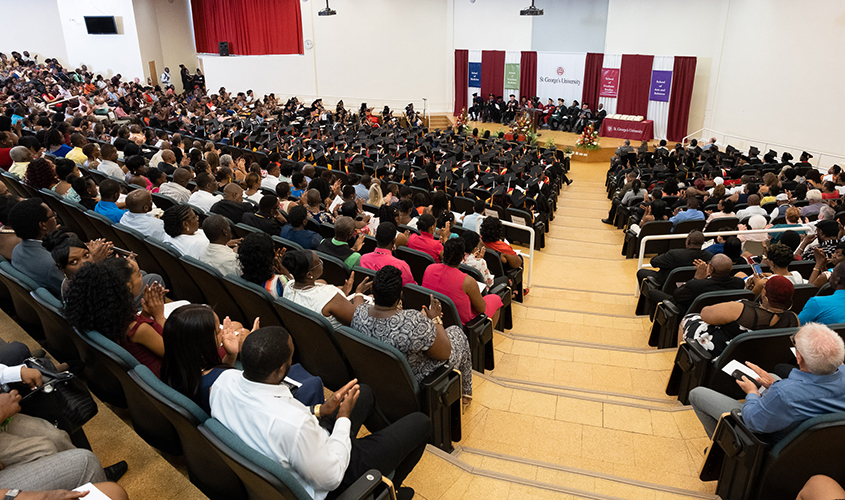 In a riveting speech, H.E. Mrs. Akima Paul Lambert, Grenada's Ambassador to the Holy See and keynote speaker at the 2019 Grenada commencement ceremony at St. George's University, encouraged the new graduates to see that their past struggles often provided the best teaching moments.
These challenges and conquests have provided inspiration for the nearly 420 graduates from 31 countries. The 2019 class included more than 230 students from the School of Arts and Sciences, and 110 from the School of Graduate Studies, with one PhD graduate in attendance. Medical doctorates were conferred on 77 new physicians from the School of Medicine. Ceremonies for the Schools of Medicine and Veterinary Medicine will take place at New York City's Lincoln Center in June.
"Graduands, I beseech you to go forth in your authentic selves, bring your light of change to the world," said Ambassador Paul Lambert, who as both a diplomat and solicitor advocate, champions issues related to international economic development and human rights. She was one of the youngest awardees of the United Nations Global 500 Award for services to the environment.
She went on to reference three Grenadian sayings that share lessons that benefited her in her much accomplished life. "Do not succumb to the shadows of regression or prejudice and frame your challenges as your finest teachings. Burn bright around the globe as proud agents of change, proud citizens of the world and proud graduates of St. George's University. Bloom in your dry season."
In addition to the three lessons imparted by the keynote speaker, in her valedictory address, Nanditha Guruvaiah, BSc '19, offered three ingredients in order to succeed at SGU—willpower, a plan, and not enough time in the day.
"The will to succeed, the aspiration to win, and the impulse to maximize your full potential are the keys that will unlock the pathway to individual greatness," said Ms. Guruvaiah. "St. George's University has given us the key that will unlock a future of endless opportunities. Let us use it to solve global issues and become the change we want to see in this world."
Also addressing her fellow graduates was the class speaker for the School of Graduate Studies, Tyann Gabriel, MD '15. She too offered up her own nine lessons as reminders for the students as they continued along their journeys. Her words of wisdom included having goals but remembering to be flexible, making time for self-reflection, seizing the moment, creating change, and knowing that the journey doesn't end here today.
"Today I urge you, I challenge you to continue to think beyond," said Dr. Gabriel. "I challenge you to go beyond. Go beyond all your uncertainties. Go beyond all your fears. I challenge each and everyone one of us to go beyond excellence."
– Ray-Donna Peters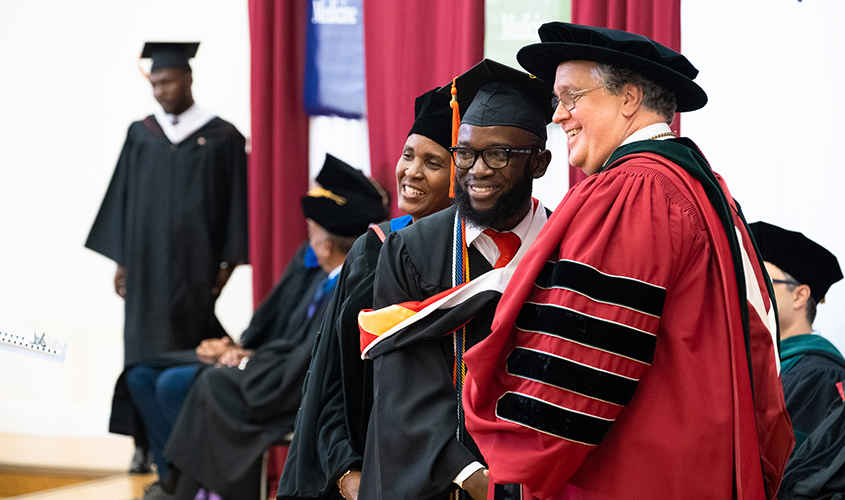 https://www.sgu.edu/wp-content/uploads/2019/05/Grenada-commencement-bottom-845-x-500.jpg
500
845
bpmauser
https://www.sgu.edu/wp-content/uploads/2020/02/sgu-logo-grenada.svg
bpmauser
2019-05-24 17:02:37
2022-05-25 15:37:39
Grenada Class of 2019 Inspired to Bloom