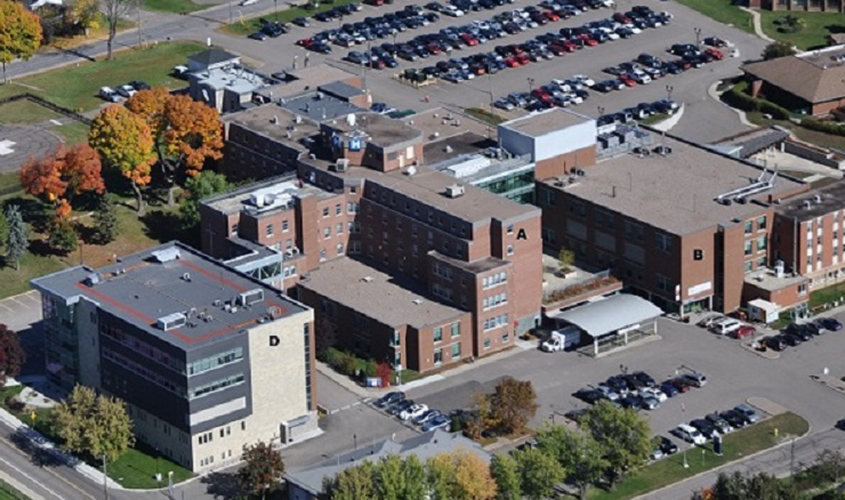 Adding to more than 70 clinical training locations across North America and the United Kingdom, St. George's University has finalized an agreement with Pembroke Regional Hospital in Ontario, Canada that will offer fourth-year students a range of disciplines to choose from for their clinical electives.
SGU is the first Caribbean medical school to secure an agreement of this kind with Pembroke. Students will be able to apply for an elective at Pembroke starting in early 2020, selecting from a menu of specialties spanning radiology, surgery, anesthesiology, and more to be announced in the new year.
With more than 80 percent of SGU's Canadian students from the Ontario area, "this is a golden opportunity for SGU Canadian students to do electives in a major hospital near their home," said Charles Furey, SGU's director of admissions for Canada. "Electives are important because of two major reasons—it gives the students the clinical experience and ability to network in a hospital, as well as the opportunity to achieve a letter of reference which is solid gold when seeking residencies."
Added Furey: "In addition, the agreement also provides an opportunity for Pembroke to have a look firsthand at the quality at SGU students and attempt to recruit them following their residencies. It's a win-win."
Located 150 kilometers northwest of Ottawa, Pembroke Regional Hospital delivers a broad range of acute, post-acute, outpatient, and diagnostic services to a mixed urban and rural population of approximately 55,000 residents in the city of Pembroke, the town of Petawawa, and surrounding municipalities, including Petawawa Military Base.
"The medical staff at the Pembroke Regional Hospital are excited to provide an opportunity to SGU students to experience medical practice in a community hospital," said Dr. Tom Hurley, chief of staff at Pembroke Regional Hospital. "Fourth-year students will be introduced to the Canadian healthcare system through a variety of specialties ranging from internal medicine to surgical subspecialties. Teaching well-trained students is one of many ways we ensure our physicians remain current in their areas of expertise."
SGU has been building its clinical network north of the US border. SGU recently announced new agreements with two Canadian facilities—Ottawa Cardiovascular Centre and Booth Neurology Clinic—further expanding the opportunities available to fourth-year students to broaden their skills and knowledge in preparation for residency.
Canadians have flourished at SGU and beyond, with 94 percent of eligible students and graduates applying for residency in North America successfully obtaining one in 2019. Eighteen Canadians who applied through the Canadian Resident Matching Service (CaRMS) secured residencies this year in competitive fields ranging from anesthesiology and emergency medicine to pathology and psychiatry.
"St. George's University is committed to preparing our students with the foundation of knowledge and clinical skills to prosper in their medical careers," said Dr. Richard Liebowitz, vice chancellor at St. George's University. "Adding a premier institution like Pembroke Regional Hospital to our clinical network is a major feather in our cap for students who wish to return to Canada to obtain a valuable and rich experience across a wide variety of disciplines."
– Laurie Chartorynsky
https://www.sgu.edu/wp-content/uploads/2019/11/Pembroke-845-x-500.jpg
500
845
lchartor
https://www.sgu.edu/wp-content/uploads/2020/02/sgu-logo-grenada.svg
lchartor
2019-11-14 21:23:47
2019-11-15 18:43:34
Major Canadian Hospital Joins SGU's Burgeoning Clinical Network