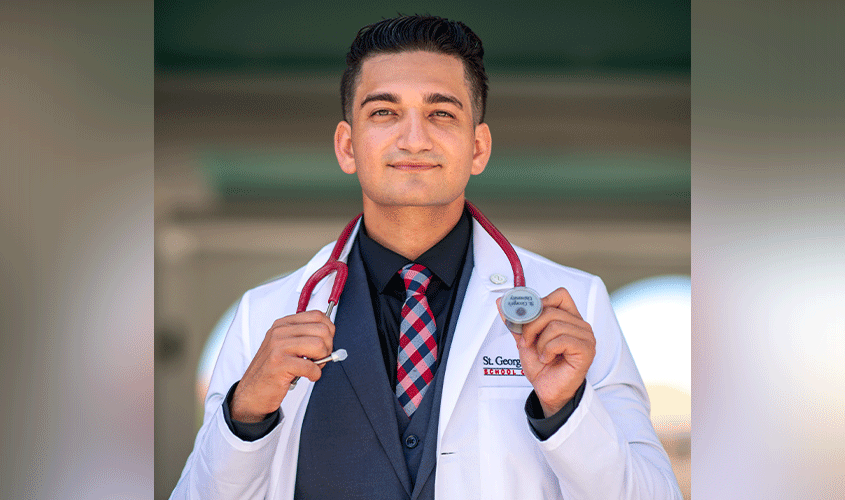 The demand for physicians, especially in urban areas, is expected to increase as the current physician workforce ages and retires. The Association of American Medical Colleges (AAMC) predicts a shortage of 46,000-90,000 physicians by 2025.
To help alleviate the doctor shortage in New York, St. George's University partnered with NYC Health+Hospitals, and together, they have developed the CityDoctors Scholarship Program. St. George's University Scholarship Committee and NYC Health+Hospitals jointly award full and partial scholarships to eligible incoming students accepted into SGU's School of Medicine. 
The CityDoctors scholarship program grants students with medical aspirations the opportunity to advance their careers while lessening their burden of debt. Three scholarship recipients shared how CityDoctors has helped them fulfill their dreams of attending medical school.

Shahzeb Leghari
Term 2 medical student
Hometown: Lahore, Pakistan
Originally from Lahore, Pakistan, Shahzeb Leghari now calls New York home. While volunteering in a metropolitan hospital, Shahzeb saw others experience similar disparities to his own. This solidified his desire to become a physician in the community to ensure everyone has access to the basic rights of medicine.
Coming from an underprivileged background, scholarship resources were vital to Shahzeb's ability to pursue a medical career.
"I hope for a world where healthcare is accessible to everyone, and there is a focus on preventative medicine so all of us can enjoy healthy lives," Shahzeb said.

Dina Gomaa
Term 2 medical student
Hometown: Brooklyn, New York
Recognizing the issues facing tomorrow's doctors, Dina Gomaa wants to be a part of the solution in the discipline she loves. Primary care specialties interest her because they allow Dina to get to know her patients and have holistic conversations about their health. The CityDoctors scholarship proved an excellent opportunity for Dina to achieve her career goals with fewer financial concerns.
During the pandemic, Dina worked in Urgent Care and saw firsthand how critical it was to have both passionate and empathetic physicians in well-staffed, quality healthcare centers. This experience contributed to Dina's motivation to apply for the scholarship.
"It's a privilege to serve New York City and give back to the people and places that got me here," Dina said. "My community has shaped me into who I am, and I want to pay it forward."

Sasha Zheng Gonzalez
Term 2 medical student
Hometown: Hastings on Hudson, NY
Sasha Zheng Gonzalez saw another side of the patient-physician relationship when her mother suffered a myocardial infarction. This experience prompted her to transition from the clinical side of patient care to becoming her mother's sole advocate.
"Medicine is a multifaceted field, and it is vital to me to become a physician who sees the complete story of each patient," said Sasha.
Sasha applied for the CityDoctors scholarship because it gave her the opportunity to fulfill her dream of becoming a physician while staying in close proximity to family and friends. This scholarship allows Sasha to continue serving and working within her community in her new capacity as a doctor.
—Madeleine Otto
Related Reading
https://www.sgu.edu/wp-content/uploads/2023/08/Shah-L-white-coat-845.gif
500
845
sstoss
https://www.sgu.edu/wp-content/uploads/2020/02/sgu-logo-grenada.svg
sstoss
2023-08-03 10:02:12
2023-08-03 10:34:09
A shared dream and home: Meet three CityDoctors scholarship recipients