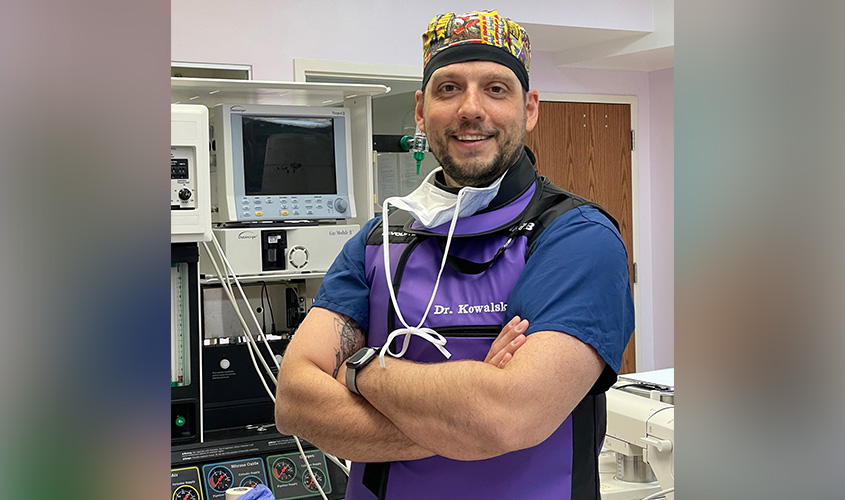 Andrew Kowalski, MD/MPH '12, knows Chicago. He grew up in the Second City suburbs, went to college at Loyola University Chicago, and now works as an interventional nephrologist and assistant professor at MacNeal Hospital—the Illinois-based hospital where he was born and where he volunteered prior to becoming a medical student at St. George's University.
Like in many American cities, kidney disease is a widespread issue in Chicago, which is where Dr. Kowalski comes in.
St. George's University: How big of a problem is kidney disease in America?
Dr. Andrew Kowalski: More than one in seven people in the US have kidney disease—that's about 15 percent of the population. Of those people, nine out of 10 have no idea they have any sort of disease, and two in five aren't aware that they have severe disease and are very close to initiating dialysis. I see it a lot. I will tell some patients about significant issues that they face and they're shocked.
I practice both general and interventional nephrology. As a general nephrologist, I see these patients and discuss ways to change their lifestyle, augment risk factors, and create treatment plans to move forward. Oftentimes we can put in 110 percent into a patient and, for whatever reason—likely their genetics—they still progress to requiring dialysis.
SGU: How closely is kidney disease associated with socioeconomics?
Dr. Kowalski: The majority of kidney disease patients have some issue with diabetes and/or high blood pressure. And it's usually uncontrolled. Much of this closely relates to socioeconomics; those in the poorest communities tend to not have adequate access to healthcare, or whoever they see might not be the best. A lot of them have advanced conditions and complications that come with them.
Also in the mix, albeit less frequently, are patients from affluent neighborhoods. You see the same diabetes and high blood pressure, but the disease is more related to medications, drug use, and genetics. These patients feel like they know more and tend to try to treat themselves.
"SGU blew my mind in terms of the resources that were available, the culture there, the people there. It was fantastic."
How did you get into nephrology?
Dr. Kowalski: What drove me into nephrology was meeting my mentor, Dr. Edgar Lerma. The way that he practiced, the way he carried himself and interacted with patients, it was really something I wanted to emulate. He wasn't a very tall man, but he had a presence about him. He never spoke at the patients but always spoke with them. By the end, you would think you were speaking to a friend and bouncing ideas off of him. They truly trusted him and knew that they were in the right hands.
Nephrology has many avenues too. As an interventional nephrologist, I get to use both my hands and my head. As an interventional nephrologist, I see these patients and plan and manage their dialysis access. I would place their hemodialysis catheters, peritoneal catheters, and manage their fistulas and grafts so that they are receiving adequate dialysis treatment.
SGU: What's your favorite part about your job?
Dr. Kowalski: I love teaching residents. I love explaining something that has a reputation of being difficult and seeing light bulb go off in their heads.
SGU: In addition to your MD, you obtained your Master of Public Health from SGU. How has that factored into your practice?
Dr. Kowalski: When I went to medical school, I wanted to have as many career options available as possible, and it helped not only with that, but it made me more well-rounded. I use the principles and practices that I learned in the MPH program more than I thought I ever would have. The coursework for that degree dove into many aspects of medicine that I was unaware of. We had in-depth discussions about population's access to care, the influence of insurances, and the thought process that patients go through about their diagnosis and overall patterns of disease. An MPH degree gives you more options, and taking into account what you're taught and the fact that it's just one additional year, I think it's extremely valuable to have.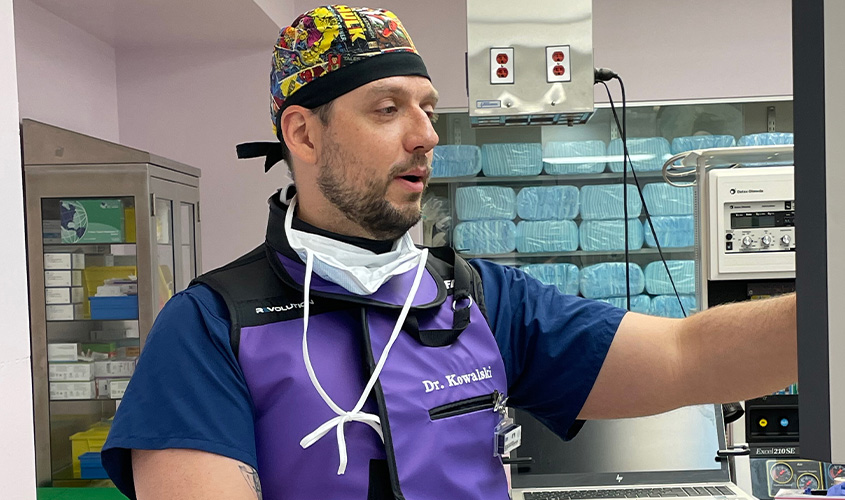 SGU: How would you describe your SGU experience?
Dr. Kowalski: Going to SGU was much, much better than I thought it was going to be. It blew my mind in terms of the resources that were available, the culture there, the people there. It was fantastic. And time really flew by. During the week, you got a top-notch education—it really was phenomenal what we learned. And then every weekend it was like you were vacationing at a beautiful resort.
SGU really set me up for success. A lot of it had to do with riding on the shoulders of the giants who came before me who built a culture where everyone works together and helps each other out. We're all on the same team, and our goal is to be better and do better as a whole.
– Brett Mauser
Related Reading
https://www.sgu.edu/wp-content/uploads/2021/04/Kowalski-845.jpg
500
845
bpmauser
https://www.sgu.edu/wp-content/uploads/2020/02/sgu-logo-grenada.svg
bpmauser
2021-04-29 16:56:47
2021-04-29 20:15:12
Nephrology alum tackles kidney disease in Chicago