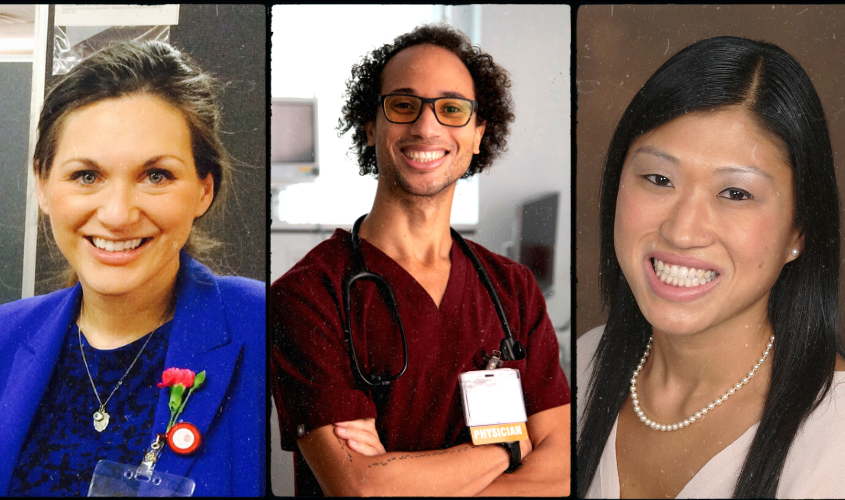 With residency application season in full swing, it's both an exciting and nervous time for medical students. There's so much to do to plan your next step, and all that has to get done while finishing up medical school.
Three St. George's University graduates who, as residency directors at their respective hospitals, know the ins and outs of the entire process. They shared some helpful tips on how students can stand out—from their application all the way through their residency years.
The panel:
Dorian Alexander, MD '10, residency director, Department of Critical Care Emergency Medicine, Brookdale University Hospital Medical Center, Brooklyn, NY
Amber Billet, MD '12, residency director, Department of Emergency Medicine, WellSpan Health, York, PA
Panagiota Korenis, MD '08, residency director, Department of Psychiatry, BronxCare Health System, Bronx, NY
St. George's University: What is the most important thing that students should know or do during the application process?
Dr. Korenis: Time management is critical. If you get your CV or personal statement done early on, it will save you a lot of headaches during the summertime when you're very busy studying for your Step 2 exam or trying to get letters of recommendation sorted out.
Students also need to find letters of recommendation writers during their rotations. Faculty, especially teaching faculty, are very used to having students ask them for LORs, so don't be shy during your rotations when they know you the best and you're doing your best work with them. If you wait until the last minute or after some time passes, that can sometimes lead to less descriptive letters.
Dr. Billet: Metrics often drive the application process. By the sheer volume of applications that they get, a lot of program directors will just simply filter applicants out by a numeric score. We don't do that—I have three assistant program directors and we look at every single application without applying any filters. But a lot of program directors do it just for the sake of time. So first and foremost, to really stand out, you have to maintain an exceptional GPA during your preclinical years, and secondly, score above average on the USMLE Step 1.
Dr. Alexander: Represent yourself on paper in such a way that programs are interested in pulling out your application from the hundreds or thousands of applications they receive. That prioritization starts well before the application season. It starts with preparation for your boards. You must have competitive board exam scores for specialty for which you're applying. That doesn't mean in the 280s or 290s, but I recommend that you score 240 or above to stand out. You must also emphasize your letters of recommendation, which helps us know who you are as a student based on the eyes on the ground in your electives or core rotations.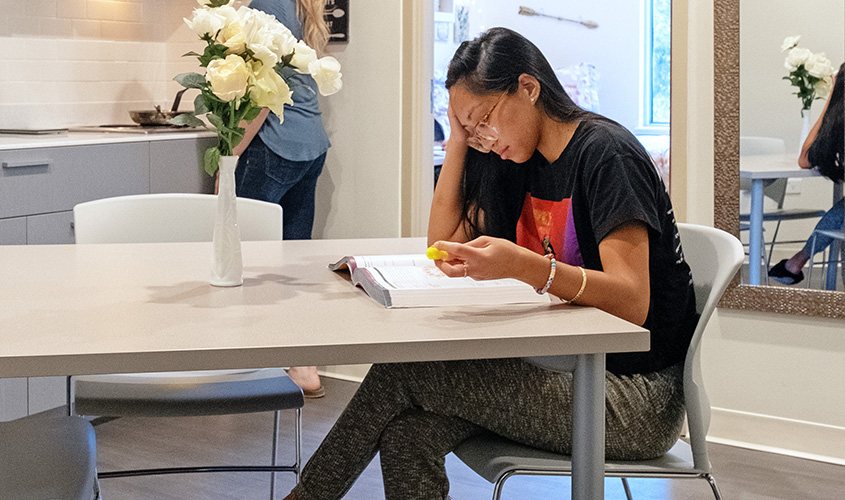 SGU: What's your best tip for acing residency interviews?
Dr. Alexander: The interview is probably the largest weighted factor of the entire application process because it really helps us identify who you are and where you want to go in this specialty. Seeing that you've taken the time to learn who you are going to be caring for and learning from over the course of your residency, that is a really good impression to make. It lets us know that the person is serious about us because they care about what we care about.
Dr. Korenis: You're interviewing for a job, so you've got to do your homework. It's critical that you look at the program's website and see what their mission statement is, do a PubMed search on the faculty you'll be interviewing with to see if they've published papers, and go into each interview with questions. Also, with virtual interviews, you really need to do your best to ensure that you have good lighting, a good background, and that you have a camera-ready presence. Videotape yourself ahead of time and have a colleague or a friend look it over to see how you're doing.
Dr. Billet: In addition to being prepared, I like to see an applicant who has demonstrated resilience. The personal statement gives us a glimpse into who the person is. Every applicant has a different background personally, academically, and professionally. Those who have overcome challenges show a quality of resilience that oftentimes in residency is essential.
"Every applicant has a different background personally, academically, and professionally. Those who have overcome challenges shows a quality of resilience that oftentimes in residency is essential."
SGU: What qualities are you looking for in a residency candidate?
Dr. Billet: The residents who will excel in our program or any program are the ones who are self-motivated and driven to push themselves to their highest potential, and have demonstrated that.
Dr. Alexander: We want people who have qualities of excellent work, are hardworking, and demonstrate consistency. Residency is not a sprint. To have that sustainable consistency of excellent work, it takes effort. Understanding that effort and identifying individuals who are willing to put in that effort is extremely important.
Dr. Korenis: Curiosity, flexibility, and the understanding that residency is like an apprenticeship that's going to involve a lot of individual learning. You're getting a lot of experiential training and you also have to have the aptitude to study while you work. For us, it's critical to see a paper trail that shows genuine interest in the field and program that you're applying as well as a paper trail of scholarly activity.
SGU: What should a new resident do on day one?
Dr. Alexander: Everyone thinks that on the first day on the job, you need to have all the answers and see a lot of patients. That's not what we expect from you. All we expect is enthusiasm, someone who's willing to learn, who's interested in getting to know the environment that they're working in, and loves what they're doing. We want people who will engross themselves into this environment system and make it their home.
Dr. Korenis: Nobody in any program is expecting you to know how to be an internist, a psychiatrist, or a surgeon on your first day. Our job is to help you on this journey. Just do your best to get to work early to get a lay of the land, to eat breakfast, and to calm some of your nerves. Also, take time during that day to communicate with a loved one or a friend to check in and give yourself a little bit of a break.
Dr. Billet: Greet everybody with a smile and introduce yourself to everyone on the staff. In our department, there are nurses, nursing techs, patient care advocates, social workers, physical therapists, and many others. The residents who do are true team players and go out of their way to establish those strong working relationships early.

SGU: From your perspective, what makes a good resident?
Dr. Billet: The residents who are most successful are those who aren't afraid to ask for help when they need it. Asking for help and recognizing when you need help is not a sign of weakness; it's a sign of strength. The other thing is communication. Residency can be a roller coaster. It is extremely rewarding but also very challenging. That's why communication with your attendings, your residency leadership team, and even your friends and family, to help support you and get you through this process is very important.
Dr. Korenis: A good resident is a team player, someone who is highly ethical and professional, and shows up every day with a positive attitude. A good resident doesn't cut corners, they do their job thoroughly, and take their time to get to know their patients. And lastly, in times of stress, they rise to action and come up with solutions for their unique situation.
Dr. Alexander: A good resident is a person you want to work with every day. They care for their patients, they have a strong work ethic, they have a good drive, they are teachable, and they make a positive impact in the clinical environment. There are also the intangibles. Is this person nice? Is this person funny? Is this person caring? Is this someone who, when it's three am, someone I could sit down with and have a conversation. Is this person someone who I want to have by my side when things go awry? Those are the intangibles that are all-encompassing of a person's character, worth, and personality.
– Brett Mauser
Related Reading
https://www.sgu.edu/wp-content/uploads/2021/10/Untitled-845-x-500-px-845-x-600-px-1.png
600
845
bpmauser
https://www.sgu.edu/wp-content/uploads/2020/02/sgu-logo-grenada.svg
bpmauser
2021-10-22 13:53:55
2021-10-26 20:36:35
Residency success 101: How to ace your application, interview, and first day on the job