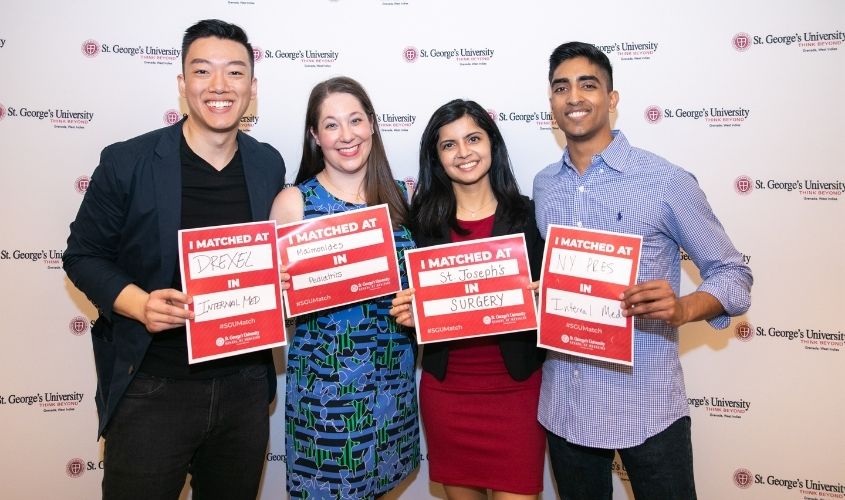 St. George's University School of Medicine students preparing for residency have a valuable resource to help them on their journey—the Office of Career Guidance and Student Development. Known for short as OCG, the department assists students with tasks like USMLE prep, clinical rotation scheduling, the residency application process, and counseling in specialty and residency program selection.
"If the admissions team has decided the student has what it takes to become a physician, the OCG is there to support the student and help get them to the finish line—residency," according to Dr. John Madden, associate dean of students and director of the OCG.
"Starting in Term 1, the OCG introduces the pathway toward residency to students—be it in the US or another country—explains the examinations needed, and focuses on the importance of learning the basic sciences to become a great clinician," said Dr. Madden, a 1981 SGU graduate himself. "At the end of basic sciences, the OCG offers an important talk that helps students prepare for the clinical years, and then during years three and four, there is a series of talks providing up-to-date information about the next steps that must be taken to secure a residency."
Dr. Maddens shares additional tips on how students can obtain the residency of their dreams.
St. George's University: How does OCG support students in their journey to residency? 
Dr. Madden: All students are assigned a "primary advisor" when they start clinicals. This advisor is an SGU-faculty member who will act as a sounding board for students as they go through their clinical journey.
Students discuss with their primary advisor the specialty they are interested in, what would be considered an appropriate number of programs to apply to, and the importance of including a parallel specialty. Depending on the specialty of choice and Step scores, the number of applications will vary depending on the student.
All of this information is covered during the "OCG talks," which are live webinars that are recorded and posted on the OCG website. They're valuable resources for clinical students who have questions about the residency application process.
"The OCG is there to support the student and help get them to the finish line—residency."
SGU: What are the top three qualities residency directors look for in a candidate?
Dr. Madden: Competitive Step scores, letters of recommendation, and the personal statement. However, a program director may look twice at a student showing a keen interest in a specialty. Students should consider doing more than the med school requirement rotation in that specialty, joining a student club or organization related to the specialty, and attending a local, regional, or national meeting of that specialty's professional organization.
SGU: When do students start preparing their residency applications?
Dr. Madden: Students who are applying to US residency programs begin submitting their ERAS (Electronic Residency Application Service) application in mid-September of the year prior to graduation. Canada and the UK post-graduate training programs are on a different schedule and require different examinations.
SGU: What's one thing students should prioritize during the residency application process?
Dr. Madden: The most important thing for students is getting their ERAS application submitted on time, even if there is a letter of recommendation that won't be uploaded until October or a CK score that is delayed.
SGU: How can students ace residency interviews?
Dr. Madden: Practice, practice, practice. Even if a residency interview is virtual, you need to prepare ahead of time.
Use the OCG's Interview Stream program for sample questions.
Look over the residency program's website to become knowledgeable about the specific program and ask questions related to that information.
In addition, learn more about the program's residency directors and assistant directors, such as their research interests so that you can speak intelligently about the topics and ask appropriate questions.
SGU: What other postgraduate opportunities are available through the School of Medicine?
Dr. Madden: SGUSOM has tuition-free programs available to enhance students' applications next year, such as an online MPH, the MBA program, MScBR, and additional rotations. Our support staff is available to discuss these with students after the Match if a student is unmatched to determine which pathway is best suited for them.
SGU: What is the best way to contact OCG if a student has questions? 
Dr. Madden: With any questions, it is best to start with your primary advisor.  If they cannot answer your query, they'll refer you to someone who does know. However, students can always reach out to careerguidance@sgu.edu for help.
– Laurie Chartorynsky
Related Reading
https://www.sgu.edu/wp-content/uploads/2021/09/match-day-2019-4-pp-845.jpg
500
845
lchartor
https://www.sgu.edu/wp-content/uploads/2020/02/sgu-logo-grenada.svg
lchartor
2021-09-21 17:39:36
2021-09-21 19:03:39
Want to Ace Your Residency Application? Get Help from SGU's Office of Career Guidance