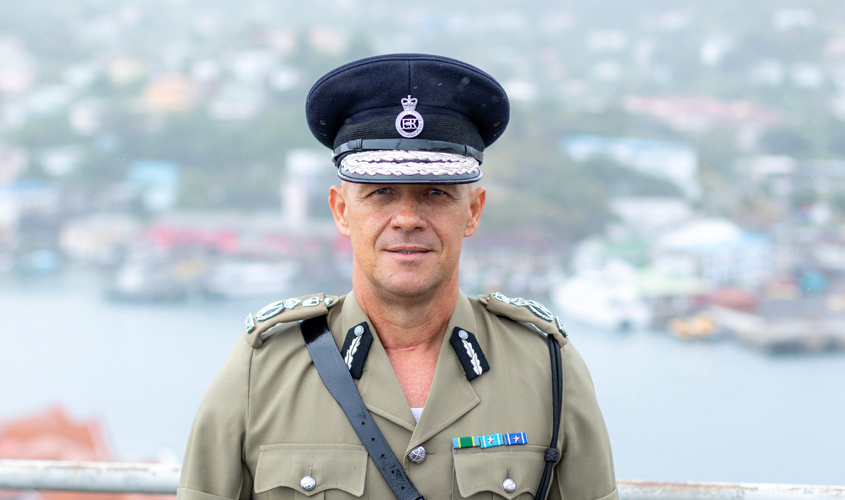 Edvin Martin, BSc '08, the current commissioner of the Royal Grenada Police Force (RGPF)  came from humble beginnings. He grew up in a Grenadian household of seven kids, inspired by his hard-working mother and his father,  a police constable who was the motivating factor for his son joining the RGPF. Mr. Martin attributes his humility and simplicity to this family construct, and one he is very proud of today.
Well into his thirties, he made the decision to pursue a degree program at SGU. He recalls one of his scares at the beginning was his conscious weakness in his math abilities. In an interview with SGU News, the recently appointed commissioner talks about the way he conquered his fear of math, how SGU aided in his career development, and being able to achieve success at any stage in life.
St. George's University: What are your responsibilities as commissioner of the RGPF?
Commissioner Edvin Martin: As Commissioner of Police, my responsibilities consist of a complete superintendence command and control of the entire RGPF apparatus, and in so doing I am supported by deputy commissioners and assistant commissioners of police.
SGU: Can you describe your journey with the RGPF and specifically your career mobility?
Commissioner Martin: In addition to my parental upbringing and guidance, my journey with the RGPF has been very interesting, and certainly one I attribute almost everything to. I will remain eternally grateful for the opportunities afforded to me. From the early days of recruitment, I received the baton of honor, and from then on, I received several successive promotions, where I was subsequently promoted to assistant commissioner of police, deputy and ultimately to the rank of commissioner.
SGU: What do you consider to be the most rewarding aspect of your job?
Commissioner Martin: Certainly it is in service to people. I'll give you an example. When I launched the police farm watch scheme, a farmer came to me when he noticed that a lot of his yams had gone missing. I understood this was his livelihood and knew we had to help. He was so elated when we found the individuals stealing and was able to get a conviction in court. At the end of the day, if what I do results in elevation and recognition for me, then so be it, but it has never been the driving force. The greatest satisfaction is how I can make people's lives better and that continues to be my motivation onto this day.
SGU: How have your studies at SGU helped with your career development?
Commissioner Martin: SGU provided the academic foundation that allowed my career to propel in many ways. Predominantly, I didn't enter with the strongest number of subjects, but my experience and several other courses, including an accelerated promotion course and studies at the US-based Federal Bureau of Investigation Academy, aided as well. Having completed my SGU degree and graduating with honors (magna cum laude), that served me well in getting accepted into UK universities and made it easy in the ultimate decision for my being granted a Chevening scholarship award.
SGU: Were there any services offered at SGU that you would have taken advantage of during your time there?
Commissioner Martin: I used the Department of Educational Services to assist with the issue of building my math capability. I had to start at the foundation level because math was not one of the O-level subjects I had. I received an A in math for critical thinking and a B in statistics, so I pat myself on the back for doing so. You can do well once you invest the time in the extra support mechanisms available to help you succeed.
SGU: What would you say to someone who wants to advance their career later in life?
Commissioner Martin: You can start to achieve success at any stage in life. If you weren't the best student, it is not the end. I know several persons who did not excel in their earlier years and today these persons have degrees. The opportunities are there. By and large, once you are disciplined, motivated, and believe in yourself, you can aim for the sky and certainly do well.
SGU: How do you respond to comments about you being one of the most eloquent speakers in Grenada?
Commissioner Martin: I am absolutely flattered by the statement but, quite frankly, I think differently. I am humbled by the comment and I will interpret that to mean that when I do speak people understand, digest, and find clarity, and I will use that as a motivating statement.
SGU: What advice would you give to someone thinking of SGU?
Commissioner Martin:  I would wholeheartedly recommend SGU. In fact, my daughter is in her last semester pursuing a nursing degree, and it is testimony of my support and confidence in the school. I have great faith in the institution, and the fact that I was able to use my graduation certification from SGU to leverage further academic education in the UK further justifies that. The University is also very accessible and affordable to Grenadians, as it offers a number of scholarship opportunities.  I highly recommend it.
– Tornia Charles
https://www.sgu.edu/wp-content/uploads/2021/02/Edvin-Martin-845x500-1.jpg
500
845
lchartor
https://www.sgu.edu/wp-content/uploads/2020/02/sgu-logo-grenada.svg
lchartor
2021-02-16 19:15:18
2021-02-26 19:18:53
SAS Grad Commits Life To Serving Community As Grenada Police Commissioner